Concern About Thai King Sparks Social Media Chatter
Bloomberg News
Government spokesman tells Thais to ignore social media rumors

Thai stocks and the baht have declined across this week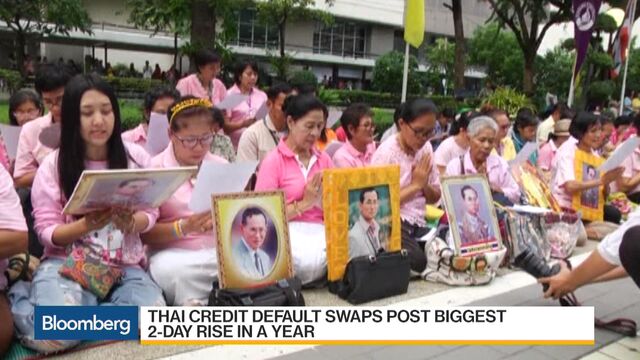 The Thai government sought to quell speculation as concern about the health of King Bhumibol Adulyadej sparked chatter on social media. The baht steadied even as stocks slipped further Thursday after declines this week.
Prime Minister Prayuth Chan-Ocha cut short a provincial trip to return to Bangkok Wednesday "in order to prepare for an audience with His Royal Highness the Crown Prince for a routine presentation on the government's work in progress," Prayuth's office said in a statement. It urged Thais "to rely on official announcements for an update on situations, rather than uncorroborated information in social media circles."
Late Wednesday afternoon, Prayuth waved to reporters and said "Go home, go home!"
The Thai baht advanced 0.1 percent to 35.70 per dollar as of 12:43 p.m. in Bangkok, halting an eight-day slide that had been its longest stretch of losses in more than a year. The SET Index fell 2.1 percent.
The Securities & Exchange Commission will investigate those who spread rumors which caused Thai shares to drop as much as 6.9 percent Wednesday, Deputy Prime Minister Somkid Jatusripitak told reporters in Bangkok on Thursday.
"I believe all of us are worried about his health," Somkid said, referring to the king. "But don't listen to the rumors. Please listen only to the government. Don't fall victim to those who spread rumors to hammer down the stocks and seek benefits from that."
"Investors still show interest to come to Thailand and continue their investments," Somkid said.
Markets had weakened after the royal palace said Sunday that Bhumibol's health was "unstable." #LongLiveTheKing was the top trending topic on Twitter in Thailand Wednesday, with more than 240,000 tweets depicting the monarch at various stages of his life. Posts showed Thais holding portraits of Bhumibol and photos of him meeting with his people or playing music.
Health Update
The 88-year-old monarch has been a symbol of unity in Thailand, which has had 10 coups during his seven-decade reign.
For an explainer on Thai politics, click here.
In a statement Wednesday night, the Royal Palace said the king's overall condition remained unstable. His blood pressure had declined further and his heart rate had increased, while treatment carried out indicated an infection and abnormal liver function, it said in the statement. The king was on various medications and a ventilator, and had been given renal treatment.
Prayuth returned to Bangkok to greet Crown Prince Maha Vajiralongkorn, Sansern said. Vajiralongkorn, 64, is the king's designated heir. Prayuth, a former army chief, became prime minister after leading a May 2014 coup that deposed the government of Yingluck Shinawatra, whose brother Thaksin Shinawatra was also ousted by the military in 2006.
The king has been hospitalized since May 2015 and has been treated in recent months for hydrocephalus, a condition characterized by increased fluid in the cranium. In an Oct. 9 statement, the Royal Palace said his overall health status was unstable and doctors were closely monitoring his condition. On Oct. 1, the palace had said his condition had improved following a lung infection.
— With assistance by Tony Jordan
Before it's here, it's on the Bloomberg Terminal.
LEARN MORE