Texas's Paxton Must Face Criminal Securities-Fraud Trial
Laurel Brubaker Calkins
Attorney General's lawyers will seek reconsideration at court

Paxton accused of luring investors without disclosing conflict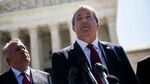 Texas Attorney General Ken Paxton must face a criminal jury on state securities fraud charges even though a federal judge last week tossed out similar claims made by U.S. securities regulators. The state's highest criminal appeals court refused Wednesday to review Paxton's bid to dismiss the charges without a trial.
"Today's ruling marks an end to Mr. Paxton's almost year-long attempt to avoid being judged by a jury of his peers. We look forward to going to trial and seeking justice on behalf of the people of Texas," Brian Wice, a special prosecutor, said in an e-mailed statement.
Paxton's lawyers said they'd ask the appellate court to reconsider.
"We anticipate filing a motion for rehearing because we have tremendous confidence in our case," Philip Hilder, one of Paxton's lawyers, said in an e-mail. "The charges against Ken Paxton are without merit. A federal court, following a lower legal standard, ruled that the fraud charges were baseless."
Paxton is accused of misleading investors in Servergy Inc., a startup purporting to make a new energy-saving computer server. Paxton, 53, allegedly recruited a group of friends, business associates, law-firm clients and others to invest a total of $840,000 without disclosing that he was getting a commission.
Lawsuit Dismissed


Last week, a federal judge in Sherman, Texas, threw out almost identical claims from the U.S. Securities and Exchange Commission, saying the civil case hinged on whether Paxton had a legal rather than moral obligation to advise investors of his financial arrangements.
The SEC was given two weeks to provide enough evidence to revive that case.
Paxton, a Republican, has denied any wrongdoing and said the prosecution is politically motivated. If convicted on all counts, the attorney general could face a sentence of five years to 99 years in prison.
Matt Angle, who runs a left-leaning Texas political watchdog group, said Paxton should resign, calling it "simply disgraceful" that the state's top law enforcement officer continues to serve while under felony indictment.
"Paxton knows he is in deep legal trouble, so he continues to use every legal maneuver to duck and dodge a potential jail sentence and avoid taking responsibility for his actions," Angle said in an e-mailed statement. "Now, that he will likely be forced to stand trial, Paxton will have to explain why he thinks he's above the law that he's taken an oath to protect."
The cases are Texas v. Paxton, 416-81913-2015; 416-81914-2015; 416-81915-2015; 416th Judicial District of Collin County, Texas (McKinney).