Sturgeon to Set Out Scottish Nationalists' Response to Brexit
By
Scottish first minister will pledge to fight for 'soft Brexit'

Sturgeon is resisting calls to try again for independence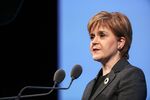 Scottish First Minister Nicola Sturgeon will open her party's annual conference with a pledge to protect Scotland from economic damage as a result of the U.K.'s decision to leave the European Union.
Scotland voted to stay in the EU by 62 percent to 38 percent in June, yet it finds itself being pulled out of the bloc because the much more populous England voted to leave. That's led to calls to rerun the 2014 referendum on Scottish independence from the U.K. Sturgeon has so far resisted those, arguing that supporters of independence like herself should only back a second referendum when they're sure they can win it.
Instead, she's focused on mitigating the effects of departure from the EU, calling for Britain to stay within the European single market, a so-called soft Brexit that would imply less U.K. government control over immigration and legislation. Speaking on Thursday at the start of the Scottish National Party's gathering in Glasgow, Sturgeon will set out in more detail how she proposes to respond to Brexit.
"As the ugly reality of the Tory government's vision of Brexit Britain has become clearer in recent days, the choice we face has never been clearer," Deputy First Minister John Swinney said in an e-mailed statement. "With independent research showing that a 'hard Brexit' could cost 80,000 jobs in Scotland and hit exports by over 10 percent, it's absolutely right that the SNP stand up for the overwhelming desire of people in Scotland to keep our relationship with Europe."
'Friends Across Europe'
Sturgeon's culture secretary, Fiona Hyslop, will visit Brussels at the same time, pledging to fight to protect the rights of EU citizens living in Scotland.
"We are ready to work creatively and positively with the U.K. government and with all of our friends across Europe to shape a future that respects the interests of Scotland and the U.K.," Hyslop said in an e-mailed statement.
Not only must Sturgeon deal with the demands within her party for another independence vote, she must describe the problems of departure from the EU without getting into the question of whether disentangling Scotland's 300-year-old union with the U.K. would be even more complicated.
Scotland has its own Parliament in Edinburgh, with control over education, health, policing and, increasingly, taxation. The SNP won its third term in office in May, though it lost seats to fall just short of an overall majority. The Scottish Labour Party, until a few years ago the dominant political force in the country, was knocked into third place, meaning that Sturgeon's main opposition is the Scottish Conservatives.
Before it's here, it's on the Bloomberg Terminal.
LEARN MORE