Rand Gains as Prosecutor Says Open to Review of Gordhan Charges
by
NPA head tells lawmakers decision to summon Gordhan wasn't his

'You can't script this stuff,' currency trader Cilliers says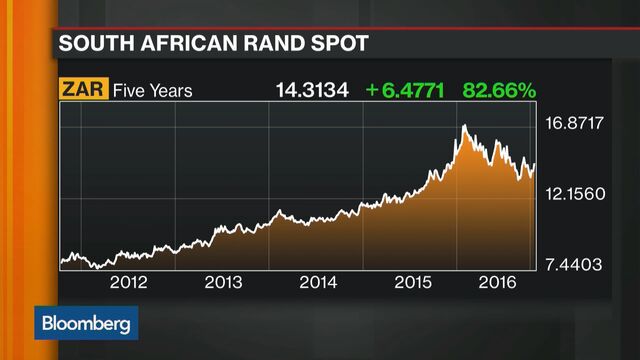 The rand strengthened the most in more than two weeks after the head of South Africa's National Prosecuting Authority said he is willing to reconsider the decision to charge Finance Minister Pravin Gordhan with fraud.
The currency jumped as much as 2.5 percent against the dollar, the most since Sept. 27, and was 0.6 percent stronger at 14.2832 by 5:32 p.m. in Johannesburg. It earlier weakened as much as 0.8 percent, falling for a second day after Gordhan said Tuesday he had been summoned to appear in court. Benchmark South African government bonds also reversed their losses, the yield falling 3 basis points to 8.9 percent.
"I am more than willing to review any matter if somebody applies to review that matter," NPA head Shaun Abrahams told lawmakers in Cape Town on Wednesday. "Minister Gordhan can submit representations to me and ask me to review the matter and I would certainly look into the matter."
Abrahams announced on Tuesday Gordhan will be charged with fraud relating to the early retirement of a former colleague at the tax agency. He said Wednesday he didn't personally decide to prosecute Gordhan and that the decision was made by the head of the NPA's priority crimes litigation unit in consultation with the head of the regional prosecutor's office.
"You can't script this stuff," said Wichard Cilliers, a trader at Treasuryone in Pretoria. "It is so difficult to call the market and to know what's going to happen. You can either make a lot of money or you can lose a lot of money. "
One-week implied volatility in the rand climbed for a second day Wednesday to the highest since Sept. 16 and was the greatest among 21 emerging-market currencies monitored by Bloomberg.
Before it's here, it's on the Bloomberg Terminal.
LEARN MORE