business
OPEC Faces Half-Million-Barrel Dispute With Members on Cuts
By
Latest OPEC report shows wide discrepancy in output figures

Iraq, Venezuela question estimates from 'secondary sources'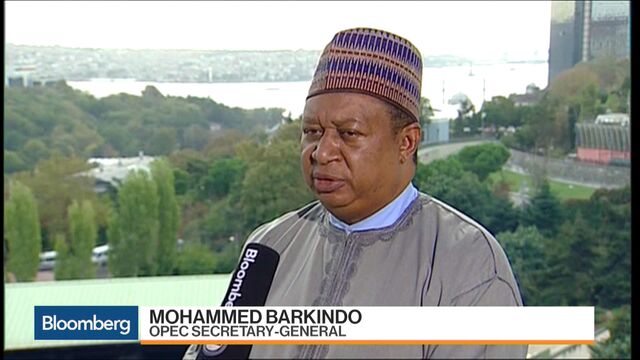 The scale of the internal differences OPEC must resolve before securing a deal to cut supply was revealed Wednesday as the group's latest output estimates showed a half-million-barrel difference of opinion over how much two key members are pumping.
Venezuela and Iraq's own figures on how much crude they produced in September were 565,000 barrels a day higher than estimates compiled by the Organization of Petroleum Exporting Countries from so-called secondary sources. The two nations are disputing the data, which could determine the production target for each country when caps on members' output are decided next month.

OPEC reached a preliminary agreement to limit its total oil production to a range of 32.5 million to 33 million barrels a day in Algiers on Sept. 28. Details of how the burden of the cuts will be shared will be discussed by a committee that will meet in Vienna later in October. The credibility of last month's deal, and the participation of other countries including Russia, rests on OPEC's ability to resolve these differences by its next formal meeting on Nov. 30.
Venezuela told OPEC it pumped 2.33 million barrels of crude a day in September, 245,000 more than estimated by secondary sources, which include news organizations such as Platts and Argus Media as well as the International Energy Agency. Iraq said it pumped 4.78 million barrels a day, 320,000 more than the secondary-source view. The total discrepancy for both countries equals the daily production of Ecuador.
For an analysis of the hurdles faced by OPEC to implement its cuts, click here.
Of OPEC's 14 member countries, Iraq and Venezuela are the only two that have publicly criticized the sources' figures. Yet there are five others whose own estimates are higher than those provided by secondary sources. Three nations -- Angola, Nigeria and Qatar -- provided estimates that are lower.
Following the meeting in the Algerian capital, Iraq's Oil Minister Jabbar al-Luaibi and its OPEC Governor Falah Al-Amri challenged the secondary-source data at a press briefing, urging representatives of those sources to explain the discrepancy and demanding the figures be "corrected."
On Tuesday, Venezuela's Oil Minister Eulogio del Pino said his country disputed the source estimates because they excluded a type of heavy crude it produces in the Orinoco belt. He said the committee set up by OPEC will look into the matter.
The total gap between the estimates of secondary sources and countries' direct communications to OPEC was 866,000 barrels a day last month. That doesn't include four nations that failed to submit a production report for the period.
Supply, Demand
OPEC left its estimate for world oil-demand growth unchanged for this year and next at 1.24 million and 1.15 million barrels a day, respectively. Non-OPEC supply will contract by 680,000 barrels a day this year, 70,000 barrels more than the organization forecast in last month's report. Next year it will grow by 240,000 barrels a day.
Demand for OPEC's crude next year is seen at 32.6 million barrels a day, 100,000 barrels a day more than the lower end of the target range OPEC set itself in Algiers.
(
Updates with forecasts for oil demand and non-OPEC supply in final two paragraphs.
)
Before it's here, it's on the Bloomberg Terminal.
LEARN MORE