May Dodges Question on Parliament's Role in Brexit Talks
By , , and
Davis refuses to say if he wants U.K. to stay in single market

Premier agrees to 'full and transparent debate' on her terms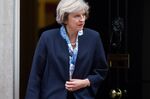 British Prime Minister Theresa May fought a rearguard action to avoid giving lawmakers sway over her negotiating strategy for leaving the European Union, promising they would get to debate the issue without saying whether they would also get a vote.
The pound earlier climbed against all of its 31 major peers after May agreed late on Tuesday to an opposition Labour Party motion that called for a "full and transparent debate on the government's plan for Brexit." While the implication was that there would be a vote since it is the usual procedure for ending a motion, she refused to commit to one on Wednesday.
Asked explicitly during her weekly questions session whether there will be a vote, May refused to rule it in or out. "The idea that Parliament wasn't going to be able to discuss, debate, question issues around" Brexit "was frankly completely wrong," May said. "Parliament's going to have every opportunity to debate this issue."
May's government privately accepts it is powerless to stop lawmakers calling their own vote on the Brexit negotiations, according to an official. While such a vote is likely to take place in the coming months, it would not bind the government to act in a certain way, according to the official, who asked not to be named while discussing May's strategy.
The pound gave up some of its earlier gains and was up 0.7 percent at $1.2200 as of 4:34 p.m. in London. Sterling plunged to a three-decade low this month.
The prime minister, who said she won't give a running commentary on Brexit deliberations, is trying to avoid revealing her hand or allowing Parliament too much say over her negotiating stance. When she effectively agreed to the opposition motion, May was conceding that she doesn't have a majority in Parliament to act without scrutiny.
May doesn't want her hands to be tied during the Brexit negotiations so the government is unlikely to support a vote in Parliament. She won't allow lawmakers a vote on when and whether to trigger Article 50 of the Lisbon Treaty, said the official. In any case, lawmakers would be unlikely to vote to overrule the country's June vote to leave the EU, but they may push for the closest possible ties to the bloc.
'British Option'
Brexit Secretary David Davis twice refused to answer direct questions about whether he wants Britain to remain in the EU single market, saying negotiators will seek the best deal from a range of possible outcomes, rather than following a Norwegian-style arrangement or any other model.
"We're going to go for a British option and that will be tailored to our interests and will be better than any other option," he said. "There's a whole spectrum from a free-trade area to a customs union to a single-market arrangement. We'll be seeking the best of the spectrum of outcomes."
He listed "establishing the freest possible market in goods and services with the EU and the rest of the world" as one of his "overarching objectives" in negotiations.
Introducing a debate in Parliament on the topic of "parliamentary scrutiny of the U.K. leaving the EU," opposition Labour Party Brexit spokesman, Keir Starmer, urged Davis to live up to his pledge to "build a national consensus" by telling lawmakers what approach he will take in the coming negotiations.
Consensus Needed
"How are you going to build consensus around your approach if you're not going to tell the house what your approach is?" Starmer asked. "It is astonishing that the government proposes to devise the negotiating terms of our exit from the EU, then to negotiate and then to reach a deal without a vote in this house."
While Labour will be "pressing for a vote" on the government's Brexit terms, the party's motion on Wednesday is intended to ensure parliamentary scrutiny rather than secure a vote, Starmer said.
Davis said that, while he broadly supports Labour's appeal for parliamentary scrutiny, the government won't allow any party to "veto" the decision to leave the EU or damage its negotiations by trying to force it to show its hand.
Negotiating Position
"While we commend and welcome parliamentary scrutiny, it must not be used as a vehicle to undermine the government's negotiating position, or thwart the process of exit," Davis said. "The negotiation will be complex and difficult and we should do nothing to jeopardize it."
Former Conservative Chancellor of the Exchequer Ken Clarke said he was not surprised markets had drawn the conclusion that Britain is opting for a "hard" Brexit of leaving the single market and the EU customs union. The devaluation of the pound would have "caused a political crisis" when he was in office, he said.
"We still have got no offer of a vote and we need some clarity on the policy the government is going to take," Clarke said after welcoming May's climbdown over a debate. "Every other member state will make it quite clear to its parliament what attitude it is taking towards these negotiations on the single market, and ours will not."
— With assistance by Tim Ross
Before it's here, it's on the Bloomberg Terminal.
LEARN MORE