Hong Kong Legislature Antics Highlight Challenge Facing China
by
Lawmakers blocked from meetings after adding protests to oaths

Three among new crop of China-critics elected to Legislature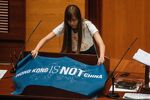 Three incoming Hong Kong lawmakers were temporarily blocked from participating in legislative meetings after inserting pro-democracy protests and apparent insults against China into their oaths of office.
The three -- architectural sector representative Edward Yiu and self-described localists Sixtus "Baggio" Leung and Yau Wai-ching -- were ordered to return to their seats after outbursts in the first session of Hong Kong's Legislative Council on Wednesday. Leung and Yau, who have said they support the city's independence from China, displayed banners reading "Hong Kong IS NOT China" and mispronounced the country's name.
To read more about the localist lawmakers causing Beijing grief, click here.
The pair were among six candidates supporting a vote to decide the future of Chinese rule who won seats in the 70-member legislature last month. The result, which bolstered the opposition's numbers in the chamber, called into question the Chinese government's hard-line approach to dealing with demands for greater autonomy in the former British colony.
The strife poses a headache for the city's chief executive, Leung Chun-ying, who needs Beijing's support if he seeks a second five-year term at a meeting of 1,200 electors in March. Leung's government barred six candidates who had supported outright independence because the city's Basic Law holds that Hong Kong is an inalienable part of China. The oath was controversial because it required lawmakers to swear to uphold that law.
'Just My Accent'
Yau, 25, caused a stir after she appeared to insert an expletive three times into the official name of China while delivering the oath in English. When asked by reporters whether she thought it was acceptable to use profanity, she said, "That is just my accent" and explained English wasn't her first language.
The official who administered the oaths, Kenneth Chen Wei-on, recommended the three be given the oath again at a later date. Unlike other lawmakers who added political statements after their oaths, Yiu hadn't allowed a pause before adding a vow to fight for "universal suffrage."
Chen said Leung and Yau appeared to not understand the content of their oath based on their banner saying Hong Kong isn't China.
"Taking the oath is a very serious matter and should be done strictly to the wording. They failed to do that," said Holden Chow, a lawmaker from the legislature's biggest pro-establishment party. "They amended the words and I think this is inappropriate."
The three other "self-determination" lawmakers also made political statements after walking to the front of the chamber to take their oaths. But they did so in a way that was deemed acceptable by Chen, with one Lau Siu-lai, 40, inserting long pauses between each word.
Before it's here, it's on the Bloomberg Terminal.
LEARN MORE