Fed's Dudley Says 'Go as Far as You Can' to Expand Workforce
by and
New York Fed chief says there's more slack in labor market

Says Fed can be 'gentle' as it tightens monetary policy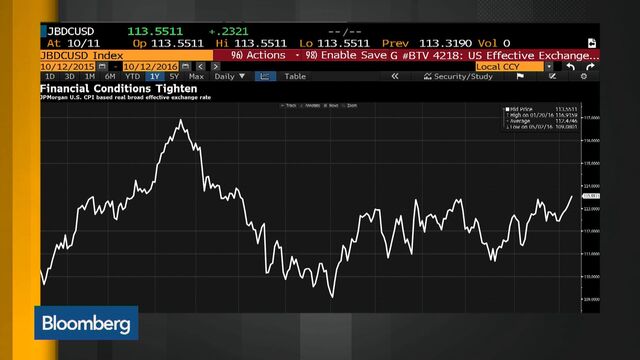 Federal Reserve Bank of New York President William Dudley said the U.S. central bank should continue seeking to draw Americans back into the work force as it debates raising interest rates.
"You certainly want to go as far as you can," Dudley told the Business Council of New York State on Wednesday in Albany, New York. "You don't want to keep people unemployed just because you think you're already at the full employment rate."
Policy makers last month left the benchmark lending rate unchanged in a range of 0.25 percent to 0.5 percent for the sixth straight meeting, while a majority of the 17 participants forecast at least one hike this year. Following the decision, Chair Janet Yellen said she hoped keeping rates low would attract more people into work or to look for jobs.

Three officials dissented from that decision, arguing that unemployment -- at or below 5 percent all year -- was already at its lowest sustainable level. Continuing with ultra-low rates, they said, risked sparking inflation and feeding financial bubbles.
Dudley said the Fed's go-slow approach has already benefited many Americans.
'Grow Payrolls'
"As the labor market has improved, people who were discouraged are coming back into the labor force," he said. "That's allowing us to grow payrolls at a pretty decent clip without pushing down the unemployment rate."
Dudley acknowledged that policy makers "don't want to go too far," because the central bank could trip the economy into recession if it overshoots on inflation and is forced to raise rates more quickly.
"We're trying to find that balance: employment as high as we can get it, but consistent with a sustainable expansion over time," he said.
Minutes of the Sept. 20-21 gathering of the Federal Open Market Committee, to be released later on Wednesday in Washington, will be scrutinized for clues to how much support there was at the meeting for a rate hike. Fed Vice Chairman Stanley Fischer on Sunday called the decision a "close call," while arguing that the central bank wasn't behind the curve.
Uncertainties over the economic outlook and the desire by the committee to assure that job growth remains strong are likely to hold off another rate increase until December, federal funds futures traders are betting. Fed officials next meet Nov. 1-2, just before the Nov. 8 U.S. election. Investors see a roughly 20 percent chance of a hike next month.
"We're at a point where the economic expansion has plenty of room to run. Inflation's a little bit below our target, rather than above our target," Dudley said. "So, I think we can be quite gentle as we go in terms of gradually removing monetary policy accommodation."
Before it's here, it's on the Bloomberg Terminal.
LEARN MORE