What Fake Bank Documents Say About China M&A Risks
by
First-time Chinese buyers are going overseas at record pace

'We're seeing a lot of deals where people scratch their heads'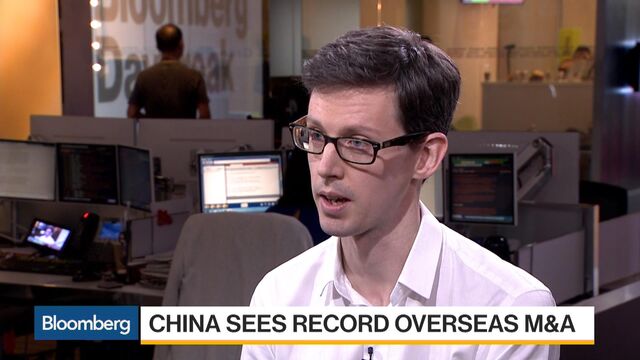 The Chinese account statement had all the trappings of the real thing: a red oval seal bearing Bank of Jiangsu Co.'s name, a balance printed to the last decimal (852,468,304.56 yuan) and a time stamp of 4:14 p.m. on April 25.
Provided by a little-known Chinese investor group during early-stage acquisition talks with AC Milan, the document was among paperwork purporting to show the consortium's ability to buy Silvio Berlusconi's storied Italian soccer club, according to people with knowledge of the matter.
The only problem? The statement wasn't true, according to Bank of Jiangsu. The lender told Bloomberg News last month that it hadn't issued any such record. The consortium, known as Sino-Europe Sports Investment Management Changxing Co., said in a Sept. 20 e-mail that it "does not confirm it has ever sent such a document."
False bank records may be an extreme example of the risks from this year's record wave of overseas Chinese acquisitions, but the episode highlights the challenge for Western firms who increasingly find themselves across the table from buyers with little to no international track record. First-time Chinese acquirers announced a record $51.5 billion of cross-border acquisitions through September this year, more than double the total for the same period in 2015, according to a Bloomberg analysis of more than 4,000 deals spanning a decade.
"We've reached a point where Chinese outbound investment is in part driven by individuals that were never part of the established group," said Thilo Hanemann, a director at New York-based research firm Rhodium Group and a senior policy fellow at the Mercator Institute for China Studies. "We're seeing a lot of deals where people scratch their heads and wonder about the buyer."

It's still unclear how revelations of the false bank statement will impact the takeover of AC Milan, which if completed would be the largest overseas soccer acquisition by a Chinese company. The final contract signed with Berlusconi's Fininvest SpA didn't end up making reference to the many bank letters it received during the yearlong talks, said the people, who asked not to be identified as the information is private. The Sino-Europe Sports consortium, led by Chinese businessman Li Yonghong, said last month that it's committed to closing the deal.
A spokesman for Sino-Europe Sports referred to a Sept. 23 statement, which said speculation about fake documents is "groundless" and that the consortium is considering legal action. A Fininvest spokesman referred to its statement dated that day, saying the firm conducted checks on buyers' financial soundness using adviser assessments and is working to complete the sale later this year. Lazard Ltd. is Fininvest's sole adviser on the transaction, while Rothschild is working with the Chinese buyer group. 
Rothschild started advising on the acquisition after the purported bank documents had been produced, a person familiar with the matter said. Representatives for Rothschild and Lazard declined to comment.
For a QuickTake explainer on China's M&A boom, click here.
The AC Milan incident adds to a string of high-profile hiccups for Chinese dealmakers. In April, Anbang Insurance Group Co. abruptly backed out of a $14 billion bid for Starwood Hotels & Resorts Worldwide Inc., while at least 22 buyout offers for U.S.-listed Chinese companies could be in doubt after regulators in Beijing tightened scrutiny of such transactions. Another cross-border soccer deal -- the purchase of French club Sochaux-Montbeliard by Hong Kong-listed Tech Pro Technology Development Ltd. -- has run into trouble this year after the firm's stock price collapsed and its chairman, Li Wing Sang, got slapped with a bankruptcy claim.
"Everyone is keen to find the 'fabled' Chinese buyer, but it's very difficult to differentiate between those who have the wherewithal and knowhow, and those who haven't," said Colin Banfield, the Hong Kong-based head of mergers and acquisitions for the Asia-Pacific region at Citigroup Inc. "There's a big opportunity cost when you sign up with a first-time buyer. We prefer not to do so if we think that party cannot get to the finish line."

Of course, not all outbound Chinese deals have faced problems, with more than $80 billion of overseas takeovers getting completed so far this year. Others have encountered roadblocks beyond the bidders' control. The buyouts of U.S.-traded Chinese firms have come under pressure from regulators wary of plans to re-list the companies at higher valuations on domestic markets. Chinese foreign-exchange officials have also thrown up hurdles as they step up scrutiny of capital outflows to help prop up the yuan.
Despite the challenges, sellers remain keen to entertain offers from China, according to Joseph Gallagher, the head of M&A for Asia Pacific at Credit Suisse Group AG.
"For global sell sides, including Chinese buyers in the process is important for ensuring maximization of value," Gallagher said.
Still, concerns persist over a lack of transparency at some firms. During the AC Milan talks, Fininvest had to negotiate with a shifting group of buyers as various members of the consortium attempted to outdo each other, according to people with knowledge of the matter. Li went from being an investor in the original group to the leader of a separate bid without the knowledge of some consortium members, the people said, asking not to be identified because the discussions were confidential.
Transparency Concerns
The Chinese group didn't have all the financing in place when it agreed to purchase the Italian club, people familiar with the matter said in September. The consortium is seeking money from new partners to help meet its goal of completing the deal by year-end.
European soccer targets have been a priority for Chinese buyers, which have announced more than $2 billion of investments since the beginning of last year, data compiled by Bloomberg show. Should Li's acquisition go through, Chinese investors would control both major Milan soccer teams, following Suning Holdings Group Co.'s June investment in cross-town rival Inter Milan.
At Anbang, one of China's biggest insurers and most acquisitive companies, Chairman Wu Xiaohui has faced calls for more disclosure by S&P Global Ratings. He's also drawn scrutiny over the firm's unconventional dealmaking methods, particularly the aborted Starwood offer, which Anbang said was due to "various market considerations."
Transparency concerns also came to the fore when an obscure Chinese property and investment firm agreed to buy the Chicago Stock Exchange in February. The offer from Chongqing Casin Enterprise Group, which has no experience running a bourse, has been under review by the Committee on Foreign Investment in the U.S. A group of American lawmakers said the deal should be blocked if Casin is found to have close ties to the Chinese government.
Casin, described as a "privately held diversified holding group" in a February announcement from the Chicago bourse, said in the statement that it plans to "bring exciting Chinese growth companies to U.S. investors." A spokeswoman for Casin declined to comment.
"The perception of Chinese buyers in the marketplace has shifted in the last twelve months," said Rhodium's Hanemann. "There was always a certain degree of caution, but the enthusiasm for Chinese investment has cooled."
Before it's here, it's on the Bloomberg Terminal.
LEARN MORE