Ericsson Profit Plunges as Equipment Maker's Troubles Intensify
By
Shares drop most in nine years as carriers cut back spending

CEO Frykhammar: 'Absolutely not the beginning of the end'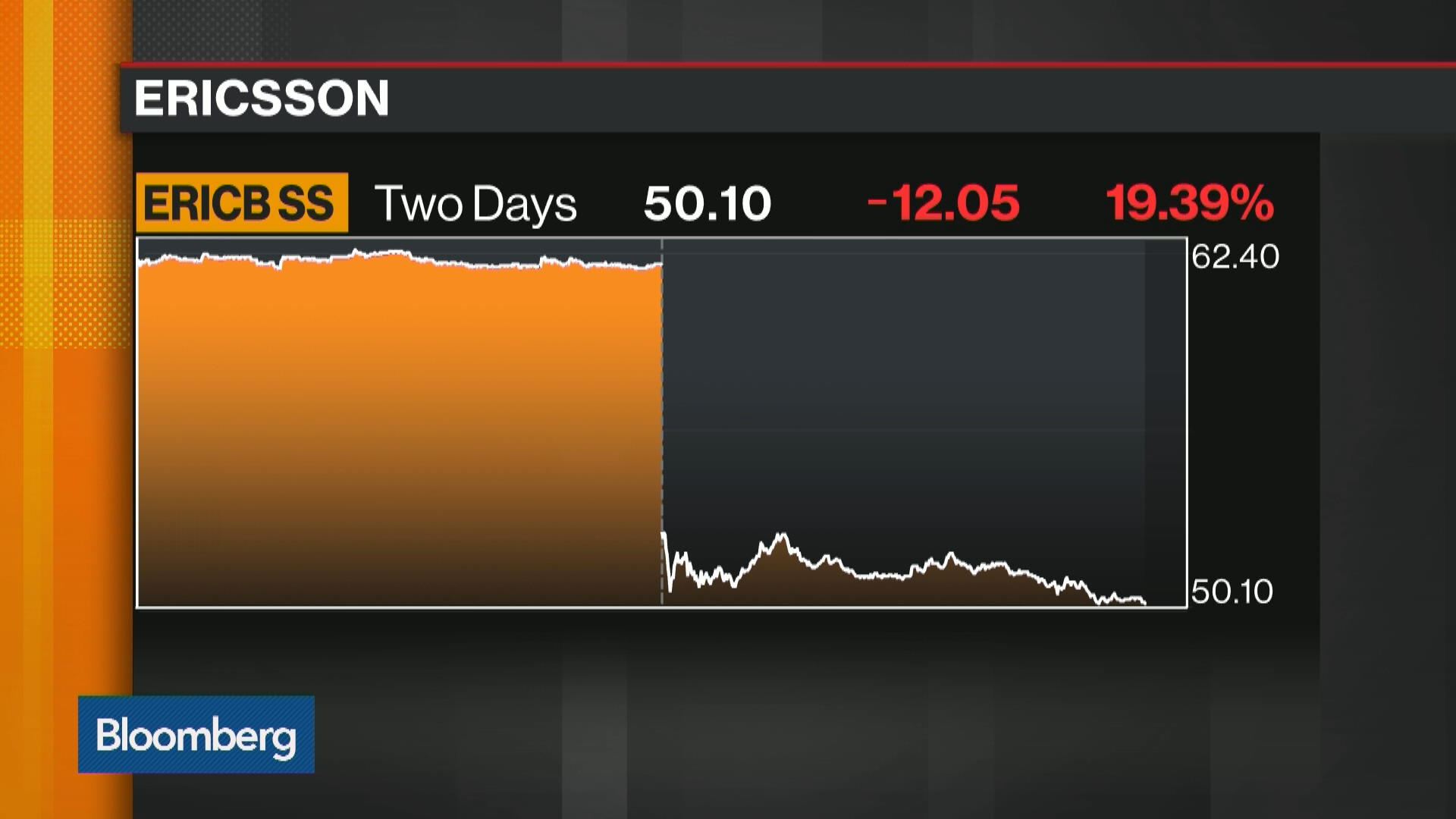 Ericsson AB blindsided investors with a surprise announcement that its business was deteriorating faster than expected, with no turnaround in sight.
Shares of the Swedish phone-network manufacturer sank the most in nine years -- wiping out about $3.8 billion in market value -- after Ericsson reported sales and earnings that significantly missed its predictions. The weakness accelerated toward the end of the third quarter and won't end any time soon as carrier customers around the world cut back on investments, Ericsson said in an unscheduled statement Wednesday.
The announcement came a week after Ericsson announced major job cuts in Sweden, and the company said Wednesday that it will need to come back for more to stabilize operations. The deepening crisis prompted Chief Executive Officer Jan Frykhammar to reassure shareholders that the 140-year-old Ericsson, one of the world's biggest makers of networking equipment, wasn't falling into a death spiral.
"This is absolutely not the beginning of the end for Ericsson," Frykhammar said. "We're a company that during many, many years have been good at adjusting."
Revenue fell 14 percent to 51.1 billion kronor ($5.8 billion) in the third quarter, the biggest drop in more than a decade. The gross margin, or what's left of sales after production costs, shrank to 28 percent, the lowest since 2001, from 34 percent a year earlier. Both metrics missed analysts' estimates.
For Gadfly's take on Ericsson's latest setback, click here.
Shares of Ericsson fell 17 percent to 51.15 kronor at 2:04 p.m. in Stockholm, after tumbling 18 percent earlier for the biggest drop since Oct. 16, 2007. The stock had already lost 25 percent this year. Finnish competitor Nokia Oyj is facing similar market challenges, said Mathias Lundberg, an analyst at Swedbank AB. Nokia dropped 4.6 percent to 4.65 euros.
"We knew that the business climate was weak, and that would show in the numbers, but we didn't know that things were this bad," Lundberg said by phone. "That was a surprise both to us and the market."

The company singled out weak economies in markets that are key to its growth plans, including Brazil, Russia and some Middle East markets, as well as carriers in Europe that completed mobile-broadband projects last year.
"Our result is significantly lower than we expected, with a particularly weak end of the quarter, and deviates from what we previously have communicated regarding market development," Frykhammar said in the release. "The negative industry trends have further accelerated."
The size of the revenue slump underscores Ericsson's challenges as it tries to keep up with rising competition and slowing demand from phone carriers. As falling sales began to eat into profit, Ericsson ousted its CEO in July and last week said it plans to cut 3,000 jobs in Sweden, a fifth of the workforce in its home country. Frykhammar, who was promoted from chief financial officer in July, has said he doesn't want to keep the job for the long term. The company is searching for a permanent CEO.

"Ericsson's first-half woes have not abated, in fact they got worse," said Neil Campling, an analyst with Northern Trust Securities who told clients to sell the stock earlier in the year. "Pretty much everything I feared when I initiated my short on this -- now covered -- has come to fruition."
Ericsson is trying to revive earnings growth through savings as it competes with Huawei Technologies Co. and Nokia in an increasingly tough market. Carriers are restraining investments after spending billions of dollars building fourth-generation network systems so users can stream music and video on phones and tablets. Meanwhile, demand for so-called fifth-generation, or 5G, equipment is yet to pick up as the technology isn't ready yet.
The decline in sales was the biggest since the third quarter of 2003. Analysts had predicted sales of 54.2 billion kronor and a gross margin of about 33 percent, the average estimates compiled by Bloomberg.
Operating profit dropped to 300 million kronor from 5.1 billion kronor, Ericsson said. The company is trying to cut expenses by 9 billion kronor a year by 2017, with analysts estimating that it needs to announce further job reductions to achieve its goal.
"Since we now are in a situation where volumes are dropping, we have to adjust the cost of sales resources both external and internal," Frykhammar said. "That's clear given the volume reductions."