Everyone Is Blaming the Dollar for a Rough Earnings Season
by
More companies say unfavorable exchange rate limiting profits

S&P 500 ekes out gain after biggest one-day loss in a month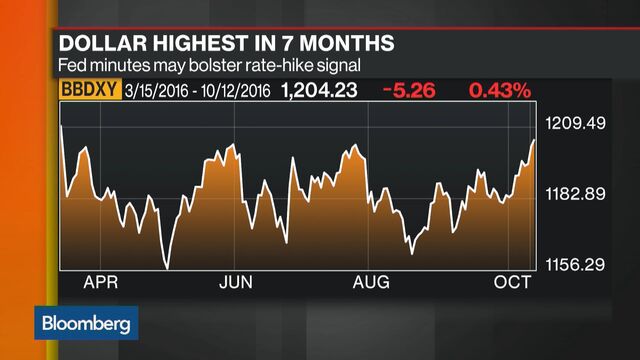 Earnings season is off to a rough start in the stock market and American executives are back to blaming their favorite culprit for struggling profits: the U.S. dollar.
Strength in the currency and unfavorable foreign exchange rates have been a constant companion of the five-quarter earnings slump endured by U.S. companies. They're back again, as firms such as Alcoa Inc. cite a stronger dollar more often than any other impediment to profit growth, according to an analysis by Pavilion Global Markets Ltd.
The S&P 500 Index rose 0.1 percent to 2,139.18 at 4 p.m. in New York after tumbling the most in a month Tuesday amid disappointing earnings. Stocks held gains after minutes from the Federal Reserve's latest meeting signaled little urgency for a December rate increase, though several officials anticipated a hike "relatively soon." Rising expectations for a move before year-end have amplified concerns that currency headwinds aren't about to die down.
"If they go ahead and hike at this point, the dollar issue becomes a greater problem," Alex Bellefleur, head of global macro research and strategy at Pavilion, said by phone. "It's the issue that's back at the forefront of this earnings season. I'm not sure the problem will go away soon. It seems companies were so used to having a weaker dollar in the previous cycle and at this point it just isn't."

While a gauge of the dollar has held below its record at the start of the year, it strengthened in seven of the last eight days and is up almost 4 percent in the past two months. Expectations for a December Fed rate hike held near 68 percent in the futures market, the most since June.
In 25 conference calls held by companies through today, at least 15 mentioned the stronger dollar as an threat to earnings growth, according to the Pavilion analysis. Second on the list was higher wages, with five companies saying compensation was limiting profit margins.
The snapshot of corporate complaints shows the importance of the Fed's path for raising interest rates, according to the note by Pavilion global macro strategist Aidan Garrib. While lower borrowing costs may keep the dollar from strengthening, it would put pressure on profit margins by spurring higher wages, he wrote.
The S&P 500 closed near its average price during the past 100 days after finishing yesterday below the closely watched level for the first time since June. The Dow Jones Industrial Average added 15.54 points, or 0.1 percent, to 18,144.20, and the Nasdaq Composite Index fell 0.2 percent. About 5.6 billion shares traded hands on U.S. exchanges, 14 percent below the three-month average.
Dividend-paying defensive shares rallied Wednesday, led by utilities, phone, consumer staples and real estate companies. Apple Inc. extended its longest winning streak in 20 months, though the technology group was little changed as chipmakers fell for a third day. Health-care stocks were the biggest drag, with the Nasdaq Biotechnology Index dropping 6.2 percent in two sessions. Energy producers also slipped as crude retreated.
"The combination of bad out-of-the-gate earnings reports, rising sense of Fed raising rates, and bond yields going up is a tough combination for stocks," said Jim Paulsen, chief investment strategist at Wells Capital Management, which manages about $350 billion. "The market is going to need a show of momentum economically and on earnings to handle higher yields."
Delta Air Lines Inc., JPMorgan Chase & Co. and Citigroup Inc. are among those still scheduled to report results this week. Analysts forecast a profit drop of 1.6 percent for S&P 500 companies in the third quarter.
"The trend coming out of the industrials companies that reported is very weak, but we're not seeing any indication that that's bleeding outside of industrials," said John Augustine, chief investment officer for Huntington Bank in Columbus, Ohio, which oversees more than $17 billion. "There's still the potential for a 2 to 3 percent upside surprise overall to earnings estimates and that will end the profits recession."
After surging as much as 7.2 percent this year through a record in August, the S&P 500 has failed to push higher. On Tuesday, the gauge closed at an almost one-month low, while the CBOE Volatility Index surged 15 percent. The measure of expected stock-price swings added 3.6 percent on Wednesday to remain at a three-week high.
Before it's here, it's on the Bloomberg Terminal.
LEARN MORE