Deutsche Bank Tops Corporate Credit Concerns, Swap Trading Shows
By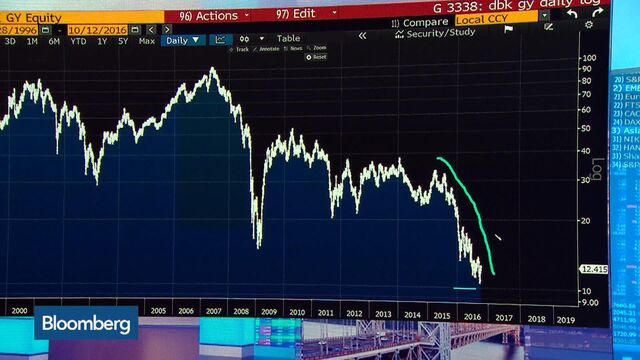 Concerns about Deutsche Bank AG continue to dominate credit markets, even as Germany's biggest lender seeks to shore up confidence in its financial strength.
Traders bought and sold credit-default swaps insuring a gross $2.4 billion of Deutsche Bank's debt in the week to Oct. 7, second only to Italy among 1,000 entities tracked by the Depository Trust & Clearing Corp. The next-highest company was JPMorgan Chase & Co., with trades covering $462.5 million of debt.
Investors are seeking to protect their bond holdings and speculate on Deutsche Bank's health after a $14 billion fine from the U.S. Department of Justice. The lender increased the size of a private note sale on Tuesday and is holding informal talks with securities firms to explore options including raising capital if mounting legal bills require it, people with knowledge of the discussions told Bloomberg News last week.
"Until Deutsche Bank agrees on a lower fine and raises capital, volumes will stay high," said Chris Telfer, a money manager at ECM Asset Management in London, whose parent Wells Fargo Asset Management oversees about $480 billion. "Counterparties have been hedging their risk to Deutsche Bank as well as investors expressing their opinion."

Deutsche Bank was the only company among the 10 most-traded entities last week, which included Mexico, Turkey and Brazil, DTCC data show. The amount traded compares with $342 million that changed hands four weeks earlier. Outstanding default swaps now insure a net $4.3 billion of its debt, the most since May.
While the cost of insuring Deutsche Bank's debt remains elevated, its credit curve is normalizing. Short-dated contracts are dropping close to longer-dated swaps, indicating investor concerns are diminishing.
Deutsche Bank raised $1.5 billion from the private debt sale on Tuesday, the second in three days. It paid a premium of 290 basis points, compared with 300 basis points on its $3 billion issue on Oct. 7, according to a person with knowledge of the matter, who asked not to be identified because the information isn't public.
Before it's here, it's on the Bloomberg Terminal.
LEARN MORE