Deadly Afghan Battle Overshadows Billions in Aid From Brussels
By
Thousands have fled fighting in northern city of Kunduz

At least $15 billion in aid pledged to Afghanistan in Brussels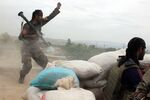 As donors pledge billions of dollars of development aid to Afghanistan, a ferocious urban battle in the nation's north highlights the country's fragile state 15 years after the U.S.-led invasion.
The northern city of Kunduz has become a recurring test of the Taliban's strength. It briefly captured it last year before it was retaken by U.S. and Afghan troops. In the latest nearly two week-long conflict, markets were shut down, thousands have fled and bodies lie in the streets as government forces battle militants in house-to-house fighting in the capital of the country's fifth-most populated province.
The Taliban's push underscores the challenges facing Afghanistan, along with internal political strife and endemic corruption. Leaders from more than 70 nations on Oct. 5 promised $15 billion over four years for development support, an acknowledgment the country remains far from paying its own way. Much of the money sent to Afghanistan is lost to corruption and in some cases makes its way to the Taliban, according to a U.S. watchdog report last month.
"Weak management in the macro levels of security and weak coordination among security agencies in Afghanistan have added to the Taliban's strength," said Ahmad Saeedi, a former Afghan diplomat and political analyst in Kabul. "Afghanistan and the international community must ensure that all financial pledges are going to the right places to strengthen the government rather than going to the insurgents via corruption."
For an explainer on Afghanistan's unending war, click here
Hundreds of Taliban fighters have been killed, while civilian casualties have risen above 300 in the latest Kunduz unrest, according to Mohammad Yousuf Ayubi, head of the provincial council which monitors the affairs of local government. He also said Afghan forces have suffered heavy losses. Almost 850 civilians were killed or maimed in last year's battle for the city, according to the United Nations.
By Thursday, the Taliban had been pushed back from the city and while sporadic fighting was ongoing in some remote areas, markets and government offices had reopened in Kunduz, said Sayed Mahmoud Danish, a spokesman for the provincial government.
More than 63,000 people have fled the city, many to neighboring provinces, according to the UN and are facing food shortages.
The capital Kabul has also seen a resurgence in violence with an attack on a shrine, claimed by Islamic State, killing 19 people and wounding more than 50 others late on Tuesday, according to the UN. Meanwhile, an explosion Wednesday at the entrance to a mosque in the northern Balkh province killed at least 14 and wounded more than 30 others as worshipers gathered to mark Shiite Muslim day of remembrance, Ashura, said Munir Farhad, a spokesman for the province.
Taliban Territory
The deteriorating security situation led U.S. President Barack Obama in July to walk back his pledge to withdraw all combat forces, announcing that 8,400 troops will remain through 2017. U.S. officials estimate the Taliban controls territory occupied by about 10 percent of the population, with another 20 percent of the country's 30.5 million people in contested areas.
Afghanistan's leaders, President Ashraf Ghani and Chief Executive Abdullah Abdullah, sought to highlight the country's progress at the Brussels summit, including increased tax collection and inclusion to the World Trade Organization. They say graft is declining and have asked donors to drop restrictions on aid so they can spend the money as they see fit.
However, the duo have also become embroiled in a bitter feud that threatens a U.S.-brokered power-sharing accord reached after disputed 2014 elections. That risks sending the nation into further chaos.
'More Active'
"We're confident that they know the challenges before them and that they can work through those," U.S. State Department spokesman John Kirby told reporters in Washington on Oct. 10. "That doesn't mean it's going to be easy, and it's certainly not made any easier by the fact that the Taliban has been more active from a military perspective in just the last few weeks."
Battles with the Taliban are also raging in other areas like western Farah and southern Helmand, the capital of the latter being under siege for months. That's prompted Afghan Defense Minister Abdullah Habibi and NATO's commander in the country, John W. Nicholson, to visit the region on Oct. 9 to prepare a comprehensive defense strategy.
"The battles will test how well the U.S. trained and equipped Afghan forces in the past 15 years," said Saleh Mohammad Saleh, a member of parliament. "The Taliban don't have a stronger unified army across the country that we should be worried of," he said. "They may hold a city, but not for long enough."
While the U.S. says Afghan forces continue to improve their battlefield competency, about 16,000 of the country's soldiers and police were killed or wounded in 2015, a 28 percent rise from 2014 and the deadliest on record, according to Afghanistan's defense ministry.
"It's obviously very tough for our weak Afghan army," said Fatima Aziz, a lawmaker representing Kunduz. The Taliban "fight by carrying out suicide and shadowy attacks and taking people hostages during battles -- that has been successful for them."
— With assistance by Nick Wadhams
Before it's here, it's on the Bloomberg Terminal.
LEARN MORE