Cathay Pacific Abandons Forecast, Conducts 'Critical Review'
By
Critical review done to improve revenues, reduce costs

Second-half results won't be better than first-half numbers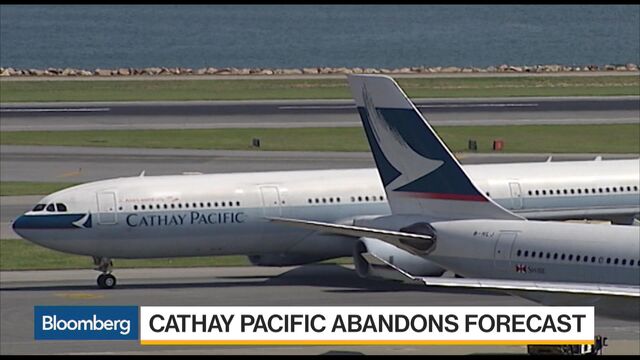 Cathay Pacific Airways Ltd., Asia's biggest international carrier, scrapped its profit outlook and said the airline is doing a "critical review" of its business amid a deteriorating outlook.
The airline's result in the second half of the year "is no longer expected" to be better than that of the first half, Hong Kong-based Cathay Pacific said in a statement Wednesday. In August, the carrier reported an 82 percent drop in net income in the first six months of the year and warned that premium travel was declining.
Chief Executive Officer Ivan Chu has struggled to revive profits at Cathay Pacific amid a slump in passenger yields -- a key measure of profitability in the industry. Singapore Airlines Ltd. has also warned of tougher days as competition with Middle East carriers increases. With Chinese airlines offering more direct services to the U.S. and Europe from the mainland, Cathay Pacific's Hong Kong hub is no longer so critical for travelers.
"Any targets, any projections they had have been thrown into the wind," Mohshin Aziz, an analyst at Malayan Banking Bhd. in Kuala Lumpur, said by phone Thursday. "They will have to relook at their network. They should put their arsenal on where it still works for them."
The stock dropped 3.3 percent to HK$10.40 as of 9:33 a.m. in Hong Kong trading, headed for the lowest price since July 2009. It is the third-worst performer on the Hang Seng Index this year.

Cathay and its unit Dragonair carried 1.8 percent more passengers in the first eight months of this year, taking the number to 23.3 million. Yields -- the money earned from carrying a passenger for one kilometer -- dropped 10 percent in the first half amid increased competition.
"We are engaged in a critical review of our business, the goal of which is to improve revenues and to reduce costs," Cathay Pacific said in the statement. "The review will consider all options for improving efficiency and productivity."

After announcing first-half results that missed analyst estimates, Cathay Pacific Chairman John Slosar said the business outlook "remains challenging."
"Since the interim report was issued, the outlook for our airlines' business has deteriorated," the carrier said in the statement Wednesday. "Overcapacity and strong competition is putting particular pressure on our passenger business, with continued shortfalls in revenue compared with forecasts and heavy pressure on yield."
Cathay Pacific also faces other challenges. The Hong Kong city administration scrapped a fuel surcharge starting February and is imposing a levy to finance a third runway at the Chek Lap Kok airport. Authorities are requiring a fee of between HK$70 and HK$180 for each passenger flying out of Hong Kong for the HK$141.5 billion expansion of the airport, which also increased parking and landing fees for airlines by as much as 27 percent.
"We believe capacity and competition headwinds are unlikely to be resolved in the near term," Andrew Lee, a Hong Kong-based analyst at Jefferies Group LLC, wrote in a research note Wednesday. Jefferies expects Cathay Pacific to report losses in the second half of this year and also in 2017. The second-half loss would be Cathay Pacific's first half-yearly loss in four years, according to data compiled by Bloomberg.
Before it's here, it's on the Bloomberg Terminal.
LEARN MORE