BOJ Reflationist Harada Says More Easing May Be Unneeded for Now
By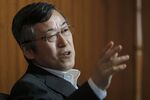 Yutaka Harada, one of the most committed reflationists on the Bank of Japan board, said there may be no need to ease monetary policy further at the moment.
His comments come less than three weeks before the next policy meeting and follow the unexpected decision on Sept. 21 to shift the focus of the central bank's policy to control of the yield curve from expanding the supply of money. Speaking in Matsumoto in central Japan on Wednesday, he also said the BOJ wouldn't hesitate to move if necessary.
Harada, 66, who joined the board in March last year, has contended that before Governor Haruhiko Kuroda took the helm three years ago, the BOJ had failed for decades to adequately address the nation's stumble into stagnation. In a 2002 interview, he went as far as to say "we just need to print money" and that highly aggressive bond purchases by the BOJ could end deflation.
"Since the employment situation has continued to improve, no further easing of monetary policy may be necessary," he said on Wednesday. "At any rate, I would like to discuss this thoroughly with other board members at our monetary policy meeting."
Harada's view that there may be no need to make further changes now is significant, given his readiness to push hard on policy levers to meet monetary goals.
In other remarks on Wednesday, Harada said:
He is aware of opposition to the BOJ's negative-rate policy.
The positive effects of current policy on the economy as a whole outweigh the negatives.
Japan is far from reaching the limits of monetary policy.


To learn more about Kuroda's position, click here to read his interview with Bloomberg.
Harada said the Japanese government, the BOJ and central banks in developed countries are all reflationists now.
Some steepening of the bond-yield curve is a good thing, and it is possible to further increase the monetary base in Japan under the BOJ's new framework, Harada said.
He added that in his view, it is necessary to make as clear as possible what the options are for additional easing measures, given that concerns in the market about policy limits can weaken the effectiveness of the BOJ.