Masters in Politics Podcast
Ana Navarro: Trump Will Become 'Albatross' for Ryan and Rubio
The Republican strategist said she is leaving the door open to the possibility of voting for Hillary Clinton.
By and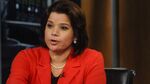 Ana Navarro has a few words of warning for House Speaker Paul Ryan and Florida Senator Marco Rubio: support Donald Trump at your own risk. 
Navarro, a Republican political strategist and contributor for CNN, ABC, and Telemundo whom the Miami Herald dubbed "the voice of the outraged Republican woman," told Bloomberg Politics' Masters in Politics podcast that while Rubio and Ryan are facing a difficult test on whether to disavow their support for Trump, the long-term consequences of not doing so are grave. 

"Here's the thing: Marco is gonna be on the ballot in Florida now, but we don't know if he wants to be on the ballot nationally next time. Paul Ryan might be the same way. I think this is going to be a stain on the future of anybody who wants to run for president," Navarro said. "People are going to ask, 'Who did you stand with when you knew the Republican nominee was a misogynist, was laughing and boasting about sexual assault? Did you stand with the victims of sexual assault or did you stand with a man who was laughing and boasting about it?' That's going to be a question that's going to be with them and hang around their necks like an albatross for the rest of their political careers."
While Navarro said she understands the dilemma facing Ryan, Rubio, and Republican National Committee Chairman Reince Priebus, she said she believes Trump's offensive rhetoric should be enough for the party to swear off the candidate despite the level of support he still enjoys from its base. 
"I'm a little embarrassed for some of the leaders in my party, that it's taken this long and these many things," Navarro said. "There are so many times and instances that should have been tipping points. This has been happening since day one. The first day when he called Mexicans rapists in his launch speech. But I think that this issue with the sexual assault, boasting about it, laughing about it, being caught on tape, being seen on video, cuts across all lines because you're either a woman, or you know a woman, or you have a mother, a sister, a wife, a daughter. And there's something so callous, and so undeniable when you see Donald Trump on tape laughing about it."
As for herself, Navarro said she is leaving the door open to the possibility of voting for Hillary Clinton if the race is close in her home state of Florida. "I am putting country over party," she said. "I refuse to support a man who is a misogynist, a racist, and a jerk."
Neera Tanden on Trump, Russia, and WikiLeaks
In the second half of the podcast, Neera Tanden, president of the Center for American Progress and a Clinton supporter, said that the hack of the e-mail accounts of John Podesta and the Democratic National Committee show that Russia is actively trying to help elect Trump. 
"I do not think it's a coincidence that the weekend before the Democratic convention they leaked out these e-mails at the DNC. and I don't think it's a coincidence that as their candidate is up against the ropes," Tanden said.
Tanden also noted that Trump surrogate Roger Stone seemed to have been tipped off about the release of the hacked material to WikiLeaks. 
"Roger Stone said these emails were coming. How does Roger Stone know these emails are coming?" Tanden asked. "He tells us he is directly connected with Wikileaks and Julian Assange. I didn't say it, Roger Stone said it. He also says he talks to Donald Trump. I'm not saying that Donald Trump is leaking these things. I think he's the direct beneficiary and his response is to take a weakened position on a host of issues; for example, on NATO and the United States' direct relationship with Russia."