Yuan Set for Longest Losing Streak in Two Years Post-IMF Entry
Bloomberg News
Currency has weakened every day since joining reserve basket

PBOC allowing drop now that SDR entry is done: RBS's Trinh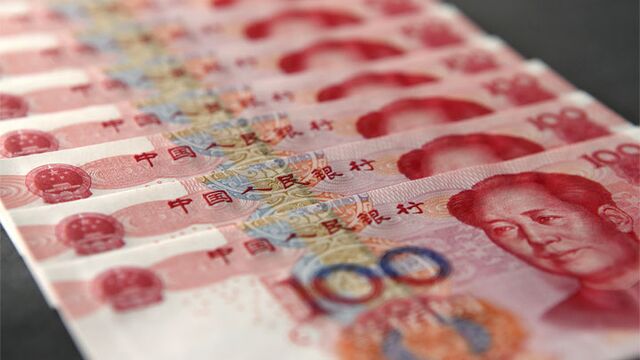 After joining the International Monetary Fund's reserves basket on Oct. 1, the yuan has gone in one direction: Down.
The yuan fell 0.04 percent to 6.7201 a dollar as of 4:47 p.m. in Hong Kong, taking its eight-day loss to 0.7 percent. That's its longest losing streak in more than two years. Onshore, the currency dropped to a six-year low. The central bank, speculated to have intervened to keep the yuan steady in the run up to IMF inclusion, set the daily reference rate weaker for a second day.
"Predictably, with the yuan's formal inclusion in the Special Drawing Rights out of the way, China has allowed a drop past 6.7," said Sue Trinh, Royal Bank of Canada's Hong Kong-based head of Asian foreign-exchange strategy. "This is no surprise. Having kept a floor under the yuan for weeks in the lead up to Oct. 1, the yuan has a lot of catching up to do on the downside."
China's foreign-exchange reserves shrank to $3.17 trillion last month, the lowest since 2011, in an indication that the central bank was selling dollars to support the yuan before the currency joined the SDR. The offshore yuan moved less than 0.1 percent on a closing basis in the two weeks before it became part of the SDR, spurring intervention speculation. Goldman Sachs Group Inc warned of increased pressures of capital outflows, saying that China's currency outflows may be bigger than they look.

Bets that the Federal Reserve will raise interest rates this year have boosted the outlook for the dollar. A gauge of the greenback's strength climbed 0.3 percent on Tuesday, after surging 1 percent last week.
"The PBOC is allowing market forces to play a bigger role, but if you compare the fixing with where it's supposed to be, it's still slightly stronger," said Eddie Cheung, a foreign-exchange strategist at Standard Chartered Plc in Hong Kong. "I don't think the PBOC will completely step away from the market. It still wants stability. It's an art of balancing between stability and letting market forces play a bigger role."
— With assistance by Robin Ganguly, and Helen Sun
Before it's here, it's on the Bloomberg Terminal.
LEARN MORE