markets
World's Biggest Wealth Fund Says Jump in Withdrawals Manageable
By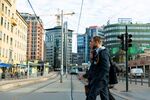 Norway's wealth fund dismissed suggestions by lawmakers that it's approaching a "critical" point in enduring outflows as the government steps up its raids on the world's biggest sovereign piggy bank.
"There is no problem for the time being," Egil Matsen, the deputy governor of Norges Bank in charge of oversight of the fund, said in an interview in Oslo on Tuesday. "This is manageable as it looks today."
With withdrawals set to soar 26 percent next year after an historic first outflow this year, politicians from the Labor Party, Norway's biggest opposition group, and from centrist parties supporting the Conservative-led government last week voiced unease at the rising transfers. Withdrawals are expected to reach 121 billion kroner ($15 billion) next year amid record spending.

Western Europe's biggest oil producer has been hit by a slump in crude prices over the past two years, forcing the government to dig into the fund for the first time to support the economy. Norway says the withdrawals, which are seen reaching 96 billion kroner this year, have little impact on the fund's day-to-day operations and broader strategy, as income from dividends, interest payments and real-estate rent represent more than 200 billion kroner.
Back in August, Matsen warned that withdrawals could hamper the fund's quest to manage more risk to boost returns. The central bank is preparing to advise the government on how much the fund should hold in equities in the future, compared with today's 60 percent target. The pace of withdrawals will need to be considered as part of that review, Matsen said on Tuesday.
"It potentially could" have an impact for the allocation of the fund, he said, declining to provide more details. The bank will present its position on the subject by Dec. 1.
Before it's here, it's on the Bloomberg Terminal.
LEARN MORE