Troubled China Credit Could Cost Banks $1.7 Trillion, S&P Says
by
Ratio of problem credit could triple to 17% by 2020: S&P

Growth rate of China's debt 'not sustainable for long'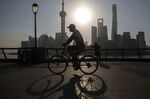 S&P Global Ratings said China's banks may need to raise as much 11.3 trillion yuan ($1.7 trillion) of fresh capital from 2020 because of troubled credit, should a corporate debt binge fail to slow.
The potential cost, highlighted in a statement on Tuesday, equals 16 percent of last year's nominal gross domestic product, S&P said.
The warning adds to a drumbeat of concern over a surge in Chinese corporate credit since the global financial crisis and dwindling economic returns as the nation gets less bang for its buck and companies spend more on servicing debt. The government on Monday issued guidelines for debt-for-equity swaps intended to help tame excessive leverage.
The rate of growth in China's debt is "not sustainable for long," the ratings company said. The $1.7 trillion scenario is based on problem credit rising to 17 percent of outstanding credit by 2020, S&P said. The firm's base case is for an increase to 10 percent from an estimated 5.6 percent in 2015.
In a May report called "Restructuring China Inc.," Societe Generale SA analysts said losses in the banking system could reach $1.2 trillion. They advised avoiding shares of lenders until after a debt restructuring in coming years.
Brokerage CLSA Ltd. has estimated that Chinese banks may face losses of more than $1.3 trillion from traditional lending and so-called "shadow" financing.
Before it's here, it's on the Bloomberg Terminal.
LEARN MORE