Photographer: Kiyoshi Ota/Bloomberg
pursuits
Tokyo Condo Prices May Fall 20%, Deutsche Says
By and
Mortage rate rises for two months after touching record low

'Collapse of this silent bubble has begun:' Deutsche Bank
The Bank of Japan's shift to controlling bond yields is driving up mortgage rates, prompting Deutsche Bank AG to predict Tokyo apartment prices may fall 20 percent or more by 2018.
The BOJ's negative-rate policy was already hurting buyer sentiment, and its move to boost longer-term yields is a double-blow to the industry, according to Yoji Otani, a real estate analyst at Deutsche Bank in Tokyo. The 35-year fixed mortgage rate has climbed for two straight months after touching a record low of 0.9 percent in August, and sales of new condominiums in Tokyo this year have fallen to the lowest since the nation's property bubble collapse in the early 1990s.
"The one positive thing about negative rates was that it lowered borrowing costs, and now that is going to end," said Otani, who expects prices to fall 20 percent to 30 percent by the end of 2018. "The collapse of this silent bubble has begun."
Banks have already started raising fixed-mortgage interest rates and some lenders may be charging customers 2 percent or more within two years under the BOJ's current yield policy, according to Credit Suisse Group AG. The adoption of the new monetary policy is in effect a form of tapering and the cost of home loans will rise as the central bank becomes less aggressive in its bond purchase program, according Masahiro Mochizuki, a real estate analyst at the Swiss bank.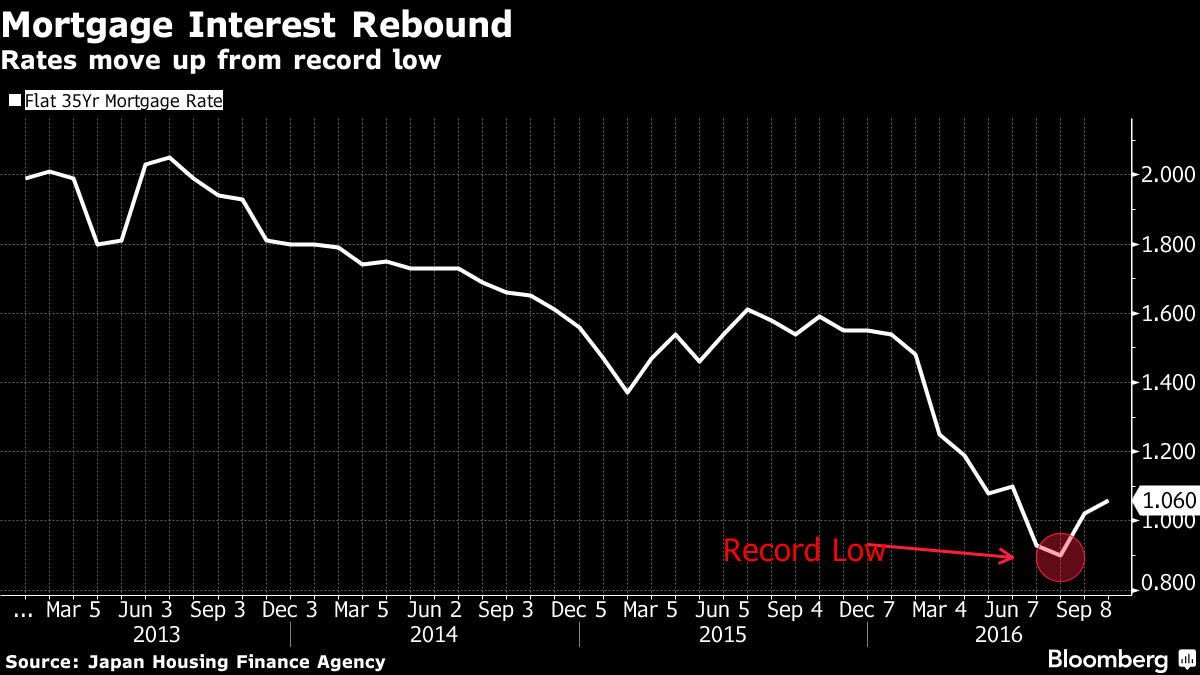 The yield on Japan's 40-year bond was 0.61 percent in Tokyo Tuesday, the highest in three weeks, and up 56.5 basis points from a record low in July. Long-term mortgage rates have risen by only 16 basis points, meaning there is more room for them to climb, according to Credit Suisse.
The BOJ doesn't intend to exit its "extremely" expansionary monetary policy at this stage, and may even strengthen monetary easing in the future to reach its 2 percent inflation target, Governor Haruhiko Kuroda said in a Bloomberg Television interview last week. Achieving yield curve control is "the most important" thing and in doing so bond buying could exceed or fall below the central bank's 80 trillion yen ($772 billion) yearly target, Kuroda said.
The BOJ can cut short-term interest rates further if needed, Kuroda said Wednesday in parliament in Tokyo.
The price of new and used apartments in and around the Japanese capital have both climbed 18 percent to 20 percent since the start of 2013, even as wage gains have lagged. The average price of a new condominium in Tokyo in August was 56.62 million yen, according to data from the Real Estate Economic Institute Co. Developers are likely to restrict supply next year to support prices, according to Credit Suisse.
For more on Japan's real estate boom deflating, click here.
Falling apartment prices may leave some recent buyers in negative equity, with the size of their loans exceeding the value of assets, according to Deutsche Bank's Otani. Wealthy individuals bought high-end luxury apartments last year to try to reduce future inheritance bills after changes in local tax rules. Such purchases are falling this year, which will also drag down the entire market, according to Otani.
"The BOJ is operating a negative-rate policy but it is trying to push up long-term yields, which totally lacks sense," he said. "There's a contradiction."
(
Updates with Kuroda comment in seventh paragraph.
)
Before it's here, it's on the Bloomberg Terminal.
LEARN MORE