Stock Markets Should Brace for Disappointment, Says HSBC's Laidler
By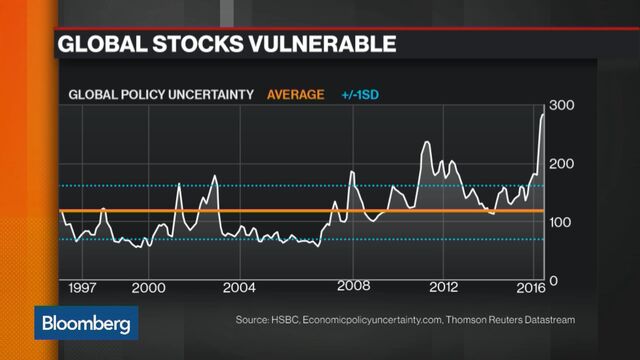 Equity markets are exposed to "a dangerous combination" of risk factors that investors aren't paying enough attention to.

That's the verdict of Ben Laidler, global equity strategist at HSBC Holdings Plc, who argued in an interview with Bloomberg TV that investors' relative calm belie a slew of headwinds. 
"We think markets are pretty vulnerable. You have earnings expectations which are pretty high, you have valuations which are pretty high," he said. "You look around the world, the level of economic-policy uncertainty is very, very high — I think that is a dangerous combination right now."

Except for a blip in July when the U.K.'s decision to leave the European Union jolted global markets, volatility has remained relatively subdued this year, with hedging activity especially low. 

Laidler put less of an emphasis on the U.S. election and the Italian referendum, which others have warned threaten to spike volatility.
"There could be a bit of complacency," he said. "We hear a lot about the sort-of 'wall of worry' but I don't really see it," he said. According to Laidler, the market's vulnerability has more to do with inflated growth expectations and valuations that have have become unmoored from corporate realities.
"If anything, the vulnerability we see is the growth expectation has got too high and we have this big rotation out of defensives back into cyclicals," said Laidler, adding that HSBC's preference is instead for defensive stocks like utilities which still offer dividend yield in a downturn.
Markets "are looking for 14 percent earnings growth next year, we're all talking about finally the earnings recession being over...I think we're being set up for a little bit of disappointment."
Before it's here, it's on the Bloomberg Terminal.
LEARN MORE