St. Jude Warns Defibrillator Patients About Battery Risks
by
Power source may drain quickly, rendering devices inoperable

Issue unrelated to cybersecurity allegations by short-seller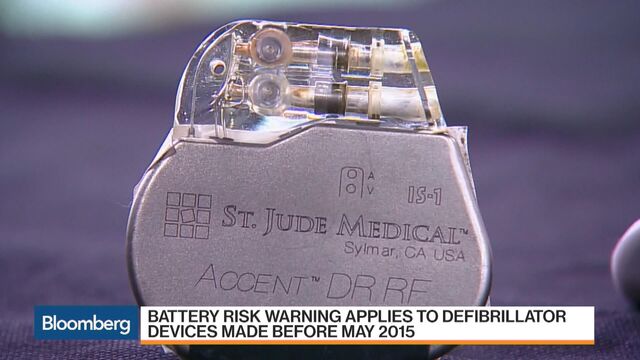 St. Jude Medical Inc. is warning patients that the batteries on thousands of its implantable defibrillators can quickly and unexpectedly deplete, in rare cases leaving them vulnerable should they need a shock from the device to restart their faltering hearts.
The premature battery depletion has been seen in fewer than 1 percent of the devices, the company said in letters sent to doctors and patients on Tuesday. Two people died after their devices failed to work correctly because of the drained battery, while 47 others reported dizziness or fainting. The warning applies to devices made before May 2015, which are in use in about 350,000 people worldwide. St. Jude's shares declined on the news.
The warning comes at a sensitive time for the St. Paul, Minnesota-based medical device manufacturer, which is in the midst of being purchased by Abbott Laboratories. In August, short-seller Carson Block and his investment firm Muddy Waters Capital LLC issued a report saying St. Jude's heart devices are vulnerable to cybersecurity attacks, including a depletion of the battery. The issue isn't related to the device's wireless communications, which are essential for doctors to closely monitor their patients, according to St. Jude. The problem stems from the lithium-powered batteries that run the devices. 
"We are recommending that patients utilize remote monitoring, to enable their physicians to monitor their devices' performance over time," Chief Medical Officer Mark Carlson said in a telephone interview. "Physicians and patients can take specific measures to mitigate the risk, albeit small, that this can impact their health."
Abbott Deal
Abbott continues to expect to complete the St. Jude deal by the end of the year, said Scott Stoffel, a company spokesman. He declined to comment further. St. Jude said it doesn't expect the battery issue to have a material financial impact on the company.
St. Jude fell 3.5 percent to $78.41 at the New York close. Abbott agreed to purchase the company for $25 billion in April, or about $85 a share, including cash and stock. Abbott's stock dropped 5.4 percent to $41.16.
The U.S. Food and Drug Administration said in a statement that patients and physicians should be aware of the risk that batteries may run out of power earlier than expected, and that devices showing early depletion reports should be replaced immediately. Hospitals shouldn't implant any equipment made before May 2015, the agency said.
The issue with lithium batteries is a known problem in high-powered devices like defibrillators and heart synchronization devices. Boston Scientific Corp. said it updated its devices to add insulation in March 2013, and has had no cases of early battery depletion since then. Medtronic Plc tracks the issue as a subset of its battery malfunction numbers, which occur in fewer than 0.0005 percent of most devices.
FDA Recommendation
While the FDA continues to investigate the recent cybersecurity allegations on St. Jude's products, the agency strongly recommended that patients continue to use their remote monitoring features.
"The benefits of continued patient monitoring and the life-saving therapy these devices provide greatly outweighs any potential cybersecurity vulnerabilities," the agency said.
The devices fall under St. Jude's cardiac rhythm unit, which generated 27 percent of the company's $5.54 billion in sales last year.
Rapid Draining
There are safety measures to alert doctors and patients when the battery is losing power, the company said. The device vibrates inside the patient's chest twice for 16 seconds, much like a restaurant's pager buzzes when a customer's table is ready, then repeats the notification several times in 10-hour increments. In addition, a remote home monitoring network informs doctors when patients' batteries are low.
The rapid draining of the battery can happen in days, said St. Jude's Carlson. Those devices should be replaced immediately, and St. Jude said it will provide a replacement device at no cost. The issue doesn't affect pacemakers and doesn't lead to inappropriate shocks or other complications, he said.
St. Jude recommended only replacing devices whose batteries had failed, since the risks of surgery outweighed the risks from devices that were still working properly.
Lithium Clusters
When the devices charge up, lithium clusters can form and move inside. If the clusters connect the positive and negative electrodes inside the battery, it creates a short circuit that drains the battery, sapping its power, Carlson said.
The company identified the issue based on an analysis of 841 devices, out of 398,740 sold worldwide, that were linked to premature depletion and returned. Lithium clusters and visible electrical shorting were seen on 46 of the devices. The number may be low since not all cases are recognized or reported.
The affected devices include the Fortify, Fortify Assura, Quadra Assura, Quadra Assura MP, Unify, Unify Assura and Unify Quadra models. The company will set up a website, www.sjm.com/batteryadvisory, to allow patients to determine if their device may be affected by the battery depletion.
Before it's here, it's on the Bloomberg Terminal.
LEARN MORE