Sprint to Give Away Phones, Service to 1 Million Poor Students
By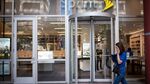 Sprint Corp. and the Sprint Foundation have pledged to give free mobile devices and wireless service to 1 million high school students from low-income homes for as long as four years.
Eligible students will get either a free phone, tablet, laptop or hotspot device and 3-gigabytes of wireless data per month, the company announced Tuesday at a student forum at North Carolina A&T State University in Greensboro. To help cover costs, Sprint will solicit donations of cash, phones and other mobile devices from sources including manufacturers, employee charity drives and customers trading in old devices, Chief Executive Officer Marcelo Claure said at the event.
Sprint's gift is part of the 1Million Project aimed at giving disadvantaged youths who may have no reliable Internet access at home a way to connect. President Obama's ConnectED and My Brother's Keeper program lead the project.
Gap Inc. is also contributing to the White House's initiatives. The retailer committed to hiring 5 percent of its entry-level store employees from its paid internship program for young people in low-income communities, Gap Chief Executive Officer Art Peck said on a call with reporters.
"We are here to change the lives of 1 million children," Claure said on the call. "It's 2016 and you would assume that Internet connections are available to every one in this country, but its not."
The retail cost, if the students had to pay for their devices and service, would be about $2.2 billion, Claure said. With donations covering the high costs of devices, "the incremental cost of putting additional users on a high-capacity network is insignificant."
"These kids won't be disadvantaged their whole lives, maybe they will look at us as good guys when they make their purchase decision," Claure said.
— With assistance by Justin Sink
Before it's here, it's on the Bloomberg Terminal.
LEARN MORE