Saka Shuts Credit Hedge Fund as Low Rates Offer Muted Gains
by
Singapore-based asset manager returns money to investors

Credit fund made annualized 7 percent in past six years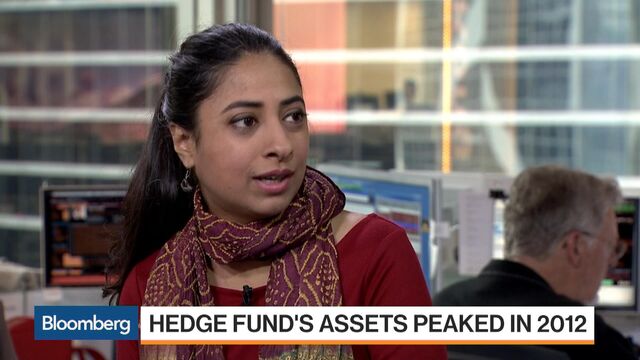 Saka Capital, the money manager started seven years ago by a former Lehman Brothers Holdings Inc. trader, is closing its credit hedge fund as record-low interest rates put a damper on returns.
The Singapore-based asset manager is liquidating the SakaCapital Liquid Credit Fund and returning money to investors, Chief Executive Officer Assan Din said in an interview. The vehicle, whose assets peaked at $350 million in 2012, stopped trading in July this year. The firm is converting into a multi-asset family office, focusing on real estate, equities, debt, and currencies, and will invest money for the management team and people close to them.
"In a zero-rate environment it is difficult to generate sensible returns in a liquid long-short credit fund," Din said. "Expected returns going forward are expected to be 5 percent or lower and as such we decided to give back capital to our investors."
Hedge funds globally are struggling to attract and retain investors, who are fleeing underperforming managers and pushing back against high fees. Credit hedge funds gained an average 1 percent in 2015, the lowest in seven years, amid concerns of a market contagion in the high-yield bond market. They've recovered this year, returning 5 percent through the end of September, according to data tracker Eurekahedge.
Lehman Trader
Saka, which started in 2009 with as much as $50 million mainly from founding members and friends, made an annualized return of about 7 percent during the following six calendar years, Din said.
The credit fund returned 0.4 percent in the first half of 2015, according to a person familiar with the matter, who requested anonymity because the returns are private. The Saka fund lost 2.8 percent in 2015 and returned 4.3 percent the year before, the person said. Din declined to comment on annual returns.
Din, who joined Lehman almost two decades ago as a credit derivatives trader in London, headed European and Asian operations for Lehman's $8 billion global principal strategies group. He helped set up R3 Capital Management LLC in 2008 when Lehman spun out the unit, before the investment bank's collapse in September of that year.
Apart from Din, the SakaCapital Liquid Credit Fund was managed by chief operating officer Lawrence Parsons, head of research Mark Thurgood, and head of investor relations Tom Picard. Parsons still works at Saka in the same role, Din said. Picard now works in a similar role at Singapore-based asset manager RV Capital Management, according to his LinkedIn account.
Funds Close
The closure at Saka adds to other funds shutting in the region as investors withdraw money after disappointing returns. Tudor Investment Corp., the $11 billion hedge fund founded by billionaire Paul Tudor Jones, has closed its Singapore trading desk as part of a global shakeup. Sumitomo Mitsui Trust Holdings Inc. is liquidating a Japan-focused hedge fund after investors withdrew money following poor performance, people familiar with the matter said last month. Earlier this year, Carl Huttenlocher's Myriad Asset Management closed down a Japan-focused fund after losing confidence in the ability of Abenomics to boost growth.
Hedge funds globally are mired in a slump as market volatility and central bank intervention in recent years has hurt their ability to post market-beating returns. The industry reaped double-digit returns in nine of the 11 years until the end of 2010 and wasn't able to repeat that feat in any of the following years, according to Eurekahedge. Last year's 1.6 percent gain was the industry's lowest in four years.
Din doesn't think that will change any time soon.
"Because of the low interest-rate environment, high valuations across all asset classes and lack of liquidity in the market we believe the return profile of the hedge fund industry will be lower over the coming years," he said. "Pressure on fees is going to continue and assets are unlikely to grow."
Converting to a family office will "allow us the freedom to trade a broader range of products and without the onerous oversight of tighter regulation," Din said.
Before it's here, it's on the Bloomberg Terminal.
LEARN MORE