S. Africa's Gordhan to Be Charged; Rand Plunges Most Since June
By , , and
South African rand weakens against dollar by most since June

Head Prosecutor Abrahams denies case is politically motivated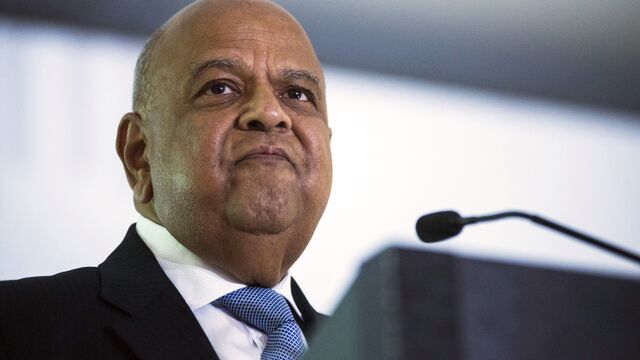 South African Finance Minister Pravin Gordhan was summoned to appear in court on fraud charges next month, the latest twist in a struggle with President Jacob Zuma that could cause South Africa's credit rating to be downgraded to junk. The rand weakened against the dollar by the most in more than three months.
Gordhan on Tuesday called the summons politically motivated and said "there is no case," adding that South Africans need to ask why the prosecutors took the decision to charge him over approving a retirement package, two weeks before the delivery of the mid-term budget. He's due to appear in court on Nov. 2. Shaun Abrahams, the head of the National Prosecuting Authority, said there had been no political interference.

"Gordhan has done an outstanding job and enjoys an extremely high degree of confidence," said Anthony Sedgwick, co-founder of Abax Investments (Pty) Ltd. "Obviously, there is extremely deep suspicion as to what the motive behind the move is."
Junk Rating
The finance minister has led efforts to help South Africa keep its investment-grade rating and is seen by international investors as a steady hand to guide the economy through the slowest growth since a 2009 recession. The Treasury's pledge to keep spending under control and limit debt was cited as crucial for S&P Global Ratings and Fitch Ratings to avoid a cut to junk.
The announcement may disrupt preparations for Gordhan's mid-term budget scheduled for Oct. 26, when he's expected to commit to impose tighter reins on spending. The prosecutor first informed the minister of an investigation, and sent him a list of questions, just days before the main annual budget speech in February.
To read more on why the controversy is roiling markets, click here
"It's a grave concern and investors are unlikely to react kindly to this development," Jana van Deventer, an analyst at ETM Analytics in Johannesburg, said by phone. "It's a reminder to investors of the political instability that's been playing out in South Africa, especially related to National Treasury."
Fraud Charge
Gordhan, 67, will be charged with fraud related to his approval during a first stint as finance minister from 2009 to 2014 of the early retirement and subsequent reappointment on a contract basis of a former colleague at the revenue service that resulted in a "fruitless" expenditure of 1.1 million rand ($77,000), Abrahams told reporters in Pretoria, the capital. 
"I can assure you there has been no political interference in this matter," he said. "I will not allow any political interference in the work of this institution. This decision was made within the rule of law and the constitution."
Gordhan has repeatedly clashed with Zuma, who had dismissed his request to fire the nation's current tax chief, Tom Moyane, for insubordination and delayed his attempts to install a new board at the loss-making state airline. Prosecutors have alleged that Gordhan oversaw the establishment of an illicit investigation unit when he was commissioner of the South African Revenue Services. The minister was reappointed in December, days after Zuma's decision to fire widely respected Nhlanhla Nene and replace him with a little-known lawmaker caused the rand and bonds to plunge.
Proof Burden
Gordhan said he will continue doing his job and will cooperate with the legal requirement to bring an end to the matter as soon as possible.
"The cause of defending ethical leadership in government and throughout society is too important to allow ourselves to be deterred by this kind of harassment," he said in a statement from the National Treasury, adding that the pension payout was of an administrative rather than a criminal nature.
The prosecutor will struggle to prove that the minister intended to defraud the state, according to Pierre de Vos, a professor of Public law at the University of Cape Town.
"It's going to be difficult when the legislation itself says that the minister can approve an early retirement with the full retirement benefits," he said by phone. "The regulations allow a person who has taken retirement to be appointed for up to three years and that is exactly what happened."
Zuma Questioned
Public Protector Thuli Madonsela questioned Zuma, 74, last week relating to her investigation into whether the Gupta family, who are friends with the president and in business with his son, had undue influence over government affairs. Zuma on Monday responded that he wanted to question the witnesses who the graft ombudsman had interviewed, and wants the investigation handed over to her successor after she steps down on Oct. 15.
The Constitutional Court ruled in March that Zuma violated the law by not abiding by Madonsela's recommendation that he repay some taxpayer money that was spent on upgrading his private home, and ordered him to comply.
Counter-Reaction
"What we have seen since December last year is that whenever there's a major threat to either President Zuma or to persons close to him, then he activates this challenge or threat of Pravin Gordhan's involvement at SARS," said Dirk Kotze, a politics professor at the University of South Africa. "It becomes his main form of counter-reaction and form of bargaining in order to get rid of those issues when they are raised."
Zuma's spokesman, Bongani Ngqulunga, didn't respond to calls and a text message seeking comment on that accusation.
The president reaffirmed his support for Gordhan and urged the prosecutor "and other institutions concerned to conduct the matter with the necessary dignity and respect," Zuma's office said in a statement.
The rand weakened as much as 4 percent against the dollar and 3.8 percent lower at 14.3556 as of 6:43 p.m. in Johannesburg, the worst performer among 24 emerging-market currencies tracked by Bloomberg. Five-year credit default swaps, an indication on political risk, climbed 15 basis points to 265, the highest level since July 8.

Abrahams said the probe into the allegedly illicit investigative unit is "at an advanced stage but remains incomplete and ongoing."
"The issue here is about access to the National Treasury and the ability of factions within the ANC to control it and use its powers to win the elective conference in December 2017," said Peter Attard Montalto, senior emerging-market strategist at Nomura International Plc. "That ultimately would require the removal of Pravin Gordhan who has defended the institution's conservatism and independence."
— With assistance by Neo Khanyile, Paul Vecchiatto, Thembisile Dzonzi, Sam Mkokeli, and Colin McClelland
Before it's here, it's on the Bloomberg Terminal.
LEARN MORE