Pound Selloff Accelerates as Flash Crash Lows Loom Ever Nearer
By , , and
Political risk makes it 'much harder' to forecast pound: ING

Currency extends drop after comments from BOE policy makers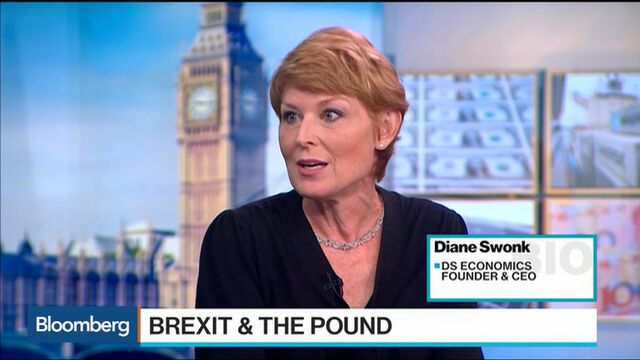 The pound's tumble is gaining momentum.
Sterling fell 1.8 percent to $1.2140 as of 2:20 p.m. New York time, approaching the lows seen during Friday's flash crash. That cemented its position as 2016's worst-performing major currency, a mantle gained in the wake of the U.K.'s June vote to quit the European Union. The pound has fallen 6.4 percent this month alone, and its precipitous slide has left strategists racing to revise down their longer-term forecasts.

The pound's losses have deepened since the ruling Conservative Party's conference last week, amid concern that the government, led by Prime Minister Theresa May, will pursue an exit strategy that will see Britain give up its membership of Europe's single market to secure greater control of immigration and lawmaking. ING Groep NV, JPMorgan Chase & Co. and Julius Baer Group Ltd. have all reduced their year-end forecasts for the British currency since Friday's flash crash.
"Investors have been caught wrong-footed," said Mazen Issa, a senior foreign-exchange strategist at Toronto-Dominion Bank in New York. "The downside potential is still rather prominent from our perspective."
A major catalyst in the change in analysts' forecasts came on Friday, when sterling plunged 6.1 percent versus the dollar in two minutes during Asian trading. While that move was blamed on possible human error and algorithms at a time when liquidity was scarce, it was enough to prompt strategists to reassess their longer-term view.
Follow @Brexit for the latest news, and sign up to our Brexit Bulletin for a daily roundup.
The currency dropped to as low as $1.2090 on Tuesday, approaching the 31-year low of $1.1841 it reached on Friday, according to composite prices compiled by Bloomberg of contributions from dealers. The U.K. currency weakened 1.1 percent to 91.12 pence per euro on Tuesday, having depreciated to a seven-year low during the flash crash.
"You have a pretty meaningful risk event" that makes it "much harder to forecast sterling," said Petr Krpata, a London-based foreign-exchange strategist at ING. Even though from a fundamental perspective the currency is "ultra cheap," political uncertainty could cause it to fall even further, he said.
ING forecasts sterling will drop to $1.22 by year-end, compared with a previous estimate of $1.25.
BOE Comments
Sterling also fell on Tuesday after Bank of England policy makers referred to the currency in testimony to lawmakers. Monetary Policy Committee member Michael Saunders said in written testimony that he would not be surprised if the pound falls further, while Financial Policy Committee member Anil Kashyap said that a so-called hard Brexit, where the U.K. gives up membership of the single market, could lead to a further drop in the value of sterling.
The Treasury could lose as much as 66 billion pounds a year, with economic output shrinking by some 7.5 percent after 15 years, if the U.K. quits the EU without any successor arrangement, The Times reported Tuesday.
"The sentiment on sterling is closely tied to expectations of hard Brexit," said Georgette Boele, a currency and commodity strategist at ABN Amro in Amsterdam. BOE officials' "comments are not helpful at all. Saunders said that he was concerned about volatility in sterling as it pushed up inflation. Despite this, we think that the BOE is more focused on growth than on inflation at this point in time."
Revised Forecasts
The growing prospect of a so-called hard Brexit was the reason behind JPMorgan's sterling revisions. The bank now forecasts sterling will drop to $1.21 by year-end, from $1.32 previously, while Julius Baer, which topped Bloomberg's forecasting accuracy rankings in the third quarter, has revised down its year-end predictions to $1.24 from $1.29. Both banks had recently raised their outlook for the currency,
Sterling is rooted to the bottom of the leaderboard among its 16 major peers this year, tumbling 18 percent versus the dollar. Still, some observers see the weaker currency as a positive, with Brexit Secretary David Davis telling lawmakers on Monday that the pound's depreciation would benefit U.K. exporters. The pound's decline was a "welcome change," former Bank of England Governor Mervyn King said in an interview with Sky News.
Before it's here, it's on the Bloomberg Terminal.
LEARN MORE