Pound Rallies as May Agrees to Let Lawmakers Debate Brexit Plan
By and
Sterling had weakened this month on 'hard Brexit' concern

Pound gains the most versus its U.S. counterpart since Sept. 6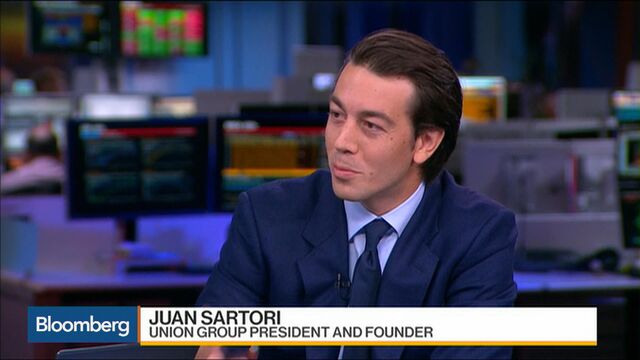 The pound posted its biggest gain versus the dollar in a month after Prime Minister Theresa May accepted that Parliament should be allowed a say on her plan for taking Britain out of the European Union.
While sterling strengthened against most of its 31 major peers, the U.K. currency pared its advance after May clarified her position in a weekly question session in Parliament. She sidestepped calls to guarantee lawmakers a vote on the Brexit plans, saying officials would "have every opportunity to debate this issue."
Wednesday's rally saw the pound regain just a fraction of its 4.9 percent loss versus the dollar over the previous four days. It has dropped about 18 percent since Britain voted in June to leave the European Union and almost 6 percent this month on mounting concerns over the prime minister's hard-line stance.
"Markets are still struggling to find an equilibrium and assess where the fair value for sterling is right now," said Lee Hardman, a London-based foreign-exchange strategist at Bank of Tokyo-Mitsubishi UFJ Ltd. "Maybe the market has overinterpreted" the Prime Minister's decision to allow lawmakers to debate the Brexit plan, concluding that this "would reduce the likelihood of a harder Brexit process." However, "the reality is that's a very optimistic view," he said.
The pound rose 0.7 percent to $1.2204 as of 5 p.m. in New York, after climbing as much as 1.7 percent. The U.K. currency strengthened 1.1 percent to 90.15 pence per euro.
The drop in sterling may continue over the near-term before stabilizing, said Kit Juckes, global strategist in London at Societe Generale SA.
"We're more likely to take cable down to $1.15 at some point, but in a year's time I wouldn't be surprised if we're not far from here -- as long as the government doesn't make any more mistakes," Juckes said in an interview with Bloomberg Television.
Flash Crash
Sterling weakened this month amid concern that the government will pursue an exit strategy that will see Britain give up its membership of Europe's single market to secure greater control of immigration and lawmaking. Hedge funds and other large speculators increased bets on a weaker pound versus the dollar to a record last week, according to data provided by the Commodity Futures Trading Commission going back to 1992. 
"Given how aggressively short the pound the market was positioned, the prospect of U.K. parliament at least discussing the downside of a 'hard Brexit' has encouraged substantial profit-taking on those positions," said Sean Callow, a senior strategist at Westpac Banking Corp. in Sydney.
Parliament Debate
U.K. lawmakers are debating a motion from the opposition Labour Party calling for Parliament to be able to "properly scrutinize that plan" before May begins formal talks. She tabled an amendment which effectively accepted the motion. May made it clear that the measure shouldn't be used to block Brexit or "undermine the negotiating position of the government."
Speaking in Parliament on Wednesday, May promised lawmakers would get to debate her negotiating strategy, but refused to say whether they would also get a vote. Asked explicitly during her weekly questions session whether there would be a vote, May refused to rule it in or out. "The idea that parliament wasn't going to be able to discuss, debate, question issues around" Brexit was "frankly completely wrong," May said, over interruptions. "Parliament's going to have every opportunity to debate this issue."
"It's not a game-changer and we would sell the pound rally within 24 hours," said Gareth Berry, a foreign-exchange and rates strategist in Singapore at Macquarie Bank Ltd. "The hope is that Parliament will have a moderating influence over her cavalier approach so far, but we wouldn't count on it. Crucially, May has not agreed to let Parliament vote on whether Article 50 will be activated, and that's what really matters."
Pessimistic Traders
A London court this week will rule whether May can trigger Article 50 of the Lisbon Treaty, which starts an exit, without approval from her fellow lawmakers.
Options traders are more pessimistic on the pound than on any of its developed-market peers. They were paying a 2.3 percentage-point premium for six-month contracts to sell the pound versus the dollar over those to buy, data compiled by Bloomberg show.
A measure of the pound's historic volatility versus the dollar has jumped to the highest in almost three months, highlighting investor concerns about short-term sterling risk. One-week pound-dollar historic volatility was at 21.8 percent on Wednesday, data compiled by Bloomberg showed. A one-week implied measure of future swings is also at the highest since July.
Brexit is "a very fluid situation," said Peter Rosenstreich, head of market strategy at Swissquote Bank SA in Gland, Switzerland. "As we see the evolution, that's going to continue to drive volatility in sterling. Extrapolating what exactly the relationship will look like in six months or longer is an exercise in futility."
Before it's here, it's on the Bloomberg Terminal.
LEARN MORE