Portuguese Prime Minister Says U.K. Ties Will Weather Brexit
by and
Antonio Costa speaks in interview with Bloomberg TV in Macau

'The U.K. doesn't stop being a big European partner,' he says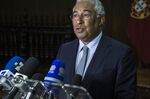 Portuguese Prime Minister Antonio Costa said he's confident that his country's centuries-old relationship with the U.K. would remain strong after the Brexit.
"We want to work towards a constructive, open and close relationship with the U.K., both bilaterally and also in terms of the U.K.'s relationship with European Union as a whole," Costa told Bloomberg Television while attending events in the Chinese gambling hub of Macau on Tuesday. "The U.K. can leave the European Union, but the U.K. doesn't stop being a big European partner."
Costa's U.K. counterpart, Theresa May, began a diplomatic offensive this week as she faces pressure both domestically and internationally to firm up her vision of Britain's future relationship with the European Union. The pound fell to a 31-year low last week as concerns grew that her pledge to restrict immigration is incompatible with continued unfettered access to the single market.
May said this month that she'll trigger Article 50 of the Lisbon Treaty by the end of March. Danish Prime Minister Lars Lokke Rasmussen -- the first foreign leader to meet May since she set a timetable for Brexit -- said Monday that the U.K.'s EU partners still have no concrete idea of what kind of relationship it wants to forge with the bloc.
Friends Since 1386
Costa was visiting the former Portuguese colony of Macau with Chinese Premier Li Keqiang, after a weekend swing through Beijing. He cited the longevity of Portugal's alliance with the U.K. -- dating to the Treaty of Windsor in 1386 -- as proof the relationship could weather the current uncertainty.
"It started long before the creation of the European Union and will continue long after. We have a very amicable relationship with the U.K.," Costa said, through a translator. "So we hope the separation will also be amicable, based on respecting sovereign decisions of the British people."
Last week, Portugal reaffirmed that no negotiations over Brexit would take place until Article 50 was triggered, according to Secretary of State for European Affairs Margarida Marques. She told Bloomberg in August that Portugal insists continued access to the single market depends on accepting free movement of labor.
'Closest Neighbors'
"The 'red lines' are well defined and there is a broad consensus at the European level," she said. "In the scenario of a relationship in which the freedom of movement of people is restricted, that would mean no access to the internal market."
While Brexit overall is a loss to the European Union, Portugal is nonetheless looking to attract companies due to its geographic location, English-speaking talent pool and proximity to London, Costa said.
"We will be the closest neighbors to the U.K. within the European Union," he said.
Follow @Brexit for the latest news, and sign up to our Brexit Bulletin for a daily roundup.
Before it's here, it's on the Bloomberg Terminal.
LEARN MORE