May Backs Down to Allow Parliament Vote on Her Brexit Terms
by
Government accepts need for debate on its strategy to quit EU

Prime minister asks Parliament to give her room to negotiate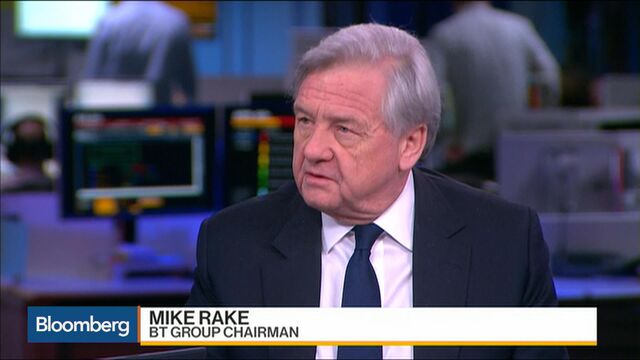 Prime Minister Theresa May accepted that Parliament should be allowed to vote on her strategy for taking Britain out of the European Union as lawmakers who want to keep closer ties to the bloc began to assert themselves.
The pound climbed against all of its 31 major peers as May's move was seen as a conciliatory gesture, calming investor concern that she was taking a gung-ho approach to negotiations with the EU. Sterling had tumbled, losing more than 6 percent this month through Tuesday, after May signaled her intention to put immigration curbs before free trade and the City of London's interests in pulling Britain out of the bloc.
Parliament will from 12.30 p.m. on Wednesday debate a motion from the opposition Labour Party to eventually hold a "full and transparent debate on the government's plan for leaving the EU" and for Parliament to be able to "properly scrutinize that plan" before she begins formal talks. The request is backed by some lawmakers from May's own Conservative Party. It is not a vote on whether to leave the EU or not.
In response to Labour's gambit, May tabled an amendment late on Tuesday that effectively accepted the motion, and instead asked that her government should be given as much space as possible to work. It said that whatever form the debate took, there shouldn't be an attempt to block Brexit or "undermine the negotiating position of the government."
The overnight development remains "pretty vague" and "may not monumentally change the political landscape," Nick Probert of Nomura Holdings Inc. said in a note. "If the single market access line within that bill/vote/motion follows anything like the current rhetoric of 'the best possible access' to the single market, you still can't rule out a hard Brexit."
'Proper Scrutiny'
It's not clear what form the proposed scrutiny of the government's Brexit strategy will take, nor when it will come. But any debate in Parliament requires a motion to be tabled, and any motion is subject to a vote. Labour's Foreign Affairs spokeswoman Emily Thornberry confirmed that she wanted Parliament to take a view on May's negotiating position. "We want to have proper scrutiny, and proper scrutiny means a vote," she told the BBC.
A look at the debate about the role of Parliament in Brexit and why it matters.
The concession is an indication that Parliament may push back against attempts to take Britain too far away from its geographically closest trading partner. While the country voted narrowly in favor of Brexit, most lawmakers opposed it. Having lost the referendum, they'd now be unlikely to try to reverse it, but they can use their strength to try to force a gentler departure.
"There's an assumption that May is strong, based both on her novelty and her style and character and the absence of any opposition on most issues," said Philip Cowley, professor of politics at Queen Mary, University of London. "But it just takes the cards to fall in the right way and she's got no majority. She has to take people with her."
'Rigor and accountability'
The vote won't be on whether May can trigger Article 50 of the Lisbon Treaty, the formal start of the Brexit negotiating process that she has said will come by the end of March. The government is fighting a court case from people arguing that Parliament should vote on this, too.
At the very least, the legislative body should be consulted, said Labour's spokesman on Brexit, Keir Starmer.
"Parliament must have a say on the basic terms of the Brexit negotiations before Article 50 is triggered -- not to frustrate the referendum result, but to ensure there is rigor and accountability on this vital issue," he said in an e-mailed statement.
The BBC's Newsnight program meanwhile reported Tuesday that the government could be willing to continue paying into the EU's budget in return for enhanced access to the single market. A government spokesman didn't deny this was a possibility, saying simply that "all
decisions about taxpayers' money should be made in Britain."
The government is also coming under pressure from the falling pound. It is the world's worst-performing major currency against the dollar this month, sinking more than 5 percent. The currency rallied on Wednesday, rising 1.1 percent to $1.2257 at 10 a.m. in London.
"Relief rallies in the pound will be limited because of concerns about how tough the negotiations will be, the U.K.'s widening current account deficit and the prospect for more negative U.K. interest rates," said Elias Haddad, a senior currency strategist at Commonwealth Bank of Australia in Sydney.
Watch Next: Brexit May Mean Brexit, But Not Before Another Vote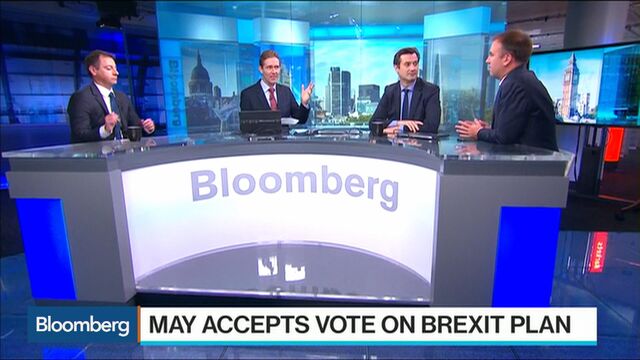 Before it's here, it's on the Bloomberg Terminal.
LEARN MORE