markets
Junk Bond Manager at Norway's Largest Bank Buys Oil Debt
By
Norway's suffering junk bond market is gaining more followers.
After a series of restructurings and a recovery in oil prices, high-yield debt in western Europe's largest oil producer now offers the possibility of good returns, according to Anders Buvik, a high-yield fund manager at DNB Asset Management.
"We've bought oil and offshore in the past months," said Buvik, who manages about 9.3 billion kroner ($1.1 billion) in high-yield bonds. "Prices within oil and offshore are so low that you get well paid, at least based on a good selection of these oil and offshore companies."
Crude's collapse over the past two years has led oil and gas companies to slash spending, reducing demand for equipment and services ranging from engineering to drilling. With income plunging, companies have found it increasingly difficult to manage debt, forcing them to refinance. That saw investors unload junk bonds and led to a drought in in new issuance.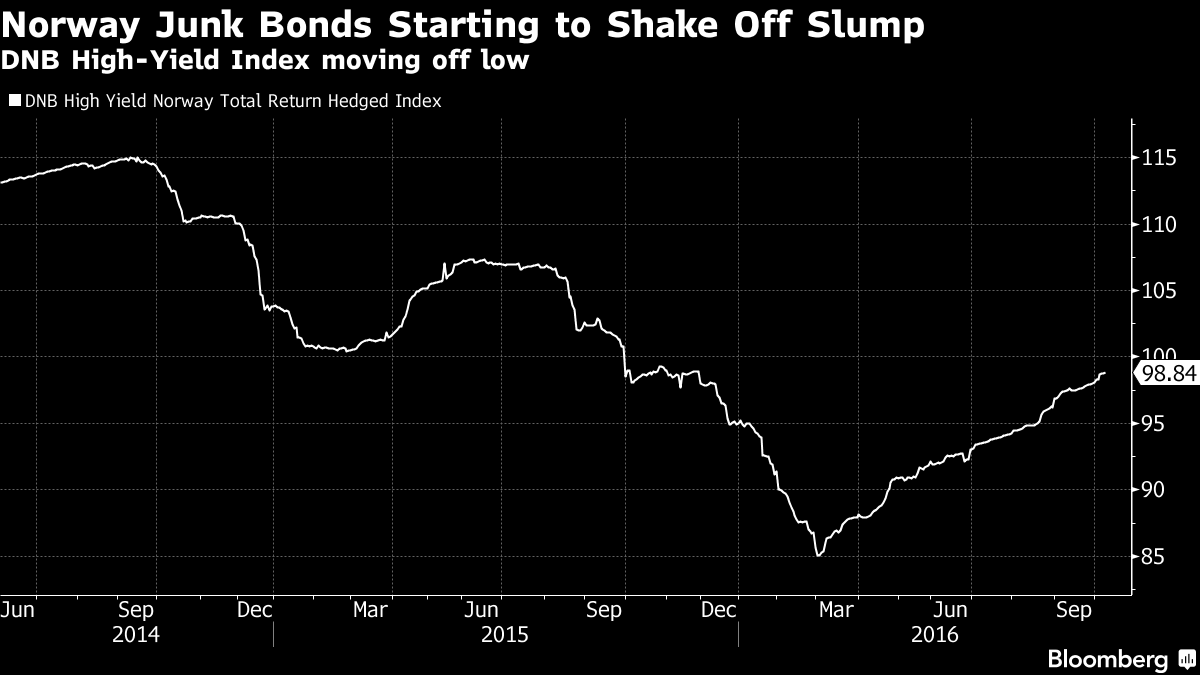 Now that returns are set to bottom, Buvik has bought debt issued by floating production, storage and production vessel operator BW Offshore Ltd. and oil producers DNO ASA and Aker BP ASA. Seismic surveyor Petroleum Geo-Services ASA is his top pick.
"The past days the oil price has come back. There's a positive sentiment building up," Buvik said. "If you find the companies that don't need to restructure and are exposed to oil and offshore, they can be good buys with the possibility of good returns."
The turnover in the secondary market has increased and the primary market is open for shipping and non-oil issuers, according to Magnus Vie Sundal, credit strategist at DNB.
"I think there will be new deals in the Nordic high-yield primary market in the next months, before Christmas," he said. "We will have more volume going out in the market."
While the junk bond market in Norway is recovering, there are still a lot of investors standing on the sidelines. Buvik's own cash holdings are at an historic high of about 8 percent.
"Liquidity is not the best -- there are a bit too few new issues. Hopefully it will improve," said Buvik. "On the other hand, it gives opportunities to find good buys because the market isn't as crowded as two years ago."
(
Adds credit strategist comment from seventh paragraph.
)
Before it's here, it's on the Bloomberg Terminal.
LEARN MORE