Germany, Utilities Said to Agree Nuclear Deal From Feb. 2017
By , , , and
German cabinet is scheduled to approve the deal on Oct. 19

Deal to provide investors with more clarity on nuclear closing
The German government has reached an agreement in principle with utilities on a nuclear decommissioning pact that will probably go into effect in February, according to a person with direct knowledge of the matter.
Utilities from RWE AG to EON SE would have to stump up a combined initial payment of 23.3 billion euros ($25.8 billion) that was proposed by a government commission in April, as well as interest, to free them from their nuclear waste storage liabilities, the person said. A contract has yet to be drawn up, said the person, who asked not to be identified because the talks are private.
Chancellor Angela Merkel's government decided to pull the plug on the 60-year-old nuclear industry in 2011 after the Fukushima disaster in Japan, spurring an unprecedented shift to renewable energy that sent prices to decade lows. The deal will provide investors with more clarity on the costs for utilities as incalculable risks resulting from the fuel that may be radioactive for 100,000 years has weighed on the companies' shares.
"It appears that we are nearing the end of a long running saga," John Musk, a utilities analyst at RBC Europe Ltd, said by phone from London. "Any clarity is going to be taken as a positive by the market."
RWE was little changed at 13.585 euros at 3:56 p.m. in Frankfurt after earlier rising as much as 2 percent. EON declined 0.4 percent after earlier rising as much as 1.6 percent. Germany's benchmark DAX index fell 0.5 percent.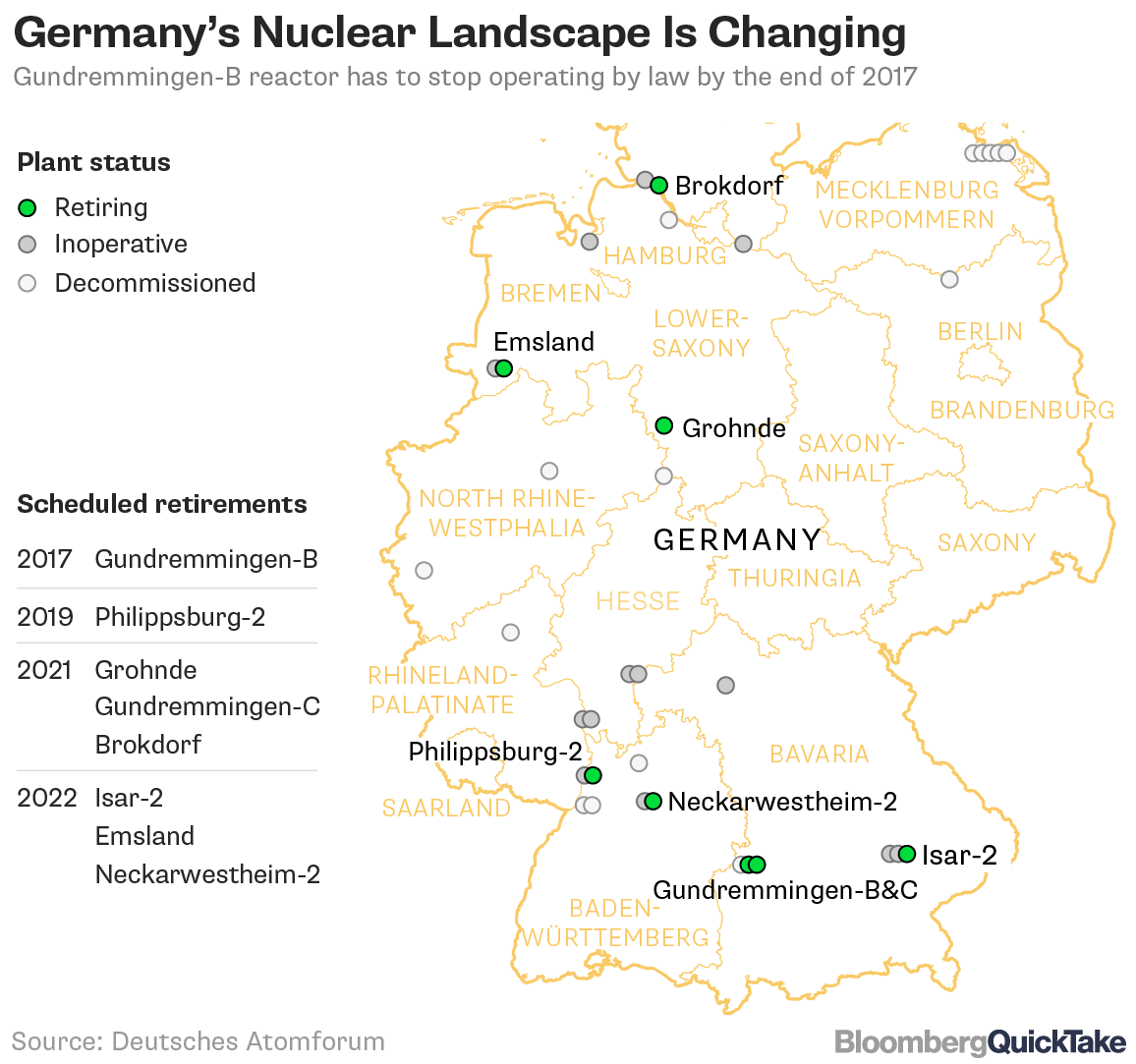 "At 23.3 billions plus interest, it is within the realms of what people have been expecting and will remove one of the key risk associated with both these companies," Musk said.
The German cabinet is scheduled to approve the deal on Oct. 19 after an agreement was reached between deputy ministers and Merkel's chief of staff, the person said.
Closing the Book on Nuclear Power Isn't Easy: QuickTake Q&A
The German economic ministry declined to comment, saying a draft proposal is in the works and that it intends to seek cabinet approval shortly.
Nuclear owners EON, RWE, Vattenfall AB and Energie Baden-Wuerttemberg AG also declined to comment. They have already set aside almost 40 billion euros to decommission reactors, restore the land they're built on and to dispose of nuclear waste.
EON has said it may fund the difference between the amount it has to pay for storage and the respective reserves of about 8 billion euros by capital measures.
"If they get to an agreement, it will be a positive for EON as it would remove an overhang and they could provide clarification on a possible capital raise," Deepa Venkateswaran, an analyst at Sanford C. Bernstein & Co., said by phone from London.
Nuclear power accounts for about 14 percent of Germany's electricity production, down from as much as 31 percent in 1999.
The deal is based on a recommendation made by a government-appointed panel in April.
— With assistance by Birgit Jennen, and Mark Chediak
Before it's here, it's on the Bloomberg Terminal.
LEARN MORE