Earnings Season Arrives With Thud After Stock Investors Cut Risk
by
An iShares ETF tied to earnings quality saw record inflows

The S&P 500 dropped 1.2% in brutal start to earnings season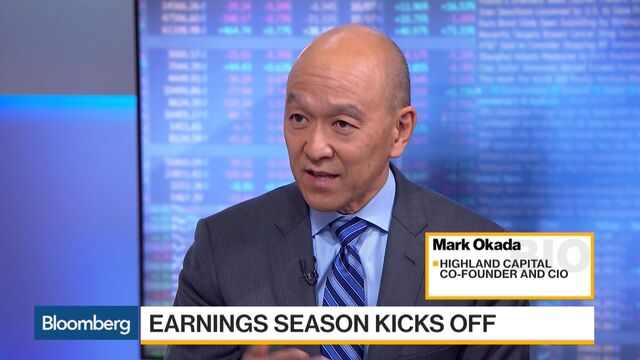 Investors who plowed money into an exchange-traded fund designed to weed out companies with the shakiest profits looked prescient Tuesday when U.S. stocks staged one of their worst starts to an earnings season since the bull market began.
The S&P 500 Index dropped 1.2 percent to 2,136.73, the fourth-biggest decline recorded since 2009 on the day after Alcoa Inc. reported results that fell short of analysts' estimates. Shares of the 128-year-old aluminum maker led the slide, plunging more than 11 percent, while companies reporting or warning of disappointing results from Illumina Inc. to Seagate Technologies and Fastenal Co. tumbled as well.
Concerns about third-quarter earnings may have underpinned record inflows into an exchange-traded fund tracking companies whose steady income growth and balance-sheet strength lands them in the investment category known to quants as "quality." The ETF lost less than the broader market after amassing some $350 billion in fresh cash last week.

"Investors see that there's some increased uncertainty," said John Conlon, chief equity strategist at People's United Wealth Management in Bridgeport, Connecticut, which oversees $5.5 billion. "The earnings season is now going to be grabbing attention for the next three weeks. There's going to be more and more focus on those companies that have higher quality earnings, strong balance sheets and stronger cash flow."
Safety's back in vogue with analysts forecasting S&P 500 profits will decline for a sixth straight quarter in the July-to-September period. Though it's early, results have been disappointing so far, with Alcoa tumbling after reporting a profit that was 2 cents short of analyst per-share estimates and it cut forecasts for its parts business.
Flight To Quality
Inflows into the iShares MSCI Quality Factor ETF over the past seven days were the most the fund has ever received for such a period since its creation in 2013, data compiled by Bloomberg show. The Dow Jones-compiled index that buys quality companies and shorts low-quality companies just wrapped up its longest winning streak in nine months.
Companies in the BlackRock Inc. portfolio include Johnson & Johnson, its largest holding, which topped analyst estimates last quarter and is expected to report profit growth of 18 percent in the September period. Technology and health-care companies are the biggest sector holding. Analysts expect profits in those groups to rise more than 3.5 percent even as S&P 500 income as a whole declines.
The S&P 500 fell 26.93 points to 2,136.73 after capping its third gain in four days on Monday. The Nasdaq 100 Index declined 1.5 percent following a fresh record, its 13th this year and the most since the tech bubble.
December Hike
"Alcoa is always the first off and seen as a bellwether for industrial demand," Chris Gaffney, president of world markets at St. Louis-based EverBank, said by phone. "People need to see strong earnings, especially with the thought that rates will start moving higher. The environment for companies is going to get less accommodating. The drivers today and going forward are going to be earnings."
Traders boosted odds for a December hike to 68 percent, from 64 percent on Friday and about 50 percent two weeks ago, as encouraging data signaled the U.S. economy is strong enough to cope with higher borrowing costs. They are pricing in a 19 percent chance of a move next month. Chicago Fed President Charles Evans told reporters in Sydney that a December move "could be fine," after arguing in a speech to keep rates low until core inflation moves higher.
The S&P 500 trades at more than 18 times estimated earnings, compared with a 15.6 average for the past five years. Now that Alcoa has unofficially kicked off the earnings season, investors will be looking for signs of sustainable profit growth at index members. While analysts forecast a 1.6 percent contraction in third-quarter profits for the gauge's members, U.S. firms have beaten projections by an average margin of 3.6 percentage points in the past five years.
Investors will also look this week to minutes from the Fed's September meeting, which will be released on Wednesday, and retail sales, producer prices and consumer sentiment reports due Friday, for clues on the health of the world's biggest economy and the likely trajectory of interest rates.
Before it's here, it's on the Bloomberg Terminal.
LEARN MORE