Deutsche Bank Fights to Regain Investment Banking Market Share
By , , and
Firm has slipped in league tables on European M&A, ECM, bonds

German bank confident to regain lost share from U.S. rivals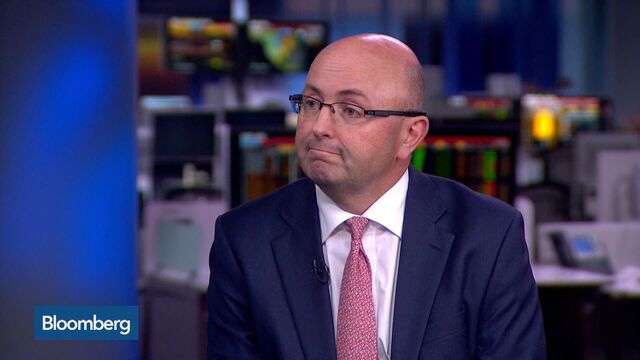 Deutsche Bank AG, battling to retain confidence among some shareholders and clients, is losing market share across investment banking in Germany and Europe, once considered its unbreakable home turf.
The Frankfurt-based firm has slid from the top position to No. 7 on mergers and acquisitions involving German firms and to No. 9 on European deals this year from sixth place in 2015, according to data compiled by Bloomberg. The worst blow came when Deutsche Bank missed out on the biggest ever German takeover, Bayer AG's $66 billion acquisition of Monsanto Co.
Some of the bigger U.S. banks are pushing to win market share in Germany and Europe as Deutsche Bank grapples with rising costs tied to its restructuring plan, as well as mounting legal charges relating to mortgage-backed securities in the U.S. and alleged money-laundering in Russia, said rival bankers, who asked not to be identified talking about a competitor. Others cautioned against underestimating the German firm's strength in its home region.
"The American banks have taken share from us," Alasdair Warren, the head of Deutsche Bank's corporate and investment bank in Europe, the Middle East and Africa, said in an interview on Bloomberg TV Monday. "Through the latter part of last year and the early part of this we were frankly quite distracted by a bunch of internal related issues."
For a QuickTake explainer on Deutsche Bank's problems, click here
As 2016 draws to a close though, Warren is confident that his firm can gain back some lost ground, citing demand from European and international clients. "I think we're going to see it pick up again," he said.
Cautious Approach
Faulted by Britain's Financial Conduct Authority over lapses in its vetting procedure, Deutsche Bank is scrutinizing clients more closely. In some areas of business, the lender can take five times longer than in the past to approve deals, a person familiar with the bank's practices said. Chief Executive Officer John Cryan has boosted the amount of countries that the bank deems high risk to 109 from 30, people familiar with the matter said previously.
"They are deliberately reducing their presence in some investment-banking areas, which could explain the falling in those league tables," said Neil Smith, a Bankhaus Lampe KG analyst who has a buy rating on the stock. "The news flow over the last months hasn't necessarily helped."
The league table losses stretch beyond M&A to equity and debt sales. Deutsche Bank has lost ground in equity offerings in EMEA in the last few years, dropping to sixth place in 2016, down from no. 1 in 2014, according to the data. The company ranks eighth on lending in EMEA, its lowest position since 2009, and is down to No. 3 on European bonds after holding the top spot for five of the last six years.
While it hasn't been a great year for bankers in general, with M&A spending down about 13 percent from last year's record, league table rankings regularly fluctuate from year-to-year and can be influenced by missing one big deal as well as the politics of getting credit for the work on a deal.
Zurich-based Credit Suisse Group AG has steadily moved up the tables in the last few years, ranking third in advising on European deals this year from eighth position in 2014, according to the data. Paris-based Rothschild & Co. rose five places to No. 6 this year while BNP Paribas SA sank to 23rd from 10th in 2015, the data shows.
"As we announced a year ago, we have taken strategic decisions to streamline our products, geographical footprint and client base," Deutsche Bank spokesman Don Hunter said in an e-mail. "These decisions impacted first-half revenues, but will make us more efficient and profitable. We remain the leading non-U.S. investment bank globally."
Cryan's Restructuring
Cryan is working to win back the approval of regulators and investors. He's called 2016 a peak restructuring year as he works to eliminate thousands of jobs and cuts risky assets.
In March, U.K. regulators said the firm's controls to prevent money laundering had "serious" lapses, a person familiar with the matter said previously. Within months of taking the top job last year, Cryan suspended taking on new clients and selling some products to customers in "higher risk" locations while he reviewed operations.
Shares touched a record low last month after the U.S. Justice Department initially requested $14 billion to settle a probe into Deutsche Bank's involvement in fraudulent mortgage-backed securities. That was more than twice the 5.5 billion euros ($6.1 billion) that the lender had set aside for litigation as of the end of June. The ultimate size of the fine may range from $4 billion to $8 billion based on settlements from similar investigations, according to estimates from Bloomberg Intelligence.
Still, Deutsche Bank also remains at the center of corporate Germany. Leaders of the country's biggest companies, including Daimler AG, Munich Re, Siemens AG and Deutsche Boerse AG, rallied behind the firm in newspaper interviews earlier this month. And last week, the bank helped manage the IPO of RWE AG's green energy business Innogy SE, Europe's biggest listing since Glencore Plc in 2011.
"While they're transitioning, they may lose business on the way, but in the long term this is necessary," said Laurie Mayers, associate managing director of banking at Moody's Investors Service. "If you think about the costs of maintaining some clients you need to justify those relationships, they need to deliver an adequate return."
New Hires
Cryan has also reshuffled top management with his strategic overhaul announced a year ago and split the securities unit into a trading division and a business, run by Jeff Urwin, advising clients on the sale of stock and bonds as well as mergers. 
Thomas Piquemal was hired as the head of global M&A from French utility Electricite de France SA in May and the bank previously named Warren from Goldman Sachs Group Inc. as head of corporate and investment banking in EMEA. Deutsche Bank also named Patrick Frowein and Berthold Fuerst co-heads of corporate finance for Germany, Austria and Switzerland.
"If I were Deutsche Bank, I'd be much more worried about customers rather than shareholders right now," said James Bevan, chief investment officer at CCLA Investment Management, in an interview on Bloomberg TV. "I'd be thinking how many of my customers are going to walk away because they don't want to be with me anymore. Stock investors will move on a 6 pence. I worry much more about what happens when customers start to go."
— With assistance by Elisa Martinuzzi, and Ruth David
Before it's here, it's on the Bloomberg Terminal.
LEARN MORE