Cooperman Says Omega's Assets Fell to $4 Billion Amid Case
By and
Hedge fund manager says he's prepared to run firm at a loss

Says rejected SEC offer of about $8 million to settle the case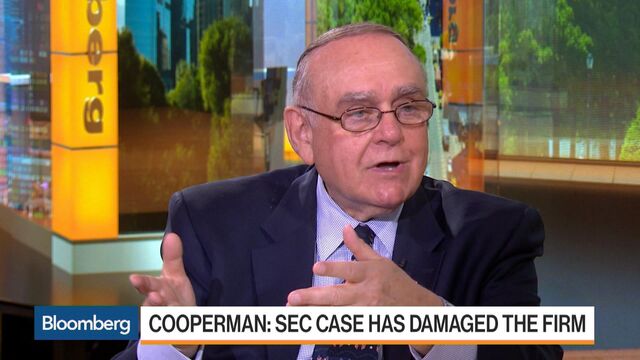 Leon Cooperman, the hedge-fund manager accused of insider trading, said Tuesday that his Omega Advisors Inc. will continue investing money for clients even as its assets have dropped to $4 billion.
"I have to make adjustments in the team but I'm prepared to run the business at a loss," Cooperman said in an interview with Bloomberg Television. "We're not retiring, we're not sending back the money."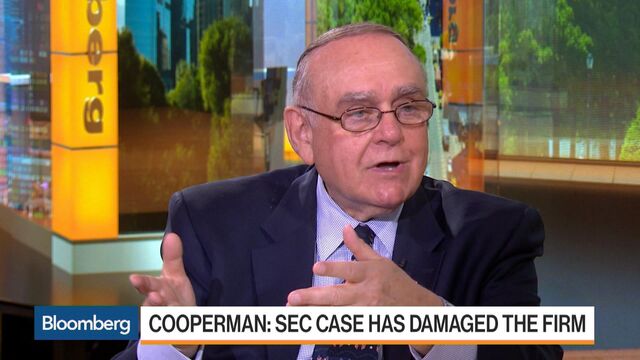 The firm oversaw $5.4 billion as of Aug. 31, according to its website. In early 2015, when Cooperman told investors that regulators had subpoenaed Omega for information about trading in certain securities, assets stood at $9.4 billion.
An outspoken billionaire who worked his way up from the South Bronx, Cooperman is facing one of the toughest patches of his long career. The U.S. Securities and Exchange Commission accused both Cooperman and his firm last month with insider trading in Atlas Pipeline Partners securities in 2010. He reiterated Tuesday his plan to fight the allegations and said he has done nothing wrong.
Cooperman said the SEC offered to settle the case for roughly $8 million and he rejected it. He declined to say whether that settlement offer included a ban on managing money for clients.
Investor Fallout
Cooperman blamed about $3 billion of withdrawals from Omega on fallout from the government's case against him, saying some institutional investors cited a "fiduciary" responsibility to leave. He said a number of individuals had given Omega more money to manage in spite of the case.
Goldman Sachs Group Inc.'s retirement plan is redeeming about $300 million from the hedge fund, said a person who asked not be identified because the information is private. Cooperman said Tuesday that he had met with Goldman and made a presentation, which he thought was a success, but the next day the New York-based bank said it was withdrawing the money from Omega.
"The institutional investors hide behind fiduciaries," Cooperman said. "For the 23 years I managed their money, I beat every relevant index by a very significant margin at a very competitive fee, yet they withdrew."
Cooperman's funds are mostly beating the average hedge fund in 2016, according to data compiled by Hedge Fund Research Inc. Omega's main fund has gained 5 percent this year, Cooperman said, while its Credit Opportunities fund and Equity fund have increased 14 percent and 7 percent in the period, respectively. The HFRI Composite Index rose 4.2 percent in 2016 through September.
Damages Firm
Cooperman founded Omega in 1991 after 25 years at Goldman Sachs, where he headed the asset-management unit and rose to general partner, according to Omega's website.
"The damage to the firm has dramatically impacted the opportunity for professional growth for my 43 partners and associates," Cooperman said in a statement released Tuesday.
As of Jan. 1, partner money will comprise 50 percent of Omega's assets under management, he said on Bloomberg Television.
"It is so sad what's going on," Cooperman said. "I can't begin to tell you."
— With assistance by Sonali Basak, and Neil Weinberg
Before it's here, it's on the Bloomberg Terminal.
LEARN MORE