Citigroup Just Upped Its Odds of a Clinton Victory
By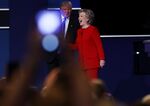 That didn't last long. 
Less than one month after telling clients that the broader population was underestimating the odds of Donald Trump taking the White House, Citigroup Inc. analysts are now upping the chances of a win by Hillary Clinton in November. 
"Based on continued momentum for Clinton in the polls, and Trump's difficulty in overcoming challenges and broadening his appeal behind his stalwart supporters, we increase our probability of a Clinton victory to 70 percent from 60 percent," the team, led by Chief Global Political Analyst Tina Fordham write in a note.
The Citi note comes after a tough week for Donald Trump that led to Clinton strengthening her lead to 11 points, according to an NBC/Wall Street Journal poll released on Monday. From a leaked video of lewd comments about women to a number of Republicans walking back their endorsements of the party's nominee, it's been a difficult few days for Trump's campaign. 

In the prior note, Fordham and her team said that polling methods might be failing to capture the intentions of "marginalized" voters, while the Brexit vote and wave of "Vox Populi" risk in developed countries had heightened the chance of a Trump win, leading them to reduce the probability of Clinton succeeding to 60 percent from 65 percent.
To be sure, Citi says that it is still too early to say that a Clinton win is a sure thing.
"Although Clinton is the clear favorite to win, we continue to be cautious due to concerns about polls capturing marginalized voters and the high potential for 'Black Swan' events in this highly volatile race," they conclude.