markets
Citi CEO Promotes Version of 'People's QE' for the U.S.
A socialist politician and a bank CEO find common ground.
By and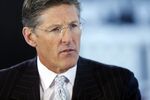 Corbat, or Corbyn?
Speaking on a panel at the Institute of International Finance in Washington D.C. on Saturday, Citigroup Inc. Chief Executive Officer Mike Corbat appeared to propose that a hybrid of monetary and fiscal stimulus could be used to buoy U.S. economic activity — a suggestion that bears a striking resemblance to a policy outlined by leader of the U.K. opposition.  
"The probably more effective mode of QE going forward is going to be some type of infrastructure projects, here in the U.S.," Corbat said in his remarks.
During the Labour Party's leadership contest last summer, eventual victor Jeremy Corbyn proposed the creation of a National Investment Bank that would issue bonds to be purchased by the Bank of England, a plan the self-described socialist dubbed "the People's QE." The funding would be directed at financing infrastructure projects, he said. Although the party leader has been muted about the policy since its announcement, in the meantime the idea of helicopter money has gained traction in a range of unlikely places.
The benefit of the People's QE, according to proponents — and comparable policies have been recommended by everyone from the European Commission to Joseph Stiglitz — is that it would have a much more immediate effect on both economic activity and employment, and that benefits would extend beyond wealthy holders of capital-market securities. 

Traditional quantitative easing relies upon a range of transmission mechanisms to stimulate economic activity, like boosting asset prices to make consumers feel wealthier, pushing investors into riskier asset classes, and reducing borrowing costs for corporates — a "version of trickle-down economics" that exacerbates inequality, Economics Professor Stiglitz has said. Corbyn's Labour team was reported last year to have engaged Stiglitz as an adviser. 
Arguments against this form of quantitative easing include that it would hamper the inflation-targeting credibility of the Bank of England, while low long-dated nominal bond yields also suggest the U.K. government, in theory, has the ability to finance investment projects through issuing sovereign debt.
With traditional monetary tools reaching their limits and unconventional stimulus waning in efficacy, Wall Street strategists and investors alike have been warming towards policy innovations (like so-called helicopter money) as measures to kick-start activity in sluggish advanced economies, particularly Japan.
Helicopter money — the printing of money to permanently expand the monetary base — remains a last-resort monetary tool for the Federal Reserve, former Chairman Ben Bernanke wrote in April. In a blog post for the Brookings Institution, Bernanke suggests the central bank could set aside a sum of money that the U.S. legislature could spend in projects ranging from tax rebates to public works. This fiscal-monetary coordination "would help preserve the Fed's policy independence and limit the ability of Congress to use monetary financing opportunistically," he said.
Corbat, for his part, did not offer any details on the mechanics of what central bank-financed infrastructure spending might look like, and a spokesman for the company declined to comment. 
There's "really an insatiable appetite for financing on a lot of infrastructure projects," the CEO added, but new Basel III capital requirements have made it harder for banks to do so.  
Corbat's fellow panelist and counterpart at JPMorgan Chase & Co., Jamie Dimon, noted that the need for enhanced infrastructure spending in the U.S. was probably larger than the Democratic party has called for, but also stressed the necessity of checks and balances on these expenditures.
"So the Democrats are saying today we need another $50 billion a year — it should probably be $100 billion a year, to tell you the truth — for 10 years, and the Republicans are, you know, 'no more taxation for bridges to nowhere," he said. "And I'm sympathetic to both."
Before it's here, it's on the Bloomberg Terminal.
LEARN MORE