Christie Stands By Trump as He Says Lewd Remarks 'Indefensible'
By
Apology should have gone further, governor tells sports radio

'Bigger issues' for voters four days after video surfaces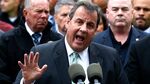 New Jersey Governor Chris Christie stood by Donald Trump, breaking his silence four days after a tape of the Republican presidential candidate's lewd comments set off a furor within the party.
"It is completely indefensible and I won't defend it and haven't defended it," Christie, who is the head of Trump's transition team, told WFAN-AM radio. "That kind of talk and conversation, even in private, is just unacceptable."
The married father of four, Christie said he was with Trump when the candidate learned of the tape and the remarks made him consider withdrawing support. Christie concluded the election was about "bigger issues," he said.
In a 2005 video obtained by the Washington Post and circulated Oct. 7, Trump bragged about sexually assaulting women. They were amenable to such treatment, he said, because he was a celebrity. Trump, 70, has apologized for his remarks, which he characterized as "locker room banter."
House and Senate Republican leaders, though, condemned the recording. House Speaker Paul Ryan said he wouldn't campaign for Trump. Senator John McCain of Arizona said Trump's boasts "make it impossible to continue to offer even conditional support for his candidacy."
Christie, who was co-hosting a morning sports-radio program Tuesday, said he told Trump to issue an apology. Though he did apologize "if anyone was offended," Trump added that his indiscretion was merely words, and alleged that former President Bill Clinton, husband of Democratic candidate Hillary Clinton, had done far worse to women.
Christie said Trump should have focused solely on the apology.
Before it's here, it's on the Bloomberg Terminal.
LEARN MORE