Chicago Mayor Presents 2017 Budget That Boosts Police Spending
By
Spending plan includes $52.8 Million to hire, train new cops

City council still needs to approve Mayor Emanuel's budget
Chicago Mayor Rahm Emanuel presented a 2017 budget that increases spending to hire and train more police to combat escalating violence in the nation's third-largest city.
The plan seeks to spend about $53 million to hire and train additional cops as part of Emanuel's two-year hiring boon for the police department, city documents show. The overall $9.8 billion budget, including federal and state funds, is up from about $9.3 billion this year partly due to increased pension contributions and debt issuance, said Molly Poppe, a finance department spokeswoman. Emanuel has pushed through higher property and utility levies to shore up the city's retirement funds.
"Today I am presenting to you a budget unlike any other we have seen in recent memory in Chicago," Emanuel said during his address at City Hall on Tuesday. "It is a budget free of an immediate pension crisis, free of the black cloud of insolvency threatening the retirements of city employees and the financial future of Chicago."
The proposed spending plan, which still needs approval of the city council, comes less than a week after S&P Global Ratings upgraded its outlook on Chicago from negative to stable, citing Emanuel's steps to contribute more to the four retirement funds that face a $34 billion shortfall.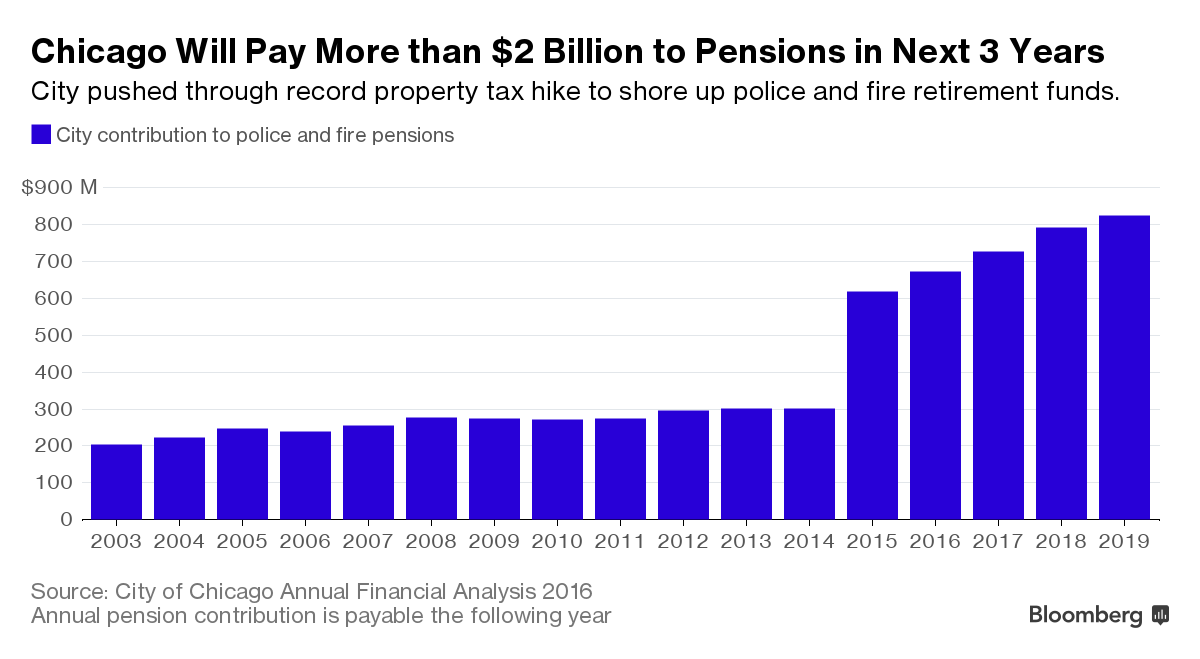 The city plans to plug the projected $137.6 million budget gap, the smallest since 2007, with measures such as energy savings and more revenue from sales taxes, lower healthcare costs and a levy on disposable bags, budget documents show.
Emanuel also touted a tentative agreement reached late Monday with the Chicago Teachers Union to avoid a strike in the cash-strapped, junk-rated district. The union's members still need to vote to approve the new contract.
Before it's here, it's on the Bloomberg Terminal.
LEARN MORE