Brexit Tumult Has Bank of Russia Chief Alert for Worse to Come
By and
Nabiullina sees long-term Brexit fallout as more significant

Bank of Russia continues to see sterling as reserve currency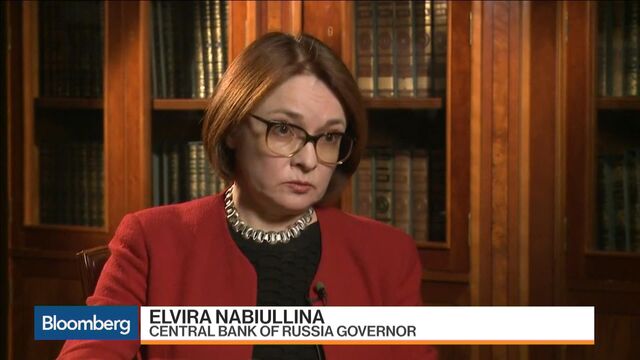 If anything has surprised Russia's central bank governor from the markets after the U.K.'s vote to leave the European Union, it's that investors have taken it in stride. What troubles her most now is what lies ahead.
The market fallout has been "far more muted than most could expect and many predicted," Elvira Nabiullina said in a Bloomberg television interview in Moscow on Tuesday. The governor was sanguine even as the pound fell for a fourth day, continuing to add to its precipitous slide last week.
"The long-term consequences will be far more significant," Nabiullina said. "A lot will depend on the terms that Brexit will be implemented."
Roiling the markets is the growing prospect of a so-called hard Brexit, where the U.K. would give up its access to Europe's single market to secure greater control of immigration and law-making. Sterling has been unable to recover from last week's decline as U.K. politicians, led by Prime Minister Theresa May, failed to offer any clarity on how the government proposes to steer the nation through tough negotiations on leaving the EU.
"Everyone is worried about the fallout, about whether a repeat of another country wishing to exit the European Union is possible," Nabiullina said. "That could, of course, have serious consequences. We continue to monitor the situation."
The pound is this year's worst performer among 32 major currencies tracked by Bloomberg, plunging 17 percent since the June 23 vote to leave the EU. The Times reported that it could cost the Treasury as much as 66 billion pounds ($81 billion) a year, with economic output shrinking by some 7.5 percent after 15 years, if the U.K. quits the EU without any successor arrangement.
The Bank of Russia hasn't soured on the pound as a reserve currency, according to Nabiullina. Its share in the central bank's foreign-currency assets dropped to 9.3 percent in the first quarter from 9.9 percent in the previous three months, according to the latest available data.
"We continue to see the pound sterling as one of the currencies for our assets," Nabiullina said. "Unfortunately, the range of reserve currencies isn't too wide, and the returns on them are mostly low."
With the exact meaning of Brexit still unclear, traders are expecting more volatility. May has pledged to trigger Article 50 of the Lisbon Treaty, the formal step needed to leave the bloc, by the end of March 2017. That would start two years of formal discussions on an exit.
The effect on the U.K. or the pound isn't what concerns Nabiullina the most.
"We are rather worried about its influence on other countries in the European Union, on the economies," she said. "The European Union is one of our biggest trading partners."
Before it's here, it's on the Bloomberg Terminal.
LEARN MORE