Brexit Bulletin: Can You Catch a Falling Pound?
The pound is falling again, but could it be a boon for the U.K. in the end?
By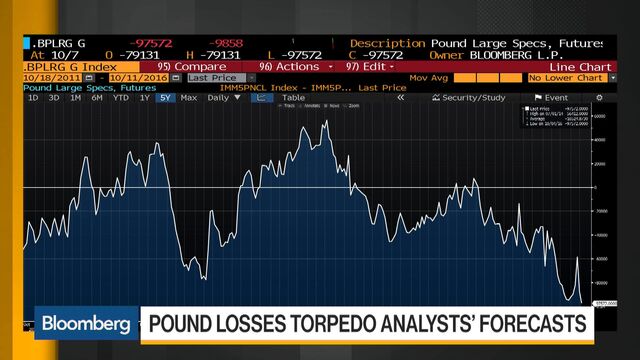 Sign up to receive the Brexit Bulletin in your inbox, and follow @Brexit on Twitter.
Brexit Secretary David Davis and former Bank of England Governor Mervyn King are cheering the pound down.
The currency's slump to its lowest in 31-years against the dollar is a "welcome change" for the economy, King told Sky News. Davis broke with the convention of government ministers not commenting on sterling by saying of its decline that "while it has some downsides it certainly has a very large number of upsides, too."

The pound fell for a fourth day today and has been this year's worst performer among 32 major currencies tracked by Bloomberg. ING, JPMorgan Chase and Julius Baer have all reduced their year-end forecasts. It lurched lower last week after indications the government might not prioritize membership of the EU single market after Brexit.
On the positive side? A weakness should boost tourism, exports and the earnings made by companies overseas. Sadly it might also hurt firms and fan inflation by pushing up import costs, while also raising questions over the U.K.'s ability to fund its record current account deficit.
Davis was speaking in parliament as he predicted a "smooth" Brexit and pushed back against mounting pressure from lawmakers wanting to have a say on the terms of the U.K.'s divorce. Said Davis:
"The mandate for Britain to leave the EU is clear, overwhelming and unarguable. No one should seek to find ways to thwart the will of the people."
Still, he faced calls from fellow Tories for the government to act more transparently in the House of Commons, such as Stephen Phillips:
"I didn't vote 'Leave' to see one tyranny which failed to consult this House – in the form of the European Commission – replaced by another."
Separately, Prime Minister Theresa May used a trip to Denmark and the Netherlands to say she is committed to "maintaining strong, positive relations with our European partners" and a "smooth, orderly departure."
After meeting May, Danish Prime Minister Lars Lokke Rasmussen said he still had no concrete idea of what relationship she wants with the bloc. "It appears as if there's quite a lot of work that needs to be done in the U.K," he said.
Speaking to Bloomberg TV, Portuguese Prime Minister Antonio Costa he's confident that his country's centuries-old "constructive, open and close" relationship with the U.K. would remain strong after the Brexit.
Court to Decide When Brexit Means Brexit
A London court will this week decide whether the PM can decide when the U.K. leaves the EU.

The prime minister's most senior legal adviser, Attorney General Jeremy Wright, will attempt to convince a judge that May can trigger exit talks without the approval of her fellow lawmakers. Failure would force the issue into parliament, whose members are largely pro-EU.
The lawsuit, which has hearings scheduled for Oct. 13 and 17, could delay the exit for a year or lead to its derailment altogether, according to Bloomberg's Patrick Gower.
An act of Parliament would mean "a first reading, second reading and it could be snarled up" by the process in the Lords, which can take a year or even longer, said Rob Ford, professor of political science at Manchester University. "Remember, the government does not have anything near a majority in the House of Lords, so it would be perfectly possible for Labour or Liberal Democrat peers, who are overwhelmingly in favor of remaining, to block any Article 50 triggering."
Europe Girds for a 'Hard Brexit'
Euro-area finance ministers are bracing for Britain to maintain its tone on immigration, suggesting a readiness for it to leave the trading bloc.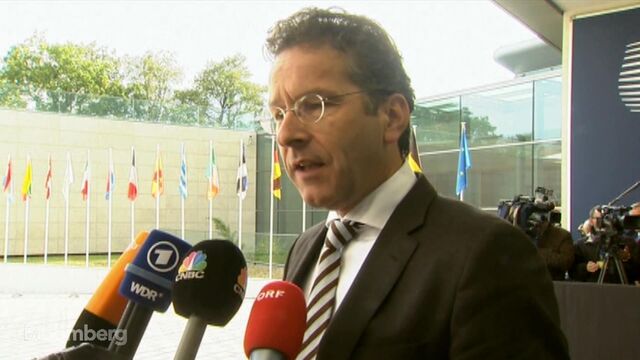 "They won't get just the cherry-picking part of the deal," Jeroen Dijsselbloem, who leads the group of euro-region finance ministers, told reporters in Luxembourg. "That's my message to them, and I think it's their choice... to go for a hard Brexit."
The Czech Republic may block an agreement on the terms of the U.K.'s departure if it doesn't respect free movement of people, Finance Minister Andrej Babis said.
Still, EU Commissioner Pierre Moscovici struck a conciliatory tone, saying the region shouldn't aim to punish Britain, which remained "very important."
Brexit Bullets
U.K. Treasury may lose up to £66 billion a year on "Hard Brexit," says Times
U.K. could lose billions in EU investment funding over Brexit, says EIB
Deutsche Bank's Warren sees pickup in deals since referendum
VTB mulls moving Europe HQ from London after Brexit, says FT
EU Commission says Brexit won't delay Deutsche Boerse/LSE decision
London Mayor warns leaving single market risks disaster
Bloomberg Gadfly: Is Vienna the real rival to London?
Google said to revive plan to construct London headquarters
Treasury says U.K. in 'strong place' to keep bank links with EU
On the Markets
The FTSE 100 set an intraday record on Tuesday, but is expected to lose traction soon, Bloomberg's Sofia Horta e Costa reports. The mood is changing amid concern Brexit will start to hurt the economy and trade and that a softer sterling can't keep providing a boost.

And Finally…
Luxembourg Prime Minister Xavier Bettel wants to give the U.K. an early insight into what it will feel like outside the EU. He yesterday pitched the idea of imposing borders controls for 24 hours to shock voters into appreciating the value of visa-free travel.
"Shutting the frontiers for a day would show people what it means to wait two hours to get into Italy or Spain, to have controls everywhere, to block all exchanges. It's terrible what I'm saying, but it would be good for people to understand."
For more on Brexit follow Bloomberg on Twitter, Facebook and Instagram, and see our full coverage at Bloomberg.com
Before it's here, it's on the Bloomberg Terminal.
LEARN MORE