markets
Oil Turns From Foe to Friend as Bank of Russia Chief Sees Relief
By , , and
Higher oil prices can mean 'much faster' easing, governor says

Central bank has committed to holding rates in 2016 after cut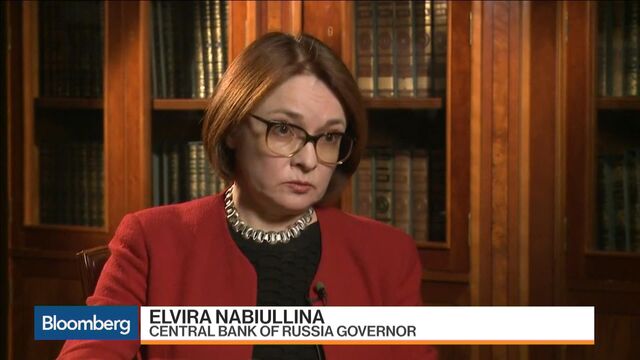 Russian central bank Governor Elvira Nabiullina is growing confident that her country's biggest vulnerability can turn into an asset.
The Bank of Russia, which last month issued an unprecedented commitment to leave borrowing costs unchanged the rest of the year, will face an easier path to interest-rate cuts if oil prices rise further, Nabiullina said in a Bloomberg Television interview in Moscow on Tuesday. While Brent crude has almost doubled from a 12-year low in January, the central bank's "moderately tight" stance allowed for only two reductions in 2016 before policy makers all but shut the door on more monetary easing this year.
"If there is a higher oil price, then it can lead to a stronger ruble, and -- through the foreign-exchange channel -- that in turn can cause a more rapid decline in inflation expectations, slowing inflation," Nabiullina said. "Then we can ease monetary policy much faster."

The outlook marks a rare signal by the central bank that it's open to deeper monetary easing as its chase of an inflation goal enters the final stretch. Policy makers are targeting price growth of 4 percent by end-2017 and see it reaching 5.5 percent to 6 percent in 2016 after overshooting their forecasts for a fourth consecutive year in 2015.
Oil traded near a 15-month high after rising 3.1 percent Monday, when President Vladimir Putin said at a conference in Istanbul that his country is willing to join efforts by OPEC to stabilize the market through a production freeze or cut. Oil supply and demand will come back into balance earlier than expected if OPEC's agreement to curtail output is implemented, the International Energy Agency said.
Russia's central bank assumes the nation's main export blend Urals will average $40 in 2016-2019, a level also used to calculate the budget. Brent crude, which is used to price Urals, slipped below $53 a barrel in London on Tuesday.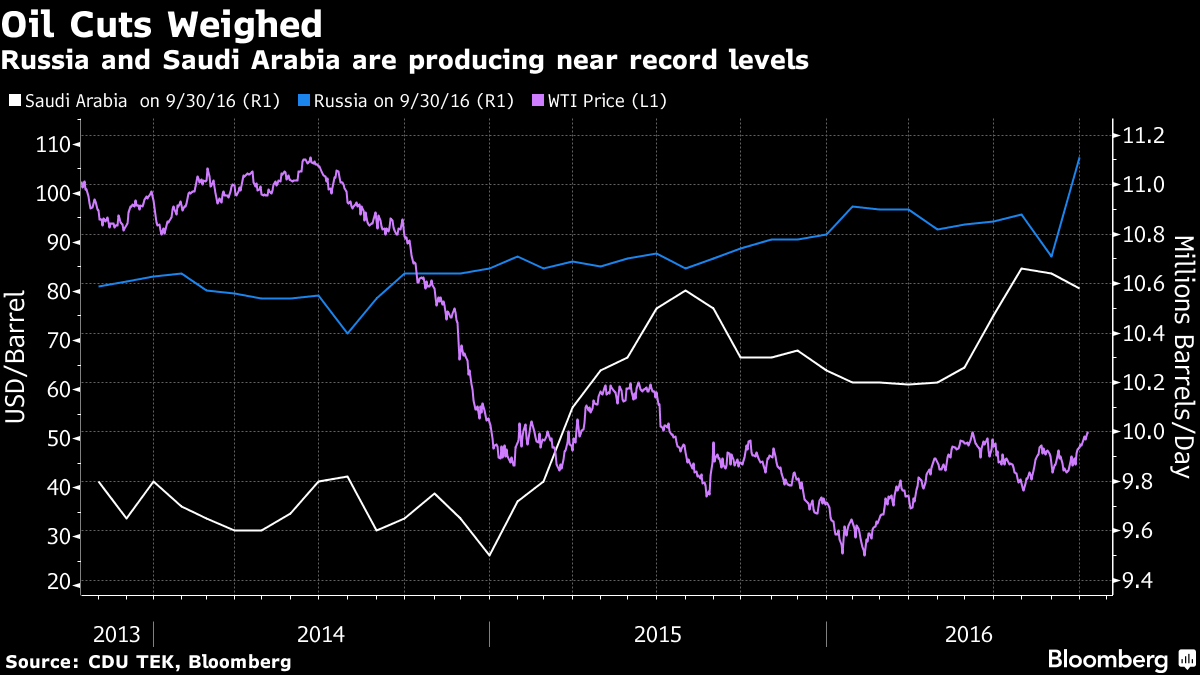 Derivatives traders have scaled back their bets for a Russian rate cut in the next three months. Forward-rate agreements now indicate 14 basis points of easing, down from last week's high of 44 basis points.
Inflation expectation for the next 12 months, a key determinant of monetary policy, rose to 14.9 percent, after slowing to 12.6 percent the previous month, according to results of a survey published by the central bank. Annual consumer-price growth slipped to a 31-month low of 6.4 percent in September, compared with 6.9 percent in August.
No Trigger
"Neither the price of oil nor the level of the exchange rate can be the only trigger in making decisions," Nabiullina said. "The Russian economy continues to depend on oil, but that dependence has declined."
The biggest energy-exporting nation, which is caught up in its longest recession in two decades, relies on oil and gas for almost 40 percent of budget revenue. That compares with 23 percent in 1996-1999 and an average of 50 percent in 2011-2014, according to Morgan Stanley. As much as a quarter of Russia's gross domestic product was linked to the energy industry last year, more than five times the share for agriculture.
Oil remains the "main channel" by which external developments affect Russia, according to Nabiullina. Still, the economy is continuing to retool after crude's collapse, she said.
Brent crude at $40 is the key threshold for Russia, so low that institutional reforms become unavoidable but high enough to prevent a financial meltdown, according to a July survey of economists by Bloomberg.
Oil, Reform
"Structural changes will still continue under a higher price than now," Nabiullina said.
Throwing her backing behind the government's plans to rein in the budget deficit, the governor said "more ambitious" steps wouldn't be realistic. Already running its widest shortfall since 2010, the Finance Ministry has proposed reducing it by one percentage point each year to balance the budget by 2020.
"Our budget, like the entire economy, has faced serious external shocks: the drop in oil prices and oil revenue," Nabiullina said. "That's why the budget's adjustment to external conditions must be relatively gradual, stretched out in time, to avoid shocks for the economy."
Yield Hunters
High returns on Russian assets are helping lure investors seeking to escape near-zero rates in much of the industrialized world. The Russian currency is the best performer among developing nations over the past month with a 3.3 percent gain against the dollar. Buying rubles with cheaper-to-borrow dollars earned 4.6 percent in the past month, the best result in emerging markets.
Nabiullina said inflows of speculative capital carry no "major, substantial risks" because Russia's economy is suffering from limited access to international markets as a result of sanctions. Most investment is channeled into state securities, and their yield curve "fully meets" the central bank's expectations.
"We carry out our policy rather conservatively, our policy is moderately tight," Nabiullina said. "We keep positive rates in the economy exactly in order to reach the 4 percent inflation goal. It's not an easy task."
— With assistance by Andrey Biryukov, and Torrey Clark
Before it's here, it's on the Bloomberg Terminal.
LEARN MORE