As Trump Falters, a Few Hedge Funds Win Big on Mexican Peso
By and
Peso posted worst loss among peers last month as Trump gained

Currency is world's best in October as Clinton advances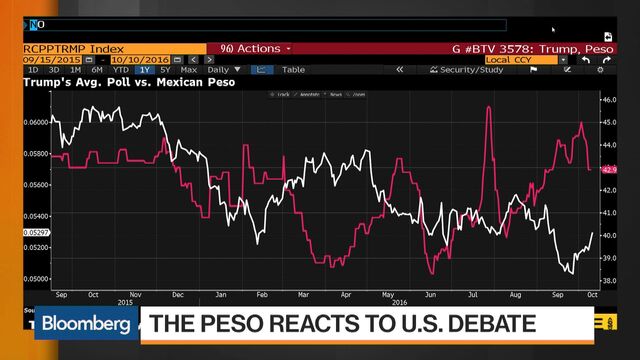 As the Mexican peso plunged day after day against the dollar last month, a handful of hedge funds took notice. The peso, they decided, was being overly punished by investors concerned that Donald Trump would win the election and go through with his plans to overhaul U.S. relations with its southern neighbor.
Now, just a few weeks later, those funds -- including Callaway Capital Management, North Asset Management, One River Asset Management and Sagil Capital -- are reaping a quick profit as Trump's mounting campaign woes turn the peso into the world's hottest currency. It has jumped about 5 percent since touching a record low in the lead-up to the first presidential debate late last month.
While there were an array of factors attracting each of the hedge-fund managers to wager on the peso, a common denominator for all of them was what they believed to be the market's overestimation of Trump's chances of defeating Hillary Clinton in next month's vote. Their assessment was quickly rewarded as Trump was deemed to have been beaten in the first debate and then as revelations of his degrading comments about women sunk his slumping campaign into a full-blown crisis late last week.
"There are another dozen reasons I like Mexico, but Trump makes it much easier," said Daniel Freifeld, a partner at Washington-based Callaway. He cited the nation's low inflation and ability to adapt to lower oil revenue, and said he's betting on the currency through a basket of peso-denominated stocks and bonds.
The nation's currency has been a bellwether for investor anxiety about the November presidential election, falling when Trump advances in polls and gaining when he slumps. It has depreciated more than any other major peer tracked by Bloomberg this year after the British pound, partly because of Trump's proposals to renegotiate or end trade deals with Mexico and block remittances to force the country to pay for a wall along the U.S. border.
Worry 'Wall'
"There's been enough worry created about the possible great wall of Mexico" that the peso "is a very good value in markets today," Julian Robertson, whose Tiger Management was once one of the world's largest hedge funds, said Oct. 4 at a conference in New York.
Even after the peso's 2 percent surge Monday to 18.93 per dollar, the real effective exchange rate -- the currency's trade-weighted value versus a basket of other major currencies, adjusted for inflation -- shows it's undervalued compared with historical norms. The measure fell to the lowest since 2009 on Sept. 26, according to a Barclays index, before rebounding slightly. It's still 13 percent below its five-year average.
The declines the peso suffered as Trump gained in the polls earlier this year means it has room to appreciate to 17.3 per dollar if Clinton wins the election, according to Nomura Holdings Inc. Itau Unibanco Holding SA is only slightly less bullish, envisioning it would trade at 17.5 if Trump loses. The peso was little changed Tuesday as of 10:03 a.m. in New York.
The peso's losses began well before Trump's rise. It lost almost a third of its value in the past two years as the price of oil fell and the country's debt levels rose, prompting Moody's Investors Service and S&P Global Ratings to put a negative outlook on Mexico's credit rating. It's also been driven lower by speculators who use it to hedge against global risks, because it's easy to trade and shorting it is relatively cheap due to Mexico's low interest rates.
The currency will continue to act as an election proxy in the short term and is "cheap, fundamentally," Dan Ivascyn, the chief investment officer of Pacific Investment Management Co., said in an e-mail. His company has championed the peso for years, with former CIO Bill Gross emerging as a Mexico bull as far back as 2001.
Ivascyn, who manages the $66.3 billion Pimco Income Fund, said he has added more peso exposure recently amid growing conviction Clinton will win, but the "trade thesis is more broad."
George Papamarkakis, the chief investment officer at North Asset Management, said the peso could strengthen as much as 10 percent after the election and that he would add to his long position in the currency during any bouts of weakness before then.
Downside 'Capped'
"The probability of a Trump presidency, especially given what we've seen over the past few days, has gone down," said Papamarkakis, who manages nearly $1 billion of assets. "The downside is capped unless the polls shift."
Most other investors have missed the rally. Futures traders increased their net short-peso positions over the past month to 85,892 contracts as of Oct. 4, according to Washington-based Commodity Futures Trading Commission. The bearish bets reached a record 89,342 contracts on Sept. 20.
Bradford Jones, who manages the Latin American Opportunities Fund at Sagil Capital, says that while the peso has been beaten up by the Trump effect, local stocks haven't seen similar declines.
Last month, he put on a so-called relative value trade that uses options to bet that the exchange rate will rally as Mexican stocks fall. Stocks have advanced over the last month, but overall he's made money on the trade because of the position in the peso, he said.
Trump's troubles became clear Monday when a new poll by NBC and the Wall Street Journal -- taken after the Oct. 7 release of a 2005 audiotape where Trump described in vulgar terms unwanted advances on women -- showed Clinton with a 14-point lead in a head-to-head match-up, the largest gap so far in that survey.
Improved Fundamentals
Adding to the peso's prospects is the willingness of Mexico's central bank to increase interest rates to support the currency. Banco de Mexico has boosted rates by 1.5 percentage points this year and could raise them another quarter of a point by year-end, according to swaps traders.
"Mexico's really suffered for a lot of reasons but we think a lot of the fundamentals have improved slightly," said Chase Muller, a money manager at One River Asset Management who's using options to bet on the peso. One River oversees $730 million from Greenwich, Connecticut.
He's protecting his investment with a position against the Canadian dollar, which he says should also sell off if Trump wins the election and seeks to revise deals with the U.S.'s main trading partners.
"We're not super bullish, we just think tactically we get this kind of recovery at the right time," he said.
— With assistance by Isabella Cota, Eric Martin, Ye Xie, John Gittelsohn, and Melissa Karsh
Before it's here, it's on the Bloomberg Terminal.
LEARN MORE