Alibaba Tells USTR It's Cracking Down Against Counterfeiters
by
China's e-commerce giant removed 380 million products online

Letter to USTR seeks to address complaints from associations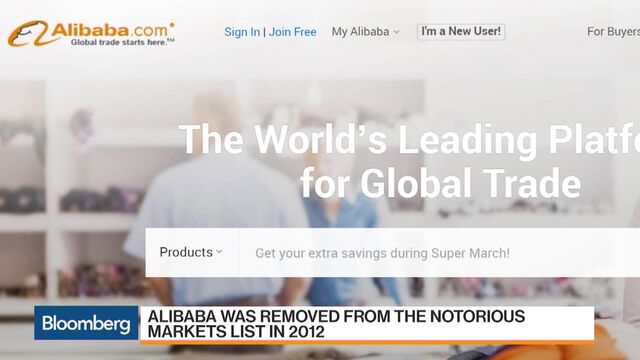 Alibaba Group Holding Ltd. said it has tightened policies against copyright infringements and made it easier for brands to issue complaints and request removals of counterfeit items on its platforms.
China's largest e-commerce company took down 380 million product listings and closed about 180,000 Taobao stores in the 12 months to August, according to a letter, dated Oct. 7, the company submitted to the U.S. Trade Representative. It has closed about 675 production, storage, or sales operations of counterfeit products, it added.
The efforts seek to address repeated complaints Alibaba has received from associations who criticize it for not taking enough proactive measures to fight counterfeits. As Alibaba seeks to bring in more than half its revenue from overseas, shaking off a reputation as a haven for knockoffs and winning the trust of foreign brands will be a key to expansion outside of China.
"At Alibaba, counterfeit goods are absolutely unacceptable," Alibaba said in its letter to the USTR. "We do not tolerate or condone those who steal other people's intellectual property."
The American Apparel & Footwear Association said this month that the USTR should reinstate Alibaba and its constituent platforms on the American government's Notorious Markets list, a designation applied to websites and markets where there is large-scale copyright infringement. Alibaba was removed from the Notorious Markets list in 2012.
Starting in January, Alibaba said it will become more stringent on repeat infringers, expediting the closure of accounts that accumulate three infractions. It began prohibiting listings that intentionally blur trade marks in product photos this year.
The company has the capacity to process 100 million pieces of data per second, which enables it to scan more than 10 million product listings a day.
To strengthen its copyright protection team, Alibaba in January appointed Matthew Bassiur as vice president of its global intellectual property department.
Before it's here, it's on the Bloomberg Terminal.
LEARN MORE