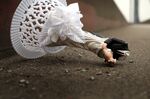 If you're thinking of tying the knot this Feb. 14, the Institute for the Study of Labor in Bonn, Germany, has published new findings that may curb your enthusiasm. 
That's the lead story in this week's research wrap, which also looks at how Britons struggle to make heads or tails of what their central bank is saying and the effects of housing vouchers in the U.S. Check this roundup every week for the latest on interesting and influential economic research from around the world. 
Special wedding dates come with higher divorce risk
People are more likely to get married on Valentine's Day and other numerically special days and are also more likely to get divorced once they've done so, based on data from the Netherlands from 1999 to 2013. Some of that owes to couple characteristics: those who got married on special days were less educated and were less similarly-matched. Even controlling for those factors, divorce odds were higher on special dates. 

Why? It's not clear, but the authors have theories. Getting hitched on a popular date will make it harder to secure big venues. Low attendance have been shown to increase the chances of a break-up, so that could have something to do with it.

Not Your Lucky Day: Romantically and Numerically Special Wedding Date Divorce Risks
Published October 2016
Available at the IZA website
Populism has the global financial elite spooked
Central bankers, finance ministers and researchers descended on Washington last week for the International Monetary Fund and World Bank annual meetings, and the International Monetary and Financial Committee's wrap-up summary wasn't exactly a sunny review on the global state-of-play. "The outlook is increasingly threatened by inward-looking policies, including protectionism, and stalled reforms," according to the document. You can read Bloomberg's full story here. 
Communiqué of the Thirty-Fourth Meeting of the International Monetary and Financial Committee
Published Oct. 8, 2016
Available at the IMF website
Monetary policy doesn't make sense to your average Joe
"The world of finance still has some work to make its writing truly accessible," according to a Bank of England Bank Underground note. Not exactly surprising to anyone who's ever read a monetary policy speech, but there are some fun facts in this: for instance, private sector bank reports are actually more accessible than Bank of England reports and speeches — which one needs college-level reading skills to understand. 
A Cat, a Hat, and a Simple Measure of Gobbledygook
Published Oct. 4, 2016
Available at the Bank of England blog
How housing vouchers help American kids
Teenage residence in U.S. assisted housing is associated with higher young adult earnings and less risk of incarceration, a new study finds. Women from non-Hispanic black households see especially big benefits, in the form of higher expected earnings and a lower chance of ending up in jail or prison. Those women earn an extra $704 for each additional year spent in voucher housing.

These findings matter, because housing-assistance programs can be controversial and their effects have been hard to measure. 
Childhood Housing and Adult Earnings: A Between-Siblings Analysis of Housing Voucher and Public Housing
Released October 2016
Available at the NBER website
Don't hang your hat on single-family home starts
A limited supply of undeveloped land in desirable locations could constrain U.S. home building, Kansas City Fed economist Jordan Rappaport writes. "Suburbanization may have reached its geographic limit in many metro areas," he says, and infill construction — that occurring closer to city centers — may face challenges including land-use restrictions. What's more, tight supply might keep existing-home owners from selling their properties, since finding a new house could be hard.
On the bright side, homeowners might pour money into home fix-ups instead. "Improvements account for almost one-third of residential investment, giving them the potential to compensate for much of the weakness in construction and brokers' commissions," Rappaport writes. 
The Weak Outlook for Residential Investment
Published Oct. 6, 2016 
Available on the Kansas City Fed website



Before it's here, it's on the Bloomberg Terminal.
LEARN MORE