Emerging-Market Energy Stocks Gain on OPEC Hopes as Peso Rallies
by and
Mexican currency advances amid firestorm over Trump comments

Thai assets slide following reports of king's unstable health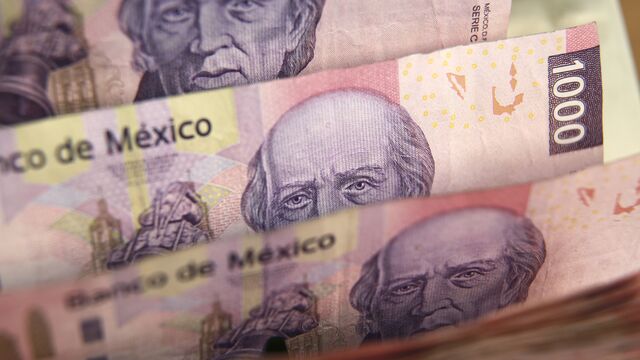 Emerging-market energy stocks rallied for a sixth day amid optimism that major crude producers will work with OPEC to cut output. Mexico's peso rallied the most in two weeks on speculation Hillary Clinton will win the U.S. presidential election.
 
A gauge tracking energy shares in developing countries rose to the highest level since July 2015. The peso, seen as a bellwether for traders' views on Donald Trump's prospects for winning, appreciated 2 percent. Samsung Electronics Co. fell from a record as the company was said to halt production on its Note 7 smartphones. Thai assets slid, with the baht weakening after the royal palace said the king's condition was unstable.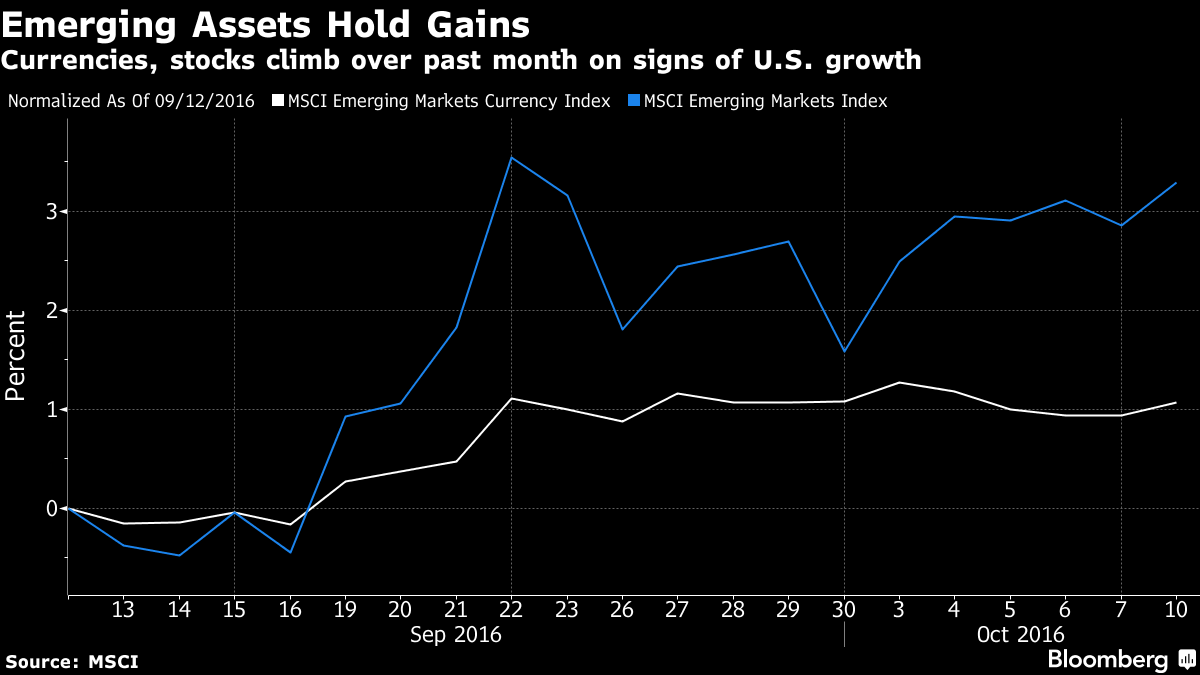 With less than a month to go before U.S. voters choose a new president, investors have zoomed in on the peso, as Mexico is vulnerable to any change in the country's trading relationship under a new administration. More broadly, emerging-market assets have been buoyed by the prevalence of negative yields in advanced countries, with exchange-traded funds that buy stocks and bonds in developing countries registering $22 billion of inflows over an uninterrupted 19-week winning streak.
Mexico Exposed
"Mexico is the most exposed to any dramatic change in U.S. politics as around 80 percent of its exports go to the U.S.," said Simon Quijano-Evans, an emerging-markets strategist at Legal & General Group Plc in London. "The U.S. election results will be a major driver of what happens next" for emerging markets, he said.
An index tracking support for the Republican nominee declined on Friday to the lowest in a month before the release of a video in which Trump talked about being able to do anything to women because of his fame. Odds of a December Federal Reserve interest-rate increase climbed to 68 percent, from 61 percent at the start of last week, a move that may start damping the allure of higher-yielding assets.
Inflows to U.S.-listed emerging market exchange-traded funds that invest across developing nations as well as those that target specific countries totaled $1.12 billion in the week ended Oct. 7, compared with $57.7 million in the previous period, according to data compiled by Bloomberg. Fund assets have grown $23.8 billion so far this year.
Taiwan, Hong Kong and the U.S. Treasury markets were closed Monday for holidays.
The MSCI Emerging Markets Index climbed 0.4 percent to 918.68. Ten of 11 industry groups increased, led by energy stocks. Brent crude sold for the highest price in a year after Saudi Arabia said other exporters have expressed their readiness to cooperate and President Vladimir Putin affirmed that Russia would back an accord.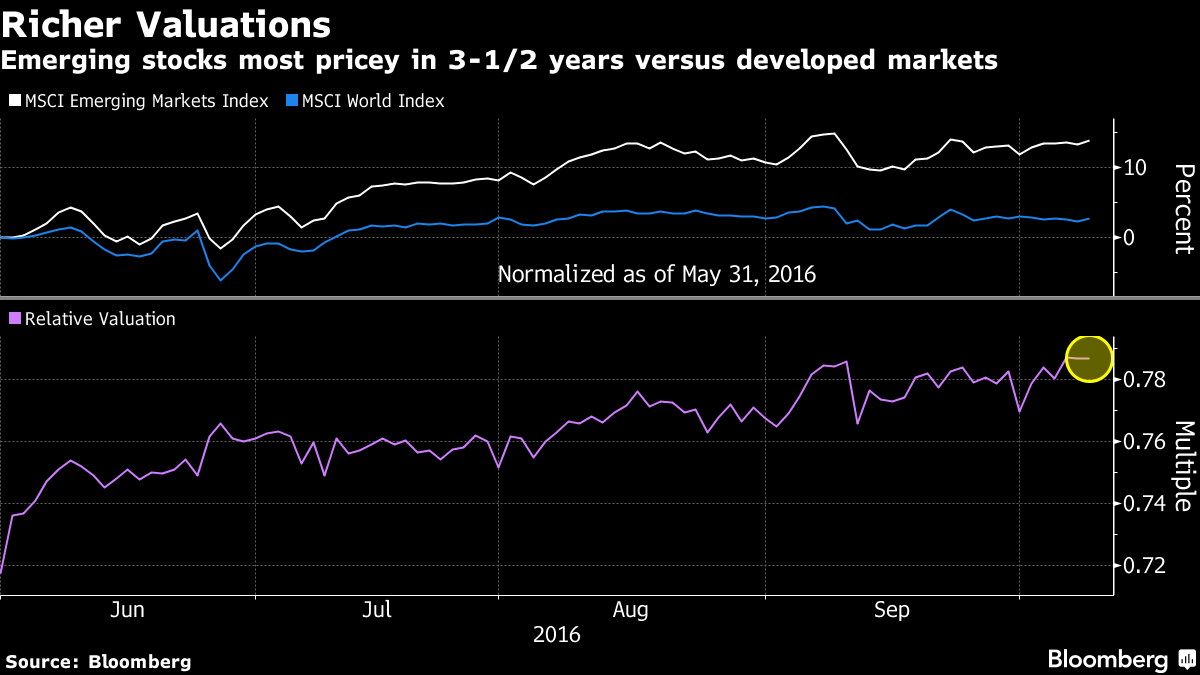 Rosneft Pjsc rose 5.7 percent in Moscow after the company signed a deal to supply crude to Star refinery in Turkey. Metal prices rose after Caixin Media and Markit Economics said Chinese manufacturing expanded last month.
The Ibovespa gained 0.9 percent, advancing for a second day in Sao Paulo. Chinese stocks rose, led by energy producers, as the nation's financial markets reopened after a week of holidays. The Shanghai Composite Index added 1.5 percent.
Samsung retreated 1.5 percent in Seoul. The company temporarily halted production of Note 7 smartphones following customer complaints about safety issues with replacement devices thought to be safe, said a person with direct knowledge of the matter.
Thai Stocks
Thailand's equities gauge tumbled 3.1 percent. Doctors are closely monitoring King Bhumibol Adulyadej's condition, the palace said Sunday. The 88-year-old monarch's health is closely watched as he is revered by many for what they say has been his unifying presence during a seven-decade reign.
The MSCI Emerging Markets Currency Index gained 0.1 percent. Mexico's peso climbed to the strongest level against the dollar since Sept. 12.
At a presidential debate on Sunday, Trump dismissed his vulgar comments captured in a 2005 video as nothing more than "locker room talk" and tried to deflect from the issue by attacking Clinton over her e-mail use and past accusations of sexual misconduct against her husband.
Thailand's baht weakened 0.5 percent. The South Korean won gained 0.5 percent. India's rupee appreciated 0.2 percent. The yield on Thai 10-year government securities rose five basis points to a three-week high of 2.29 percent, according to data compiled by Bloomberg.
The premium investors demand to own emerging-market debt over U.S. Treasuries was unchanged at 331 basis points, according to JPMorgan Chase & Co. indexes.
Before it's here, it's on the Bloomberg Terminal.
LEARN MORE