markets
UBS Starts Brazil Real Estate Venture as Prices Tumble
By and
Teams up with local consultant REC, Chief Executive Politi

Returns could be as high as inflation plus 12%, executive says
UBS Group AG is betting on Brazil real estate.
The Swiss bank is starting a new business that will help investors capitalize on reduced property prices after a two-year recession, the firm's Brazil chief executive officer, Sylvia Coutinho, said in an interview in Sao Paulo. Specialized consultancy Real Estate Capital will work exclusively with the team, and REC CEO Moise Politi will head the initiative, Coutinho said.
UBS is joining banks including JPMorgan Chase & Co. and Grupo BTG Pactual in wagering on the Brazilian real estate market after the worst recession in more than a century cut the value of the nation's currency in half since July 2011. The office vacancy rate in Sao Paulo and Rio de Janeiro soared above 22 percent in the second quarter, a record high, while rental prices slumped, according to real estate consultant Engebanc. Sao Paulo ranked 50th in a global list of the most expensive office markets in June, down from as high as eighth in 2012, according to CBRE Group Inc.
"The real estate sector suffered a lot in Brazil in recent years with inflation, high interest rates and unemployment," Politi said. "The market is hindered now. No one is selling, no one is buying, there is no financing, a lot of delinquencies, and residential property inventories are at a record high," he said, adding that investments will help bring liquidity back to the market.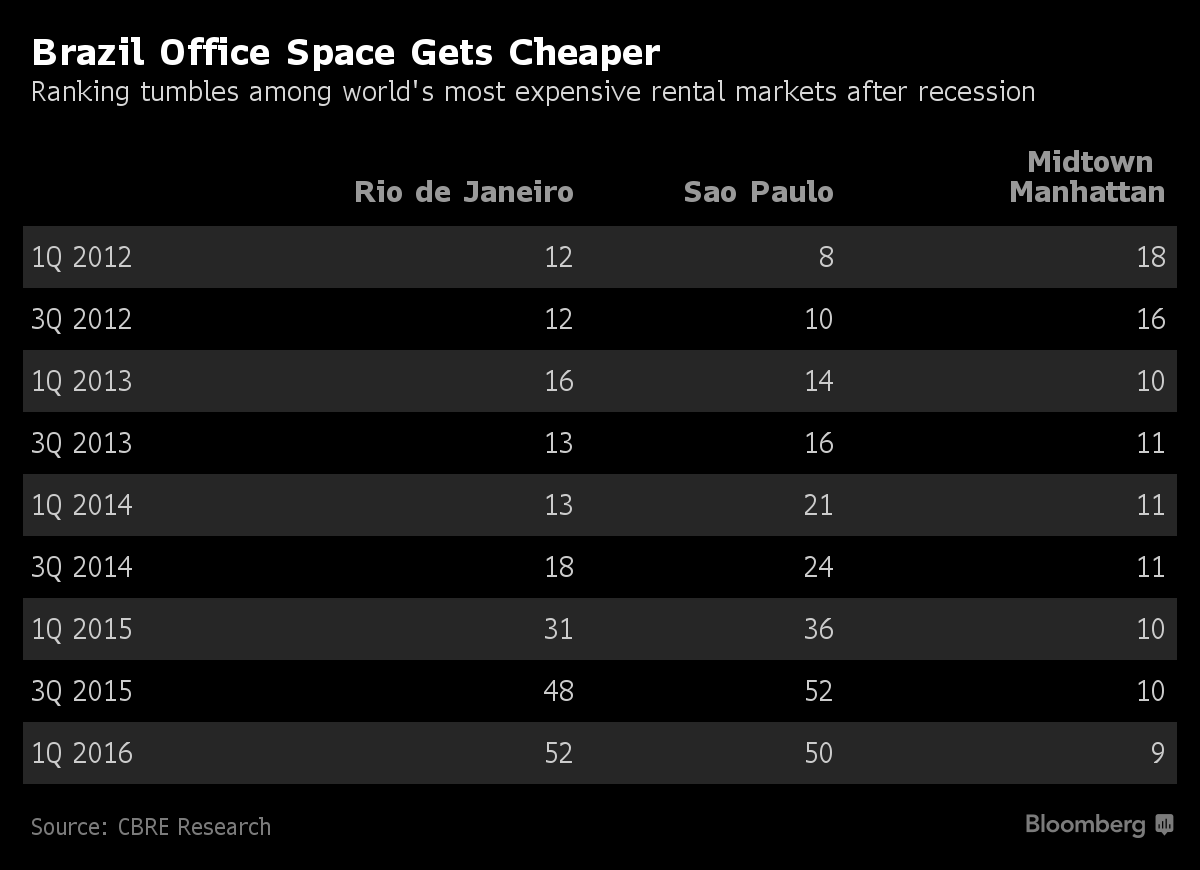 The new business will start by offering real estate funds and advice for institutional clients and family offices, and then extend those services to wealthy individuals, Coutinho said. UBS could also manage single investments for a client, and may co-invest as improving political stability reduces risks, she said, adding that the team will focus on properties that are already built.
The funds will pursue three main strategies: investing in real estate debt, buying equity in an office or other property that generates rent and price appreciation, and purchasing residential properties from distressed sellers.
Returns can be as high as inflation plus 10 percent to 12 percent a year, according to Politi.
"The relation between risk and returns is pretty reasonable," he said. "The risks are lower than perceived because the sector has very low leverage in Brazil."
The Brazilian team, with three people from UBS and seven from Real Estate Capital, will be linked to UBS's global real estate business, which will help sovereign wealth funds and large institutional investors that are trying to get into the local market, Coutinho said.
Global Strategy
The venture fits the strategy of focusing on core businesses at UBS, which is one of the three biggest real estate managers in the world, according to Coutinho. The bank's asset-management unit oversees about $77 billion of real estate assets in 29 countries.
Politi, 58, has worked in the Brazil real estate market since 1994, and was one of the founders of Brazilian Finance & Real Estate SA. That company was bought by BTG Pactual and Banco Panamericano SA in 2011 for $502 million, when it was among the biggest issuers of securities backed by real estate and one of the largest real estate asset managers in the region. Politi left BTG in April 2015 and six months later joined Real Estate Capital.
— With assistance by Fabiola Moura
(
Corrects number of workers in ninth paragraph in story published Monday.
)
Before it's here, it's on the Bloomberg Terminal.
LEARN MORE