politics
U.S. ELECTION WRAP: Shades of 1996 as GOP Weighs Trump Reaction
Republican leaders face an electoral crisis as they try to strike a balance on Donald Trump -- keep a safe distance while not alienating Trump voters.
By and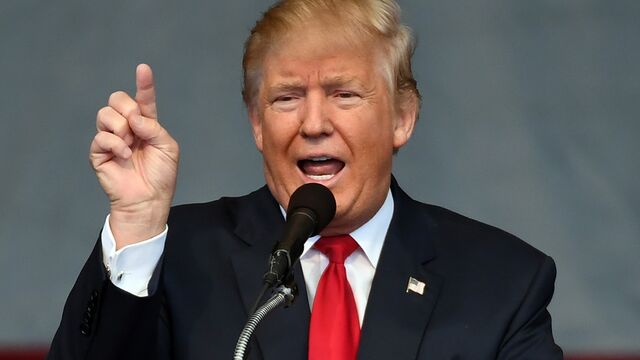 With less than a month to the Nov. 8 elections, Republicans are struggling to regain political footing and avoid shrapnel from Donald Trump's erratic presidential campaign.
An NBC/WSJ poll taken after video emerged of Trump speaking in lewd terms about women showed Hillary Clinton leading Trump 46%-35%
Several House and Senate Republican candidates pulled their support over the weekend, and that was before a debate performance where Trump unloaded seemingly the entire anti-Clinton opposition file
Trump is starting to look like an independent candidate, Wall Street Journal's Gerald Seib wrote

Seib: "Don't expect many, if any, pictures of Mr. Trump campaigning in battleground states alongside Republican senators seeking re-election from those same states. Beyond that, his campaign is subtly threatening to go on the attack against Republicans who oppose him"
"In effect, Mr. Trump is advancing the idea of becoming a president at war with much of his own party at the outset of his term"

Flashback to Trump comments in June: "We have to have our Republicans either stick together or let me just do it by myself. I'll do very well"
Trump on Monday wasted no time lashing out at House Speaker Paul Ryan after the top elected Republican said he will no longer defend the real-estate mogul's candidacy

"Paul Ryan should spend more time on balancing the budget, jobs and illegal immigration and not waste his time on fighting Republican nominee," Trump said in a Twitter post

Ryan, in call with House Republicans earlier today, said he'd work to ensure Clinton does not get a blank check with a Democratic-controlled Congress, according to a person on the call
NOTE: Strategy echoes 1996, when Republican congressional leaders all-but abandoned presidential nominee Bob Dole, instead encouraging voters to not give then-President Bill Clinton a blank check

Dole would go on to lose, and it wasn't close

NOTE: RNC has scheduled a conference call with its members for tonight

THE OTHER STORY
In a world without that 2005 video, without Trump's accusations about Bill Clinton's infidelities and Hillary Clinton's response to them, without mid-debate threats to send Clinton to jail, the lead story across cable television might the latest leak of Clinton campaign e-mails
Wikileaks on Monday posted more than 2,000 new e-mails it said were hacked from the personal account of Clinton campaign chairman John Podesta after an initial batch last week purported to show excerpts from speeches the Democratic nominee gave to Wall Street banks

They include messages in which former President Bill Clinton's personal aide, Doug Band, is quoted as disparaging Clinton's daughter Chelsea "as a spoiled brat kid" over issues at the family's foundation; they also appear to show Podesta lobbying for billionaire Tom Steyer to become energy secretary
The latest leak follows messages released on Friday that reveal Clinton talking about the need to have "both a public and a private position" in politics to make deals

Clinton turned to Abraham Lincoln when trying to explain the remark during the debate, prompting ridicule from Trump and a flurry of Tweets such as: "I bet Abraham Lincoln would rather go watch another play than watch this debate": @PeteBlackburn of Fox Sports
Trump, at campaign event in Pa., said Lincoln would be "spinning in his grave" at the comparison

DEBATE
Trump stumping in Pennsylvania called the debate "a lot of fun" and called Clinton "highly overrated"

Trump's running mate Mike Pence made clear he's standing by the top of the GOP presidential ticket; at an event in N.C., he reiterated his earlier comment that he doesn't condone Trump's remarks, but that he believes in grace and forgiveness

Clinton in Detroit said she's never seen anything like Monday night's debate

Trump spent time attacking "when he should've been apologizing," she said

Clinton will be in Florida Tuesday with Al Gore to talk about the "urgent threat" of climate change, her campaign said
Trump's debate performance drew praise from his core group of allies, including running mate Mike Pence, as well as some pundits and pollsters who said the GOP nominee managed to save his campaign from falling apart
Political experts weighed in on who won the Trump/Clinton showdown on NJ.com

GOP pollster Frank Luntz: "Trump's behavior is bad, but Hillary's emails are worse"
Weekly Standard editor Bill Kristol: "It was pretty appalling and it didn't change my mind that (Trump) shouldn't be president"

CNN/ORC poll of viewers, as well as YouGov survey, showed Clinton won debate
The debate drew more than 66 million TV viewers across cable and broadcast networks, and will likely fall well short of the historic mark set by their first face-off two weeks ago
CNN declared audience member Ken Bone, the red sweater-clad questioner on U.S. energy policy, the real winner; said he became an Internet "insta-darling"

Bone tells NYT he had been leaning toward Trump, but Clinton "really impressed me with her composure and some of her answers last night"

POLLS/PREDICTIONS
Larry Sabato's Crystal Ball from Univ of Va.'s Center for Politics updates state race ratings, and it's not good for Trump

Ohio has moved to "leans Democratic" from "leans Republican"; "If Clinton wins Ohio, Trump has no path to victory. No Republican has ever won the White House without it, and, particularly in this election, Ohio's demographics should make it relatively low-hanging fruit for the Republicans," Sabato, Kyle Kondik and Geoffrey Skelley write
"So we now have Trump as the underdog in Florida, North Carolina, and Ohio, three electoral vote-rich states that he absolutely needs to have any chance to win"

Other changes favoring Clinton:

Nev. moves to "leans Democratic" from "toss-up"
Mich., Pa. move to "likely Democratic" from "leans Democratic"
Ariz. moves to "leans Republican" from "likely Republican"
Utah, where video of Trump's controversial comments has hit especially hard, moves to "leans Republican" from "safe Republican"

Ten days before Colorado's first all-mail presidential election begins, at least a quarter of the state's notoriously unpredictable voters are still up for grabs, Bloomberg's Jennifer Oldham reported

DOWN-BALLOT DISTANCING
Ryan's dilemma in trying to keep the Republican Party intact was on display Monday when the House speaker, during a conference call with GOP lawmakers, had to clarify to angry members that he wasn't rescinding his endorsement of Trump
But he stressed that his focus now would be on defending the Republican majority in the House, telling members: "You all need to do what's best for you in your district," according to a person who was on the call
A sampling of how how candidates are dealing with the aftermath of the leaked video showing Trump making lewd comments about women includes Christopher Peters, a Republican seeking Iowa's 2nd District congressional seat, says he won't vote for Trump

"Neither Trump nor Hillary Clinton have exhibited the character and judgment necessary to be president, and I cannot vote for either of them," he wrote Monday on his website
Iowa Sen. Joni Ernst told the Des Moines Register she will vote for Trump as long as he's the GOP nominee; she earlier denounced Trump's crude remarks
In the Pennsylvania Senate race, one that may decide control of the chamber, Democratic candidate Katie McGinty taunted incumbent GOP Sen. Pat Toomey as a "fraidy-Pat" for allegedly canceling an appearance about a high school because he was afraid to answer questions about Trump
In Nevada, site of another closely watched Senate race, Republican Rep. Joe Heck was booed while disavowing Trump

ETC
Warren Buffett scolded Trump over the comments he made during the debate about his taxes

"He has not seen my income tax returns. But I am happy to give him the facts," Buffett said in a statement. "I have paid federal income tax every year since 1944, when I was 13."
Click here to read full story

While a CNN/ORC poll found more than half of debate watchers, or 57%, viewed Clinton as the winner vs 34% for Trump,

The election was a main topic at the annual New Yorker festival, which this year featured Bruce Springsteen, AP reported
"When he was just a big, sort of bloviating New York billionaire he could be highly entertaining," Springsteen said of Trump. "He's not funny as a presidential candidate"

The New Yorker looked at RNC Chairman Reince Priebus in an Oct. 9 piece: "Reince Priebus Is Destroying the G.O.P. by Trying to Save It"

CONGRESSIONAL ELECTIONS
SENATE RACES (Republicans hold 54-46 majority)
RATINGS: Sabato's Crystal Ball says Senate control will probably be decided by six races: Ind., Mo., N.C., N.H., Pa., and Nev.; GOP defending 5 of those 6 seats

"Outside of these six seats, every other race on the map has a clear favorite"
Sabato shifts Missouri to toss-up, from Leans Republican

Analysts Larry Sabato, Kyle Kondik, and Geoffrey Skelley write that Democrat Jason Kander may have run best TV ad of the entire cycle, while incumbent Republican Sen. Roy Blunt "is struggling with being an insider candidate in an outsider kind of year"

NOTE: Sabato's Crystal Ball a product of the Univ. of Virginia's Center for Politics

AZ: Republican Sen. John McCain and Democratic Rep. Ann Kirkpatrick will debate tonight

Debate begins at 10pm eastern time/7pm Arizona time will air on Arizona PBS and C-Span

IN: Democratic ex-Sen. Evan Bayh made about $6.3m since Jan. 2015 from salary, serving on corporate boards, and speaking fees, including about $2m each from Apollo Global Management and McGuireWoods, Politico reported

Republican Rep. Todd Young and his allies have linked Bayh to Wall Street and the lobbying industry

PA: Republican Sen. Pat Toomey in statement said that yday's presidential debate "showed the shortcomings" of both candidates, including Trump's "flawed policies" and "outrageous comments" about women and Clinton's "disastrous policies" and "widespread dishonesty"

"Pennsylvania deserves a senator who will cross party lines and provide independent leadership, not a rubber stamp for a very flawed president," said Toomey, who's opposed by Democrat Katie McGinty in one of the closest Senate races
McGinty's campaign in statement said Toomey is still "standing with Donald Trump after hearing Trump brag about sexually assaulting women" and is "trying to make a political calculation to save his own career"


HOUSE RACES

House Republicans are still favored to win a reduced majority in the Nov. 8 elections, though Donald Trump has made their task more burdensome, Bloomberg's Greg Giroux and Kathleen Hunter write

At the moment, the nonpartisan Cook Political Report places just 37 districts -- or 9 percent of the total --in its competitive categories of "toss up" or "lean" Democratic or Republican. The Center for Politics at the University of Virginia rates 34 districts in those categories
Democrats could put more districts in play if Democratic presidential nominee Hillary Clinton widens her lead over Trump, whose lewd comments about women prompted dozens of Republican members of Congress and candidates to rescind their endorsements
Read more: Republicans Brace for Trump Video Fallout: House Races to Watch

CA-17: Democratic Sen. Barbara Boxer endorsed Democratic Rep. Mike Honda as "someone who has always championed progressive causes," Los Angeles Times reported

Honda opposed by Democrat Ro Khanna, a former Commerce Department official, in rematch of close 2014 race in Democratic-friendly district that includes parts of Santa Clara and Alameda Counties

CA-25: Republican Rep. Steve Knight said he won't back Trump or Clinton, saying Trump's "inexcusable comments" reminded him of his work as a police officer to "end the horrific reality of violence toward women," Los Angeles Times reported

Knight opposed by Democratic lawyer Bryan Caforio in district that includes parts of Los Angeles and Ventura Counties

MN-03: Democratic state Sen. Terri Bonoff in TV ad said that Republican Rep. Erik Paulsen "is nice, but he shouldn't be our congressman" in part because he aligns with Trump in opposing abortion and same-sex marriage
NY-03: NRCC pulling back ad funding for state Sen. Jack Martins, two days after poll showed Democrat Tom Suozzi with 15 ppt lead in Long Island-based district, Newsday reports

Candidates seeking open seat vacated by the retiring Democratic Rep. Steve Israel

NY-22: House Majority PAC, a super-PAC aligned with Democrats, released TV ad referring to Republican legislator Claudia Tenney as "too sleazy" and independent investor Martin Babinec as "too conservative"

House Majority PAC backs Democratic businesswoman Kim Myers in competitive Utica-Binghamton district of retiring Republican Richard Hanna

NY-24: Republican Rep. John Katko's campaign released TV ad of women criticizing Democrat Colleen Deacon, including one who says she'll be a "rubber-stamp" for Democrats and another who says Deacon will "vote with her party leaders, no exceptions"

Katko has been emp, Democratic-leaning district in and around Syracuse

UT-04: Republican Rep. Mia Love and Democratic lawyer Doug Owens will hold their first debate tonight in rematch of their close 2014 race, Associated Press reported

Debate at Salt Lake Community College begins at 6pm Utah time/8pm eastern time and will be aired on C-Span
Before it's here, it's on the Bloomberg Terminal.
LEARN MORE