Photographer: Dan Kitwood/Getty Images
U.K. to Get LNG Next Week After Longest Dry Spell Since '14
By
Rasheeda is set to dock at South Hook terminal Oct. 17

U.K. has been at disadvantage to Asia, Belgium for LNG imports
The U.K. is poised to receive its first liquefied natural gas tanker in three weeks as suppliers sent cargoes to markets with higher prices.
The Rasheeda, sailing from Qatar, is due at the South Hook terminal in Wales on Oct. 17. It will be the the first tanker to dock at a British port since Sept. 26, according to the Milford Haven port and ship-tracking data compiled by Bloomberg. Asian appetite for LNG increased amid restocking after a hot summer, and other markets have also paid a premium to the U.K., according to Energy Aspects Ltd., an industry consultant in London.
Europe and Asia are roughly equally far away from Qatar, the world's biggest producer of LNG and the largest supplier of the fuel to Britain. If consumers in Asian markets are willing to pay more, it means cargoes would sail eastward instead. Global LNG supply tightened after the Sabine Pass plant in the U.S. stopped for a month because of maintenance in September.
"There was some better buying elsewhere," Trevor Sikorski, head of natural gas, coal and carbon at Energy Aspects, said by e-mail. "With the two Sabine Pass trains not exporting and some other outages on the supply-side, there was simply not as much LNG around."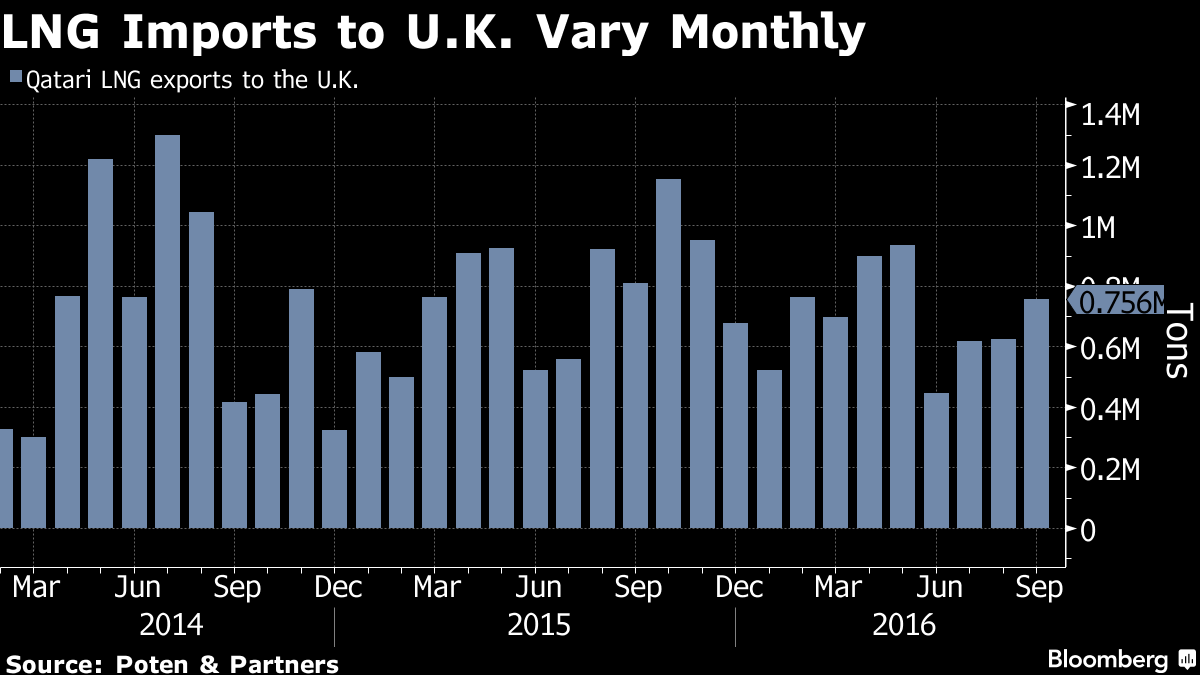 The Asian premium over prices on the National Balancing point widened to as high as $1.64 per million British thermal units in August before narrowing to $0.14 last week, according to data from Singapore Exchange Ltd. and ICE Futures Europe. That means tankers may start returning to the U.K. from November as colder weather and a weaker pound bolster prices.
Mozah,, another LNG tanker, may be headed for the U.K., according to ship-tracking data that doesn't yet provide definite cargo destination. The vessel with a Qatari cargo, currently in the Red Sea, has docked in the U.K. six times in the past year. That would bring October arrivals in Britain to two, after the longest period without LNG imports since Jan. 2014, the data show.
Belgium has received two cargoes this month and two more tankers are on their way to unload at the nation's Zeebrugge terminal. The Dutch port of Rotterdam is due to get one cargo, data compiled by Bloomberg show.
Amid lower demand to store gas in the U.K. after the shutdown of the Rough facility, the fuel in Britain traded at a discount to the Dutch Title Transfer Facility in August and first half of September, Sikorski said.
"So even in the more local European market, the NBP was not the place to put in spot" cargoes, he said.