U.K.'s Davis Pledges 'Smooth' Brexit, Saying Mandate Is Clear
by and
Labour Party's Starmer says Davis is sidelining Parliament

Davis: Brexit mandate is 'clear, overwhelming and unarguable'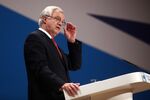 Brexit Secretary David Davis said the government will seek a smooth withdrawal from the European Union, saying no one should attempt to stand in the way of the process.
"The mandate for Britain to leave the EU is clear, overwhelming and unarguable: no one should seek to find ways to thwart the will of the people," Davis told lawmakers in Parliament on Monday. "It is now incumbent upon the government to deliver an exit in the most orderly and smooth way as possible, delivering maximum certainty to businesses and workers."
Davis said he's consulting widely with lawmakers and businesses in order to craft a negotiating strategy by the end of March, by when Prime Minister Theresa May has said she'll trigger Brexit negotiations with the bloc's other 27 members. He also sought to allay concerns that the government will bypass Parliament. May has said she doesn't need the authorization of the House of Commons to activate Article 50 of the EU's Lisbon Treaty.
"Naturally I want this house to be engaged throughout and we will observe the constitutional and legal precedents that apply to any new treaty on a new relationship with the European Union," Davis said. "My whole approach is about empowering this place."
The opposition Labour Party's spokesman on Brexit, Keir Starmer, called Davis's statement to Parliament "a bit of process; no substance."
"It seems that the government wants to draw up negotiating terms, negotiate and reach a deal without any parliamentary approval," Starmer said. "That is not making Parliament sovereign. That is sidelining Parliament."
Before it's here, it's on the Bloomberg Terminal.
LEARN MORE