U.K.'s Davis Hires Open Europe's Ruparel as Special Adviser
by
Ruparel has said U.K. should leave Europe's customs union

Davis also appointed Treasury official as his spokesman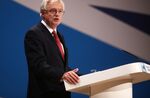 U.K. Brexit Secretary David Davis hired Raoul Ruparel from Open Europe as a special adviser as he builds his team for the upcoming negotiations to leave the European Union.
Ruparel was until recently co-director of the London-based research group, which he joined as an intern in 2008 and where he served as chief economic adviser from 2011.
In his work since the June referendum, he has written that the U.K. should leave Europe's customs union and said Britain's future trade relationship with the EU could be based on a deal similar to Canada's. He's also warned it may take more than two years to establish new ties.
Davis has also hired James Chapman from the Treasury as his spokesman, while Chancellor of the Exchequer Philip Hammond appointed Karen Ward, an economist at HSBC Holdings Plc, as his economic adviser.
Before it's here, it's on the Bloomberg Terminal.
LEARN MORE